I first came across Royal Canin a couple of years ago when I had to feed one of my cats, Elaine, a prescription cat food formulated for cats with kidney disease. Since then, I've learned that Royal Canin has so much more to offer beyond prescription cat food. Their non-prescription foods are tailored to address the unique nutritional needs of cats with different health conditions, living conditions, life stage, and breed-specific requirements.
As many of you know, I have several cats, all of them rescues and they all live indoors. I was particularly interested in trying Royal Canin's Indoor Cat Formula for my cat Romeo who is a 14-year old senior who has recently developed chronic kidney disease and last year came down with irritable bowel disease that we've been treating with tuna-flavored prednisolone.
Romeo has always been my big, loving boy (he has some ragdoll in him) and he has never turned away a meal – until recently. It has become more and more difficult to get him to eat and to find something that would appeal to him. Over the last few months, I have been buying a variety of cat foods hoping to find something that would appeal to him – with no luck. Until now.
Our Trial
We tried the Royal Canin Indoor Formula (and I will also be trying their formula for aging cats as well). When I began our trial, it was later in the afternoon, when all of my cats were fast asleep. I poured the food into a bowl and heard a practical stampede down the stairs as every one of them came running – including Romeo, who was first to the bowl!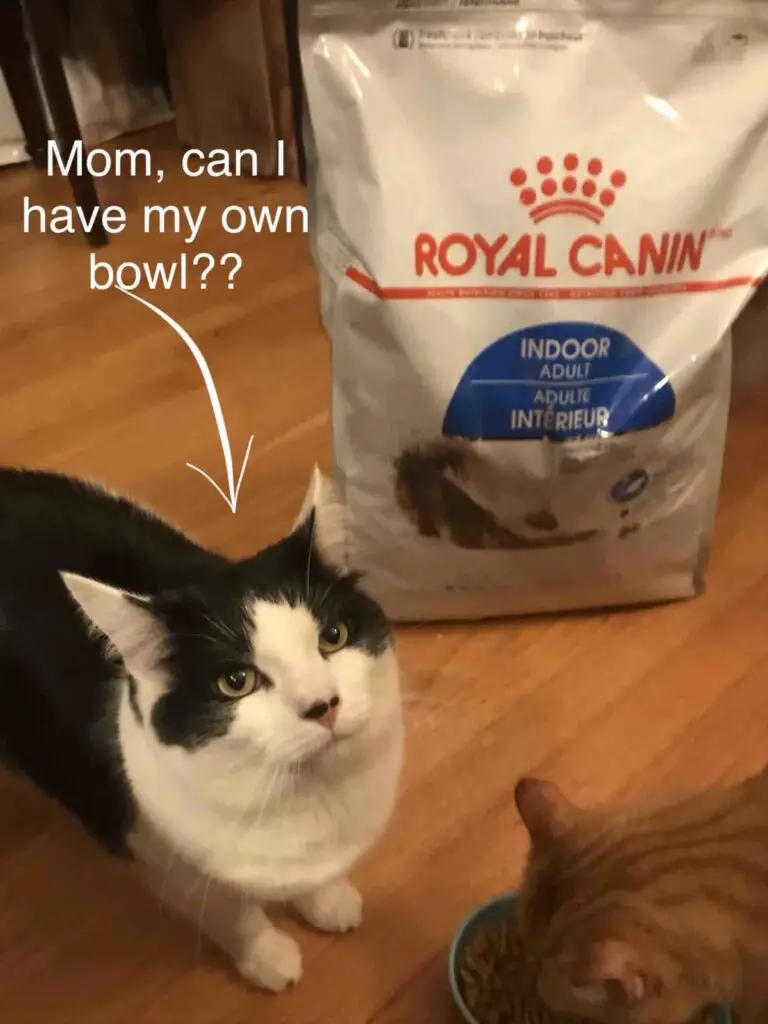 Here is a slideshow of my cats. I put down one small dish of the food to test it out. Enjoy the pics!
Our Findings
Aroma – The food looked and smelled fresh to me – but I think the aroma was really appealing to my cats because they woke up from their naps and came running down the stairs to have a nibble.
Kibble Shape & Size – The kibble is triangular and larger in size than what they normally eat. At first I was worried that they wouldn't eat it, but I was wrong. They all ate it and almost finished the bowl.
Texture – I can't speak for how it feels to eat this myself (sorry – I'm not that dedicated) but I can tell you that I heard a lot of crunching noises. I loved this because usually my cats are just swallowing their dry food whole and the crunch is great to keep their teeth healthier and cleaner.
Flavor/Palatability – This formula is very palatable to my cats. All of them ate it and when given the choice of their other food – they chose this food.
Nutrition – Royal Canin's science-based approach ensures that their foods are nutritious. They've been formulating cat food for over 40 years and they have consistently high ratings on major pet food sites.
Post-Feast Feeling – All of my cats, including Romeo, seemed to feel great. No throwing up and the litter box contents were normal. Their energy (when not sleeping) has been great too!
All in all – our test was a success. I'm really grateful to have had the opportunity to try this new food and that it has gotten my senior kitty to eat again. In cats with chronic kidney disease, it's more important to get your cat to eat, than to worry about what they are eating… so this has been blessing for Romeo and me.
To find out more about how cats decide what to eat and what food to reject, check out our article on the six elements that cats look for in food.
The Catnip Times reviews cat products from time to time and reports on our genuine experiences with you, our readers. Many times, manufacturers will send us free products to test and try and other times we purchase our own products (because we shop around for cat stuff just like you!) In either case, we only post about products that we genuinely like and find to be of exceptional quality. If a product doesn't meet our standards, we will not post about it nor promote it.
This blog contains affiliate links. For more information about third-party advertising on this site, please click here.