24/7 Vet Chat vs. Pet Insurance: Pet insurance is much more comprehensive than a 24/7 vet chat plan. But pet insurance can also be very costly, particularly if you have multiple pets, special breeds or live in a geographic area where veterinary care is more expensive. Pet insurance also factors in a variety of data points when pricing out your pet's policy. A 24/7 vet chat plan covers all pets regardless of age, breed or pre-existing conditions.
Pawp – Consider Pawp if you're looking for a 24/7 vet chat that comes with a $3,000 emergency fund that can be used once a year for qualifying life-threatening emergencies.
Dutch – Consider Dutch if you're looking for a 24/7 vet chat service that offers prescription medication. Note that some states do not allow this.
Ask.Vet – Have quirky questions or topics you'd rather not ask your vet about? Ask.Vet has you covered. They also offer a small emergency fund, but you have to earn your way to get access to it.
Vetster – Looking for a local vet? Maybe you're new in town and want to try out a few vets in the area? Or maybe you just want a vet that is available in person and online. Connect with Vetster for appointments with local vets.
Why Use a Pet Televet or Online Vet Chat Service?
Cats don't get the same level of care that dogs do. Many cat owners dread taking their cat to the vet because the process of getting your cat in the carrier and transporting them can be a miserable and stressful experience. And cats are notorious for hiding pain and illness, so cat owners often miss the signs that their cat isn't feeling well.
No matter the reason, your cat should be examined by a vet at least every couple of years when they are young and then every year when they are seniors (age 7). But what if you can't take your cat to the vet? Or what if your cat is too shy or scared to go to the vet? That's where televet services come in. Here, we'll examine the top-rated televet services for cats in the United States and give you an overview of what sets each of them apart. 
Note that vet chat services are NOT a replacement for your local vet. You cat should always have a local vet in order to be fully examined. Online vets are extremely limited in the types of advice they can provide without seeing and feeling your pet and running any diagnostics that my be required. 
When Your Cat Dreads The Carrier & The Vet's Office
There are many benefits to using a televet service for your cat. One of the biggest benefits is that you can get your cat the care she needs without having to leave home. This is especially helpful if you have a shy or scared cat, as televet services can provide a more comfortable environment for her. Televet services can also be helpful if you live in a rural area and don't have easy access to a veterinarian.
Televet's Are Affordable
Another great thing about televet services is that they can often be more affordable than taking your cat to the vet in person. Because the types of services are limited to online media, there's only so much that a veterinarian can do by phone/chat/video call. 
If you have more than one cat, a televet service can be a great way to ensure your cats have access to veterinary advice 24/7/365. But be aware that a televet isn't a substitute for an in-person vet visit – particularly if your pet is sick or needs any testing. Only an in-person vet visit will allow a veterinarian to fully examine your pet, perform any tests and prescribe medications. 
Televet Services vs Pet Insurance
When it comes to the health of our furry friends, we want to make sure they're always getting the best care possible. That's why many pet owners are turning to both pet insurance and televet services, which provide around-the-clock access to veterinarians. However, televet services are not the same as pet insurance. While televet services offer a convenient way to get medical advice for your pet, they do not cover the cost of treatment. Pet insurance, on the other hand, can help offset the cost of veterinary care in the event of an accident or illness. Whether you choose televet services or pet insurance (or both), you can rest assured that either way, your furry friend will have access to the veterinary care they need to stay healthy.
Pet telemedicine, also referred to as veterinary telehealth or 24/7 vet chat is different from pet insurance in many important ways. Be sure to know the differences when considering your pet's health options.
Pet insurance (any insurance, really) is complicated to understand. Be sure to read the entire policy before purchasing to know what is included and what is excluded from coverage. You can also go to most pet insurance websites and review their sample policy (usually a link posted to their home page) to to see what is included and what is excluded from coverage.
The following are some notable televet services you should get to know.
Dutch offers a televet membership service. Members receive unlimited video chats with licensed vets, and receive specialized treatment plans for their pet that can include medications, therapeutics, and behavioral modification advice (or a combination of all 3). They also have a team of licensed veterinarians who are available 24/7 to answer your questions and they can prescribe medications if your state allows it. You can learn more about Dutch at their website, dutch.vet.
Cost: $15/month for their base plan
Key features:
24/7 availability

Unlimited video chats

Free shipping on medications (if prescribed)

Can prescribe medications if your state allows it.

Fully licensed vets

Multiple pets included under one plan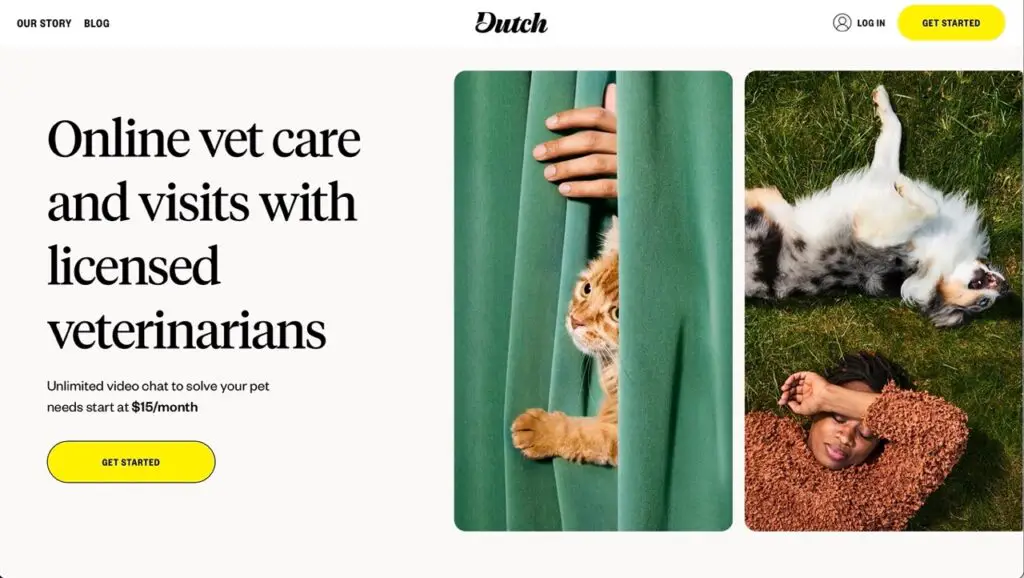 AskVet is a televet service that is available to cats and dogs in the United States. AskVet is a great resource for cat owners, as it provides access to veterinarians 24 hours a day, seven days a week. This televet service offers consultations for sick or injured cats, and also offers advice on preventative care. Ask.Vet is a great way to get your questions answered by a veterinarian, without having to leave home. They also welcome pet owners to reach out with questions they might be more reluctant to ask their in-person vet. AskVet also has a "rainy day fund" where customers can earn $45/month toward the rainy day fund up to $1,000 to use in the event of an emergency.
Cost: $29.99/month for a membership
Key features:
24/7 availability

Calls answered by "pet coaches" and veterinarians

Up to $1,000 emergency fund

App offers alerts based on your pet's conditions (i.e. a weather alert for a dog who has allergies)
Vetster is a televet service that connects pet parents with local veterinarians. Consultations are still provided online, but you'll connect with a vet in your area. Each vet has their own profile, rating and pricing, so you can choose the vet that's right for you and your pet. Vetster also offers pet parents the option to speak to a vet tech instead of a licensed veterinarian for wellness issues like nutrition and behavior. In addition to dogs and cats, Vetster offers services to all animals including horses, birds, and more. Just search for a local vet and connect. 
Cost: Per vet visit $50+
Key features:
24/7 availability

Local veterinarians

$50+  for one-time call

Can prescribe medications if your state allows it

They treat all animals, not just cats and dogs
Pawp is a 24/7 televet service that connects pet parents with licensed veterinarians. As a Pawp member, you get access to 24/7 care and advice from veterinarians. Pawp is helping to prevent unnecessary and costly vet visits. For example, if you're looking for advice about your cat's behavior or nutritional advice, Pawp can help you out with that. If your pet is acting a little weird and you're just a little worried, give Pawp a call and a vet can speak with you about what has you worried and can recommend next steps and whether they advise that you see your vet in person.
Cost: $24/month
Key features:
24/7 availability

Unlimited video calls with vets
Up to 6 pets covered
Pre-existing conditions are included
$3,000 emergency fund for life-threatening situations*
Pet pharmacy coming soon
* The emergency fund can only be used once per year for one pet. A Pawp team vet needs speak with the pet owner to approve the funds as they are only to be used in situations when there's an emergency that is potentially life-threatening.
Vet telehealth services have seen high rates of adoption that were surely spurred on by the pandemic. And as cat owners, we know how difficult it can be (and stressful) to take our cats to the vet. These new pet telehealth services are a tremendous advancement in veterinary care. And with so many cats going without any medical care whatsoever, we hope that people will embrace this new style of veterinary care and give it a try!
I personally have tried several of these programs including Chewy and Ask.Vet. I have to say, I was really impressed at the quality of service and advice I received. Both calls were in the wee hours of the night when you're feeling panicked and unsure if an emergency vet visit is warranted. In both cases, I was given a plan by the vet, signs to watch out for, and the invitation to call back with further questions. In both cases, I was able to avoid two (unnecessary) emergency visits and my cats were just fine.