This post is sponsored by Royal Canin. I am being compensated for helping spread the word about Royal Canin and Cats Savor More Than Flavor, but The Catnip Times only shares information we feel is relevant to our readers. Royal Canin is not responsible for the content of this article.
If your cat family is at all like mine, they are picky eaters! You might find yourself wandering the aisles of your local pet supply store looking for something new and interesting to impress your cat. Once you find it – you bring it home and promptly serve the food to your discerning cat, just to have them sniff it and walk away – their nose held high. Another cat food fail. There's so much to choose from and what appeals to me or you doesn't necessarily appeal to our cats.
"Cat owners know it can be hard to find the right food and often go from flavor to flavor only to find the cat still won't eat," says Dr. Catherine Lenox, board-certified veterinary nutritionist and Royal Canin Scientific Affairs Manager.
Recently, I learned about the scientific approach that Royal Canin!TM uses to research cat preferences to cook up cat foods that are both appealing to cats and nutritious. Royal Canin recently launched a campaign called "Cats Savor More Than Flavor" to bring awareness about the factors that determine what your cat will consider acceptable to eat.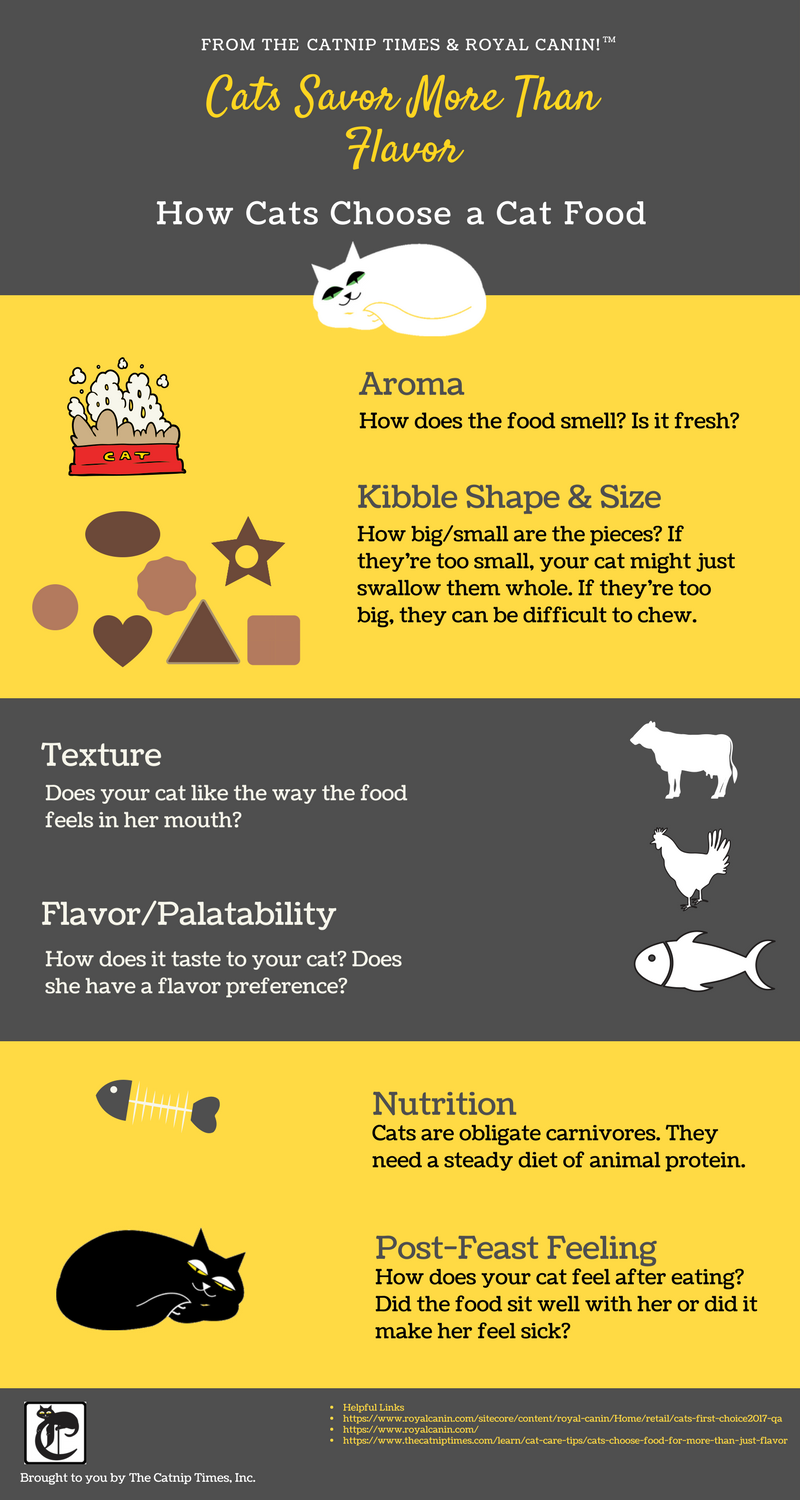 According to research from Mintel, it turns out that cat owners think that taste is the most important factor when buying food for our cats, but science now shows that taste is more than just flavor. It turns out there are six different factors your cat considers when deciding whether or not they want to eat that new food you brought home, aroma, kibble shape and size, texture, flavor, nutrients and "post-feast feelings."
Aroma – How does the food smell? Is it fresh?
Kibble Shape & Size – How big/small are the pieces? If they're too small, your cat might just swallow them whole. If they're too big, they can be difficult to chew.
Texture – Does your cat like the way the food feels in her mouth?
Flavor/Palatability – How does it taste to your cat? Does she have a flavor preference?
Nutrition – Cats are obligate carnivores. They need a steady diet of animal protein.
Post-Feast Feeling – How does your cat feel after eating? Did the food sit well with her or did it make her feel sick?
4 Tips for Feeding Your Finicky Cat
Offer Small, Frequent Meals – Unlike dogs, cats like to nibble throughout the day. Be sure to provide several smaller meals throughout the day and always have fresh water available.
Enrich Indoor Environments to Prevent Obesity – Indoor cats are particularly prone to overeating due to boredom. While it can be safer for your cat to stay inside, be sure that you're providing an interesting indoor environment with plenty of areas to climb, explore and play so that your cat stays active.
Pay Attention to Nutrients – Humans have about 9,000 taste buds, dogs have about 1,700 and cats have only 475! So it's no wonder that cat owners think that their cats will be drawn to foods based on flavor alone. The truth is, over time most cats will gravitate towards the food that offers the best nutrient balance that their bodies need.
Introduce New Food Slowly – Before switching your cat's food, be sure to consult with your veterinarian first. Then, when it's time to switch over, do so gradually by mixing the new food in with the old and gradually add a higher proportion of new food until your cat adjusts.
Fun Fact!
Dogs have 1,700 Taste Buds
Humans have 9,000 Taste Buds
Cats only have 475 Taste Buds
Check Out Our Review of Royal Canin Indoor Formula
I went on to "road test" the Royal Canin Food with my own cats. You can see pictures of my cats and read about their experience here. If I had to summarize our test – it was a great success and I'm really happy to have my senior cat showing interest in food again! Find out more about our experience with Royal Canin Indoor Cat Food.
About Royal Canin
Royal Canin USA is a leader in science-based cat and dog health nutrition. Founded by a veterinarian in 1968, Royal Canin has more than 40 years of experience in delivering individualized nutritional solutions that are highly palatable and provide complete and balanced nutrition for cats. Royal Canin diets can be found in select retailers nationwide. Cat owners should consult with their veterinarian to determine which diet meets the unique needs of their cat. For more information, visit Royal Canin.
The Catnip Times reviews cat products from time to time and reports on our genuine experiences with you, our readers. Many times, manufacturers will send us free products to test and try and other times we purchase our own products (because we shop around for cat stuff just like you!) In either case, we only post about products that we genuinely like and find to be of exceptional quality. If a product doesn't meet our standards, we will not post about it nor promote it.
For more information about third-party advertising on this site, please click here.