TIDY CATS LIGHTWEIGHT WITH AMMONIA BLOCKER REVIEW & CONTEST
Contest is now over.
You love your cats and you wouldn't trade them for all the money in the world… but sometimes the smell of their litter box can cramp your style and lead to embarrassing moments. Like the time you put the house on the market and when the visitors came inside, they suddenly "changed their mind…"
Scroll through before and after scenes.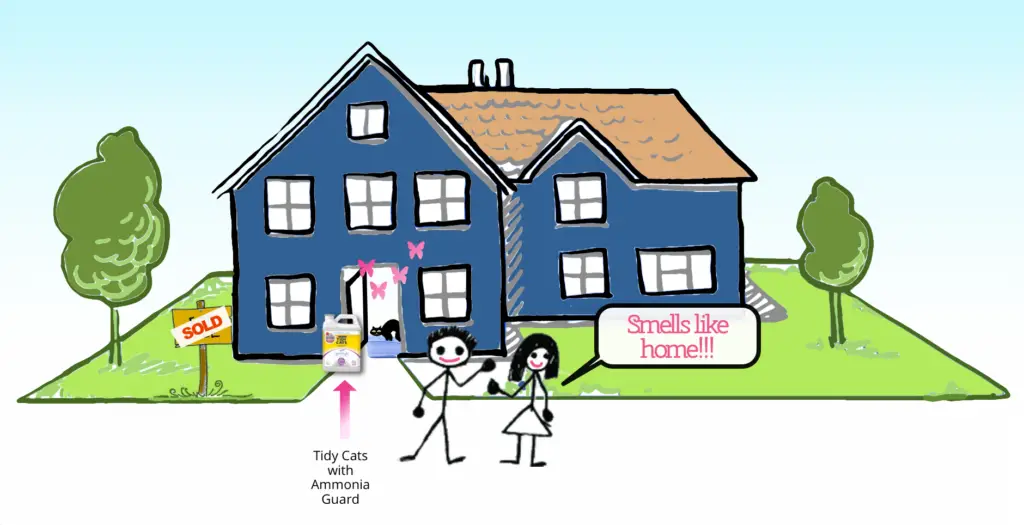 …Or the time you invited the in-laws over for dinner and your mother-in-law kept her napkin over her nose the entire time – and she didn't even stay for dinner!
Scroll through the before and after scenes…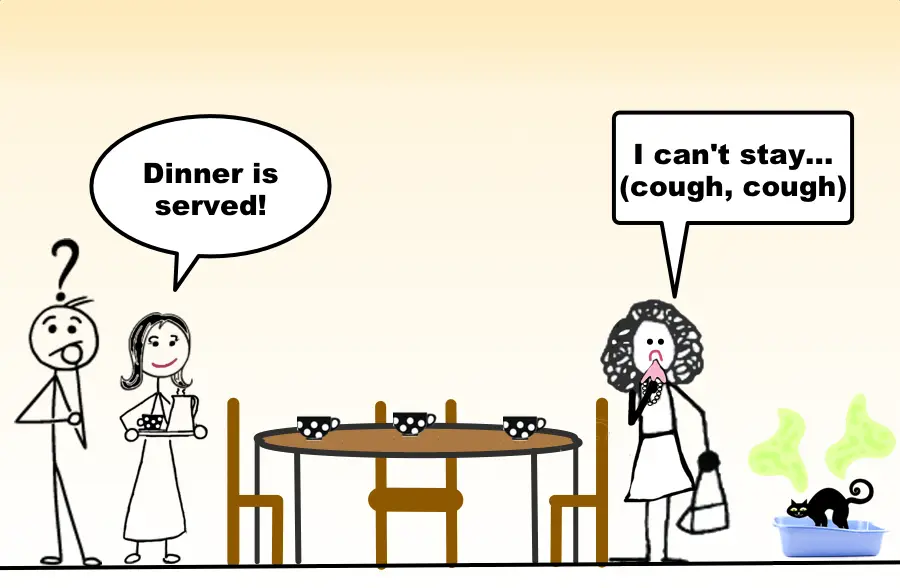 Tidy Cats says that their new formula with "Ammonia Blocker" works to keep smells at bay for up to two weeks!  So we took Tidy Cats Lightweight with Ammonia Blocker for a test drive to see how it worked.
Our Trial of Tidy Cats Lightweight with Ammonia Blocker
We decided to put Tidy Cats Lightweight with Ammonia Blocker to the test. Tidy Cats claims that, when used as directed, their new formula with Ammonia Blocker will keep your litter box smelling fresh for up to two weeks! To see how well it worked, we set aside one litter box to try it out. Normally, we clean/scoop all our litter boxes twice a day, every day to keep our cats happy and healthy and to keep our home smelling like a home (and not smelling like a used litter box).
Test 1
I chose a litter box that is located in a small bathroom where it's easy for odors to get trapped. Instead of cleaning this one litter box twice daily, we neglected it a little bit – just to see how well this litter worked at trapping the smell of urine. (Not to worry, my cats still had access to numerous other boxes throughout the house and they were always free to choose whichever box they preferred.) Instead of cleaning this box twice a day, we started out with once a day. Then we skipped an entire day. Then two days. Then I got grossed out (I think I'm a little obsessive compulsive about keeping things clean). While the box and it's contents didn't smell at all, I decided to make this a two-part trial…
Test 2
For part two, I put the not-so-clean litter box in the basement and waited for the full two weeks. I went into the basement every couple of days to see if it smelled down there, but it didn't. The litter worked just as Tidy Cats promised. Two weeks, no smell. And then I quickly cleaned the whole thing out (yuck!)
Note: I recommend developing healthy cleaning habits when it comes to your litter boxes and the health of your cats and home. It wouldn't be healthy to avoid cleaning your litter boxes for days and weeks – not for you nor your cats. As I've mentioned on this blog many times before, we clean the litter boxes twice daily, every day. See this blog about litter box myths for more litter box cleaning tips.
Top Tips To Control Litter Box Odor
Clean the litter boxes at least once a day, if not more.
Wash out your litter boxes and completely change the litter several times per year.
Consider replacing boxes once a year so you start with fresh, odor-free boxes
Use a litter that you and your cat both like, such as Tidy Cats
Avoid using an ammonia-based cleaners as they can make odor worse. Use simple soap and water and thoroughly dry the box(es)
If necessary, use a natural litter box deodorizer like baking soda and add it to the litter to help control odors
What's Tidy Cats Lightweight with Ammonia Blocker Litter like?
So how does this litter stack up against the other Tidy Cats Litters?
Texture? Light and fluffy. It's really a breeze to scoop this stuff. It has none of the heaviness you find in traditional litter.
Dusty?  Not really. I have yet to find a litter with absolutely zero dust. This litter has minimal dust – I really didn't  notice any difference.
Tracking? Nothing out of the ordinary. As with most small-granule clay-based litters, some litter always gets out of the box and I've found that the amount of tracking or litter outside of the box has more to do with each individual cat's litter box habits than anything else.
Clumps well? Works great. The pee-balls are very hard and yet very easy to scoop because they're so light.
Fragrance? The Clear Springs scent is very light and pleasant. It's 

not at all overwhelming

 unlike some other scented litter products which can give you a headache.
The verdict? Love it. It sounds weird but it's actually fun to scoop the litter boxes because it doesn't feel like I'm going to the gym for an upper body workout. It's just easy and light to scoop. I definitely plan to use it regularly!
Kitty Outtakes
I tried to take a picture for you of the different products I used along with one of my cats. As you can see… they didn't feel like posing for the camera… 🙂 Hopefully you can see that I used the 8.5 lb jug and the 17 lb pail.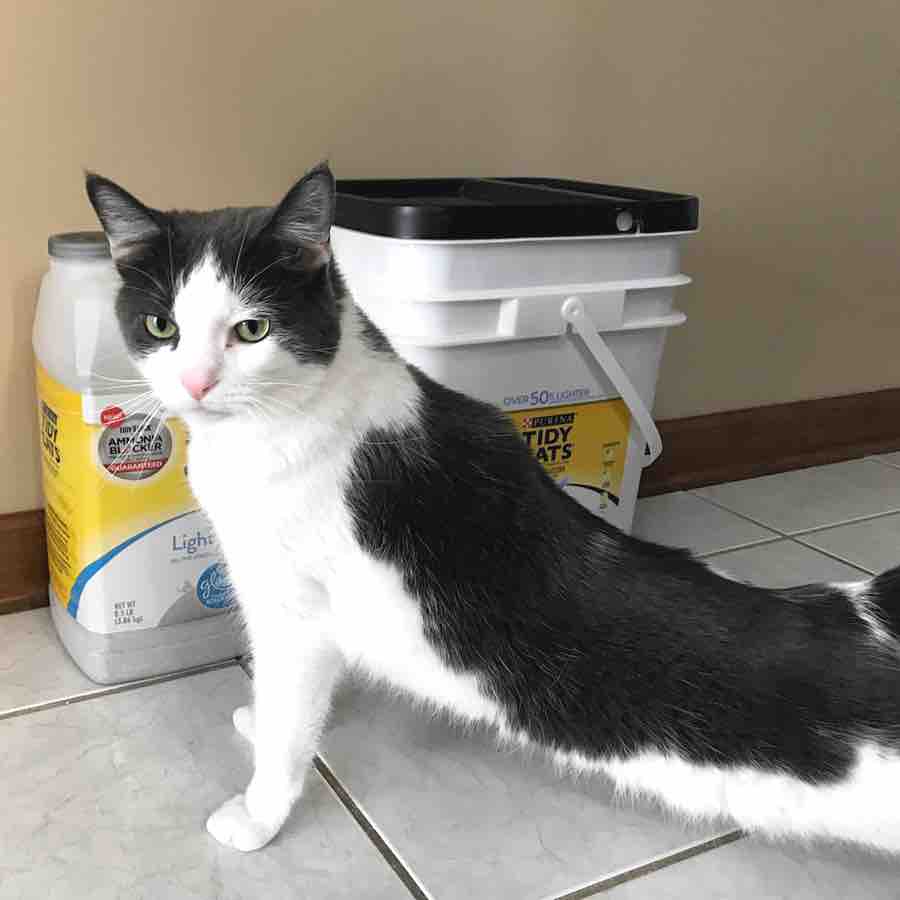 Here's the fun part!
Give us YOUR favorite tip for keeping litter box odors at bay for a chance to win a $1,000 Gift Card to help you spruce up your litter area… PLUS you'll get FIVE coupons good for 5 containers of Tidy Cats Lightweight with Ammonia Blocker to ensure those embarrassing moments never happen again!
PRIZES
GRAND PRIZE – 1
One lucky winner will get $1,000 Gift Card to either Target, HomeGoods, Home Depot or The Container Store to help improve their litter area PLUS, they will receive coupons good for 5 containers of Tidy Cats Litter.
RUNNERS UP – 5
Five (5) lucky runners up will receive a coupon good for any Tidy Cats Litter (but we recommend you try out the Tidy Cats Lightweight with Ammonia Blocker)
The Fine Print
This post is sponsored by Tidy Cats. The Catnip Times is part of Tidy Cats' Insiders Program which allows us inside access to Tidy Cats' newest products so we can try them out and let you know (honestly) what we think. While The Catnip Times is paid for sponsored posts, will only cover products and stories that we feel will be interesting and/or add value to The Catnip Times' community and pledge to be 100% honest in our reviews. We hope you enjoyed this one!