THE IDEXX SDMA TEST IS AN EARLY DETECTION TOOL FOR KIDNEY DISEASE IN CATS AND DOGS
It's said that one in three cats will be diagnosed with kidney disease in its lifetime. Some estimates are as high as one in two (fifty percent), and eighty percent of cats over the age of fifteen will suffer from this awful disease. By the time kidney disease is detected with traditional methods, nearly 75% of kidney function is already lost.
The kidneys are essential for removing waste from the blood, managing blood pressure, making hormones and creating new red blood cells. While kidney disease isn't curable, it's highly treatable, particularly if it's caught early. We spoke with Dr. Roberta Relford of IDEXX Laboratories about a new test for kidney disease, the IDEXX SDMA™ kidney screening test.

GOOD NEWS FOR CATS (AND DOGS)
IDEXX has developed a new test to detect kidney disease earlier called the IDEXX SDMA test (symmetric dimethylarginine). The test can reveal kidney disease at approximately 25%-40% loss of function (compared to 75% loss using traditional methods that rely upon creatinine) . Early detection provides the opportunity to preserve the working kidney tissue.
The test became available in July 2015 with over 12,000 veterinarian offices submitting over one million blood samples within 6 months. The results from these tests show that SDMA has helped veterinarians uncover early-stage kidney disease in more than 90,000 cats and dogs when their creatinine values were still normal. The IDEXX SDMA test is identifying over 2 times the number of pets with early kidney disease than traditional methods…meaning had these pets not had the IDEXX SDMA test, their kidney disease would have been missed.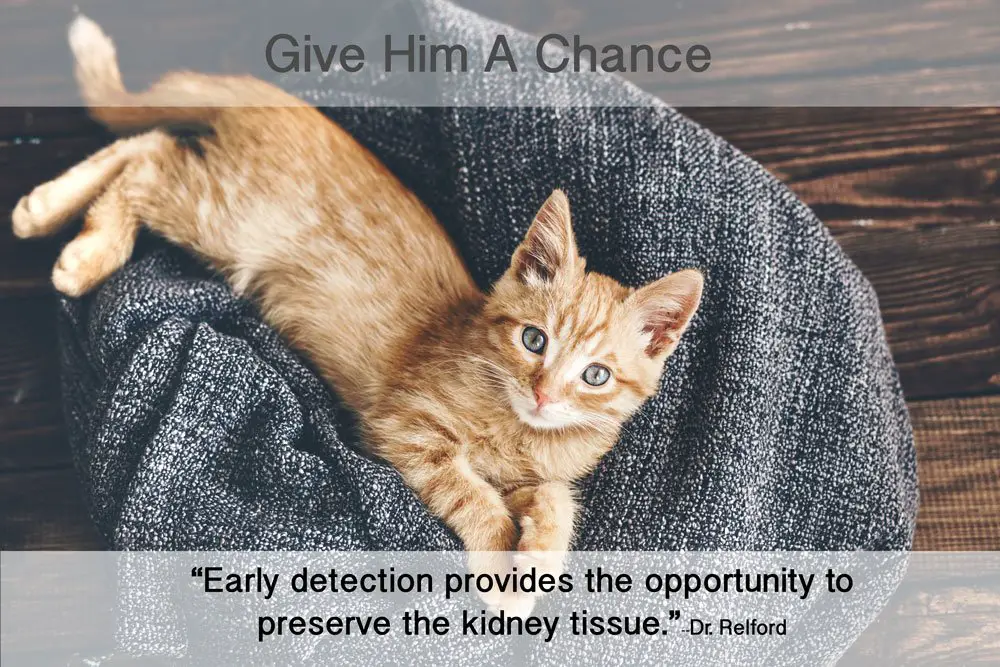 "Early detection provides the opportunity to preserve the working kidney tissue."
WHAT IS THE TEST?
The IDEXX SDMA test is part of IDEXX's regular blood panel. So when you take your cat (or dog) for its annual vet exam, the IDEXX SDMA test will now be included (as long as it's an IDEXX panel). Ask your veterinarian about it.
HOW IS IT DIFFERENT FROM OTHER KIDNEY TESTS?
According to Dr. Relford, traditional tests for kidney disease currently rely on the detection of creatinine, which results from the breakdown of muscle tissue. The IDEXX SDMA test is not impacted by muscle mass, making SMDA the better marker for this common disease. IDEXX SDMA looks at methylated arginine instead, and is able to detect the disease much earlier.
WHEN SHOULD I HAVE MY CAT TESTED?
Your cat should be tested annually with its annual bloodwork. The younger your cat is tested, the better. This way a baseline is established and any changes can be measured annually.
HOW MUCH DOES IT COST?
As long as your veterinarian uses an IDEXX reference lab, the IDEXX SDMA test for early detection of kidney disease is included in the blood panel for no additional charge. You'll still be charged for the regular bloodwork, but your cat (or dog) will automatically be tested for kidney disease when their bloodwork is run through IDEXX Laboratories.
IF MY CAT IS DIAGNOSED WITH KIDNEY DISEASE, WHAT CAN BE DONE?
If a test result comes back increased, the root cause needs to be determined. According to Dr. Relford, many things can cause kidney disease – some congenital and other cases can be due to an infection or other causes. Your vet will likely want to run further tests to get to the root cause of the elevated SDMA values which could include a urine culture (to test for an infection) or an ultrasound of the kidney (to check for kidney stones).
Sometimes resolving the elevated kidney values can be easy, like administering an antibiotic for an infection. Other times, when the condition is considered chronic, cat parents can do a number of things to help their cat live a longer and quality-filled life. Cat parents of cats with chronic kidney/renal disease (CKD/CRD) will often have to make some changes including:
Diet modification
Allow access to multiple sources of water
Administration of subcutaneous fluids
Renal protective drugs
The IDEXX SDMA test is the most important advance in the detection of kidney disease in thirty years. Be sure to ask your vet about this important test. Your cat's health and well-being could very well depend on it.
ON A PERSONAL NOTE
I recently lost a cat to chronic kidney disease in October 2015. Please read Elaine's story if your cat is currently battling this disease. My 16-year old cat, Wes, has hypercalcemia that he's being treated for. My vet ran the IDEXX SDMA test on him a couple of months ago and his kidney values were very slightly elevated at seventeen, where fourteen is the upper threshold for normal. This test has given me the ability to modify his diet and get ahead of kidney disease early.
SHARING IS CARING
Please share this information with both cat and dog parents. It could help save and extend the lives of our furry loved ones.