Come Along For An Inside Look at French Cat Cafés
Zoe, a petite tabby, curiously sniffed my arm, which seemed like a distraction technique, but instead of heading for the whipped cream on top of my decadent chocolate tart, she nudged my hand as if to say 'Make yourself useful.' I obliged her with a rub around the ears while taking a sip of Darjeeling tea.
While Zoe and I bonded, I observed the other patrons. Two teens left their sodas untouched as they moved from cat to cat, cooing and petting. A couple, seated in a cozy corner, held hands over a huge white cat that had decided to make their table his nap location. Outside the window, I watched a steady stream of tourists and locals passing by with hands full of Christmas shopping.
It was a late November afternoon in Reims, a city in the Champagne wine region of eastern France, and while it sounds like a typical French café scene, there was one difference.
It was a French cat café.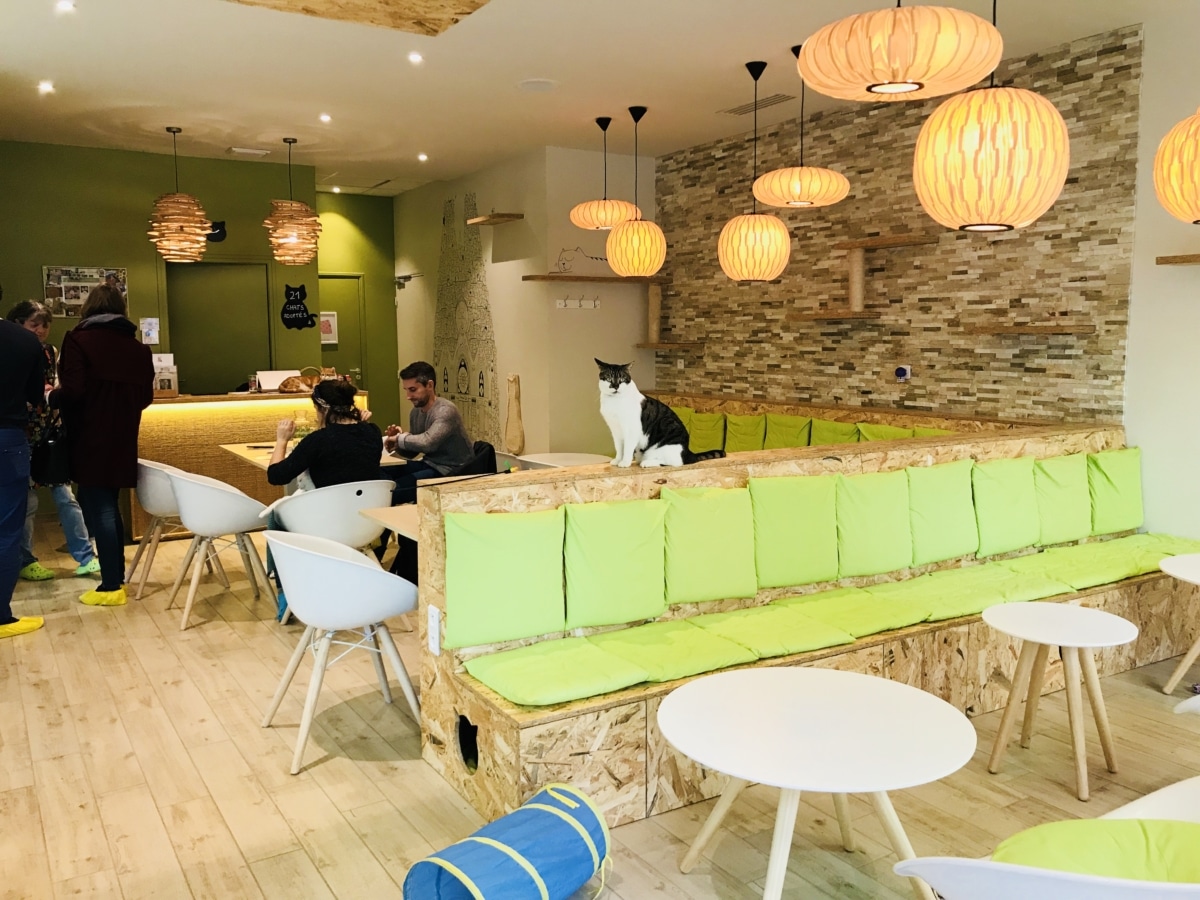 One of the best reasons to visit France is to experience its famed cafés, and now, you can soak up the culture while also getting your feline fix.
But the kitties aren't the only reason to visit France's cat cafés. How about the chance to sample gourmet cuisine in fashionable spaces that Vogue would deem 'French-girl-cool'?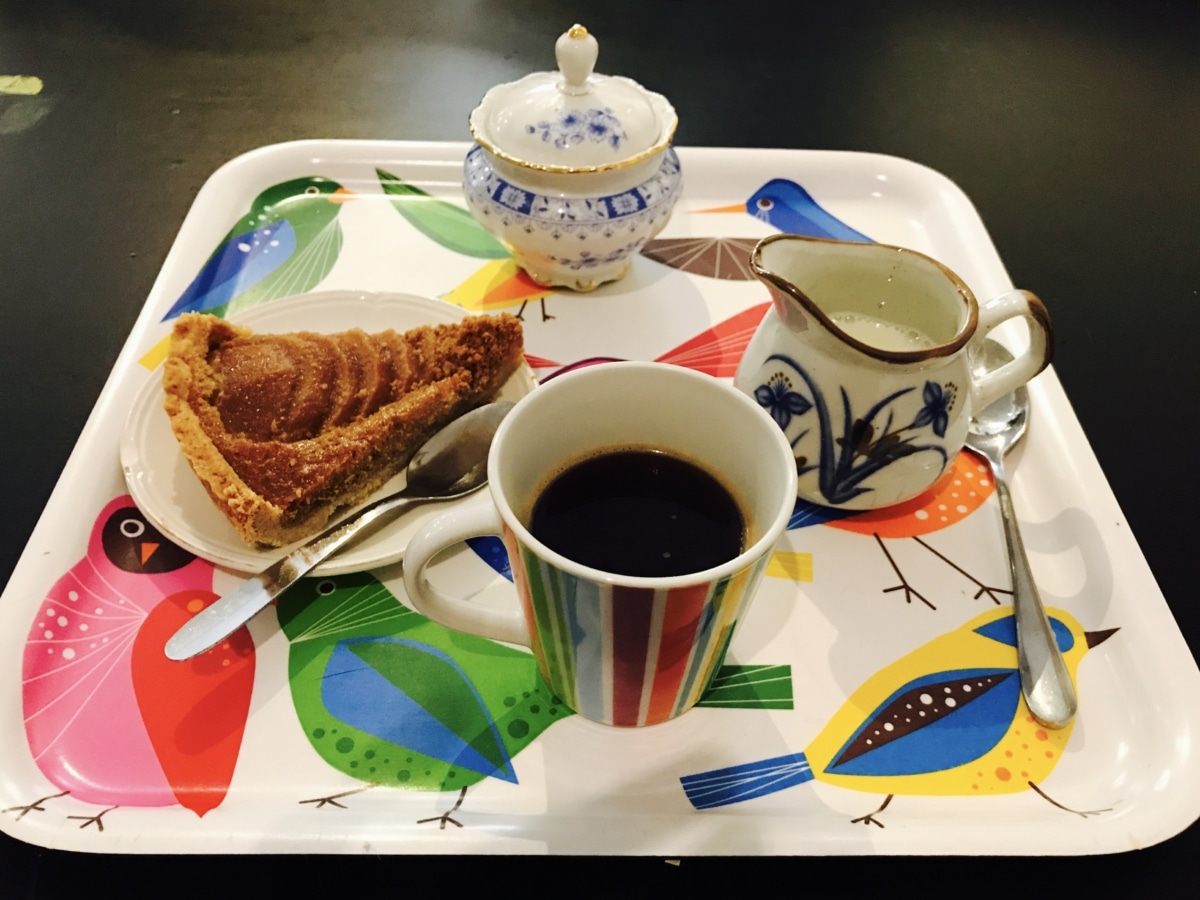 While the cat café trend has recently swept across France, leave it the French to elevate it from cute and cuddly to stylish and sophisticated.
Having visited over 160+ cat cafés worldwide, I've found most interiors to be pretty standard- tables, chairs, coffee cups, and cutesy cat-themed decor. But my travels to the feline emporiums across northern and central France have revealed a common thread of deliberate, artful design. From historic to austere to shabby chic, these cafés know how to create atmosphere that feels authentic, effortless and tastefully catifed.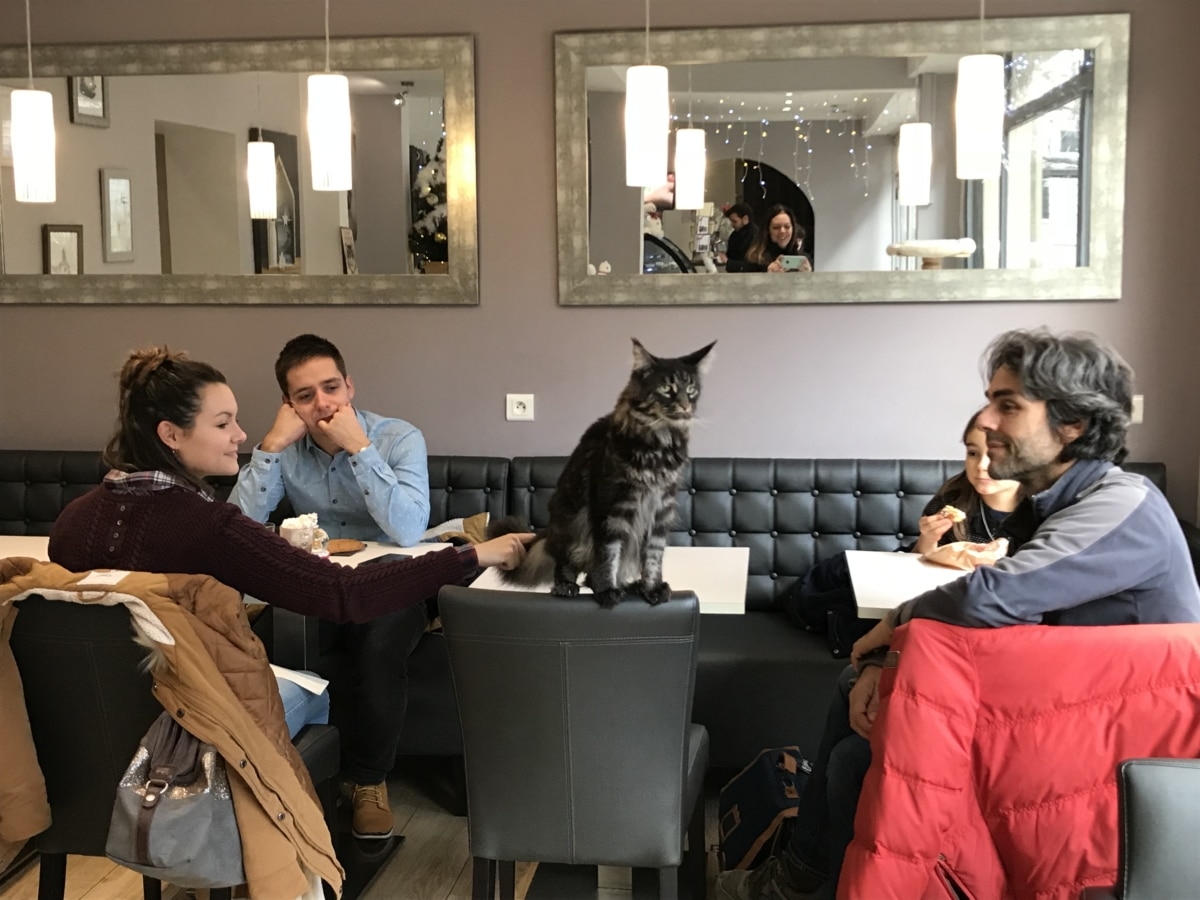 Au Chat Perché ('the perched cat') located in Caen, a lovely port city in lower Normandy, occupies an 18th century building that evokes the past while offering contemporary comforts. Originally part of old abbey, it was transformed into a town mansion by a former musketeer of Louis XV. The space has been modernized, yet sensitively retains the features (brick walls, wooden shutters, original knockers) that highlight its authenticity. The decor is minimal, yet still manages to be cozy for sipping tea with a cat occupying your lap.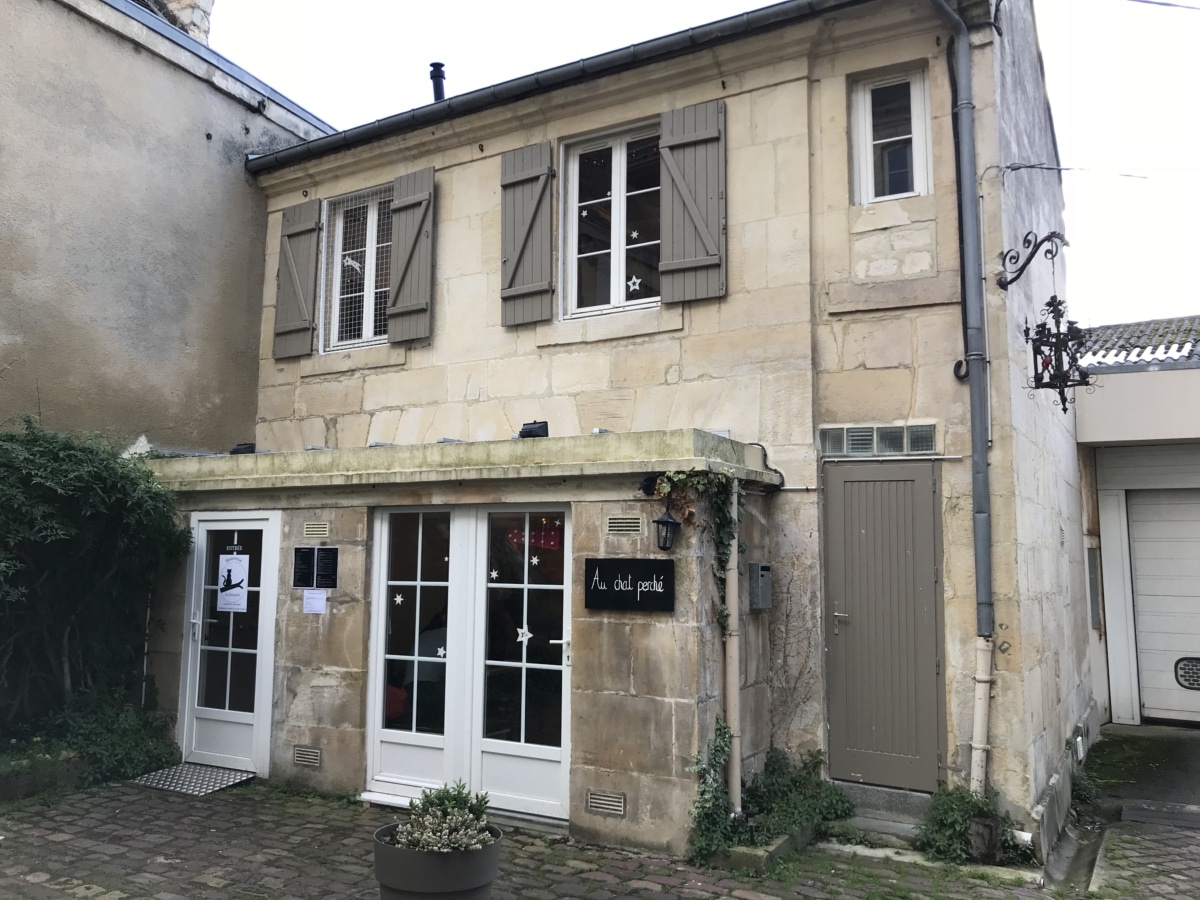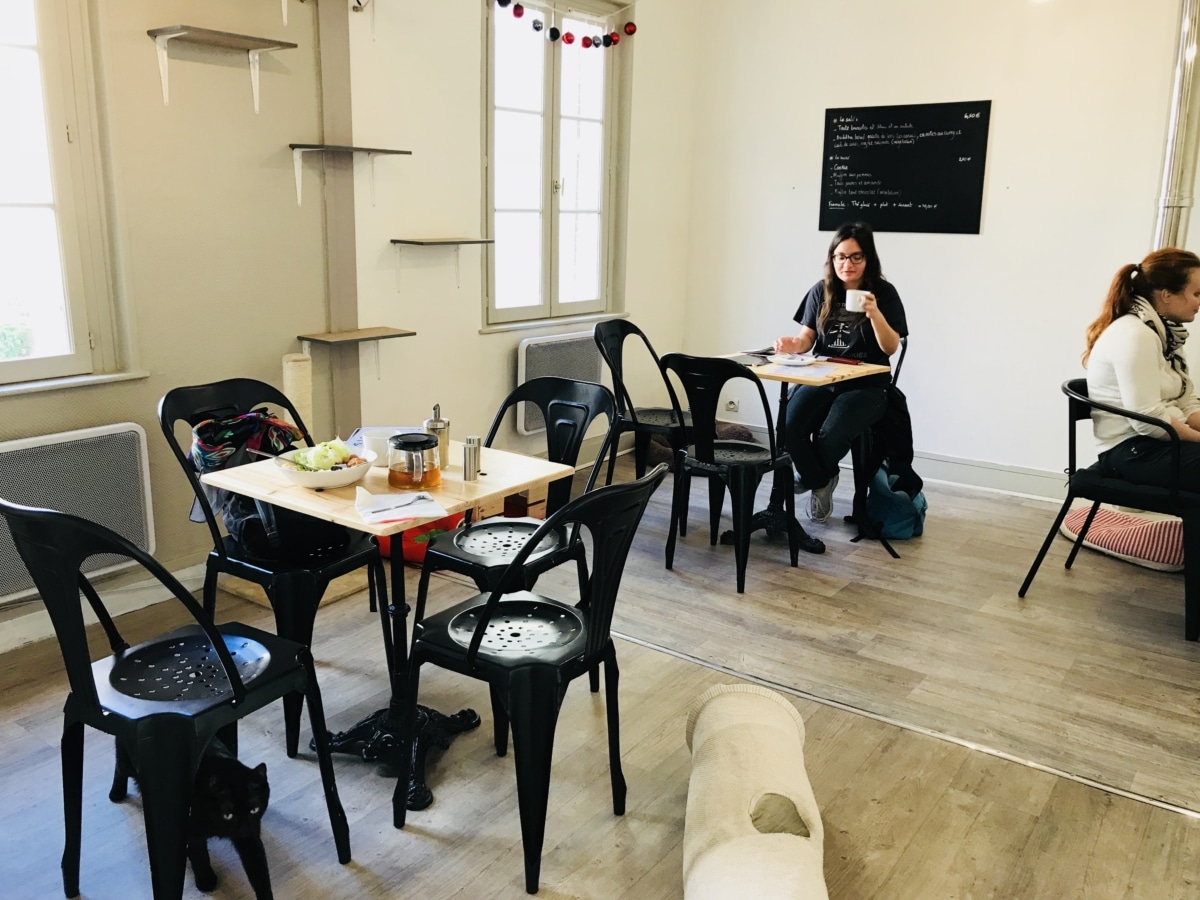 In Nantes, a western city on the Loire River, Le Chat l'Heureux also taps into history, as the cafe is part of a medieval building that tilts slightly (as do many of the structures in this part of Nantes). Back in the day, coins were placed between the uneven stones and mortar to monitor the leaning, a cultural vestige that is still in practice today.
Shabby chic reigns supreme in France, and several cafes exude this vibe, including Lille's Au Chat Voir Vivre. The space is stylish and completely unique with lovely dark wood floors, mix-and-match chairs, and scores of books. The vibe is hip with equal measures of sophistication and coziness, and set to a soundtrack of lively chatter and purring.
The ambience of Le Café des Chats in Paris comes off like a vintage library with book-covered wallpaper and antique furnishings fitted with cozy sleeping nooks for the cats. It has a classic, yet quirky nonchalance that is the hallmark of French style.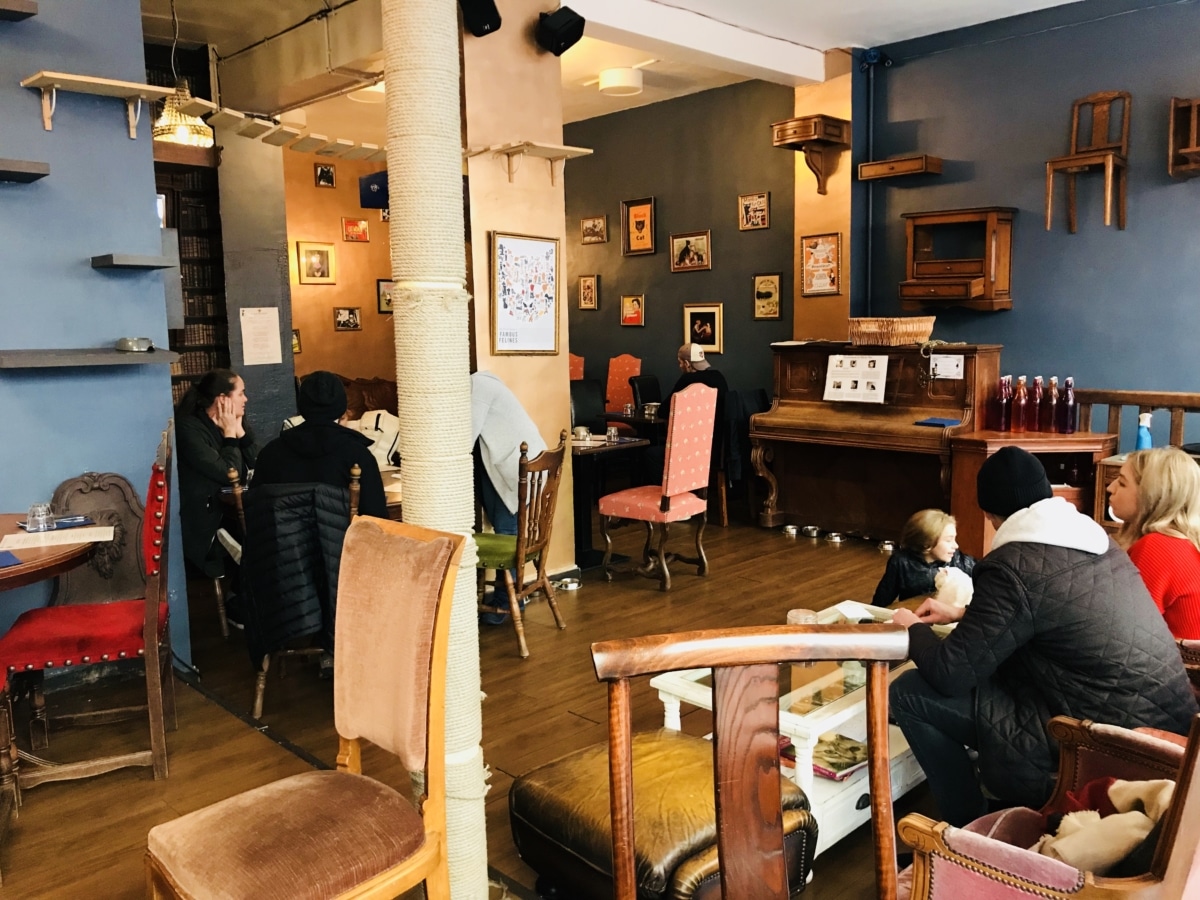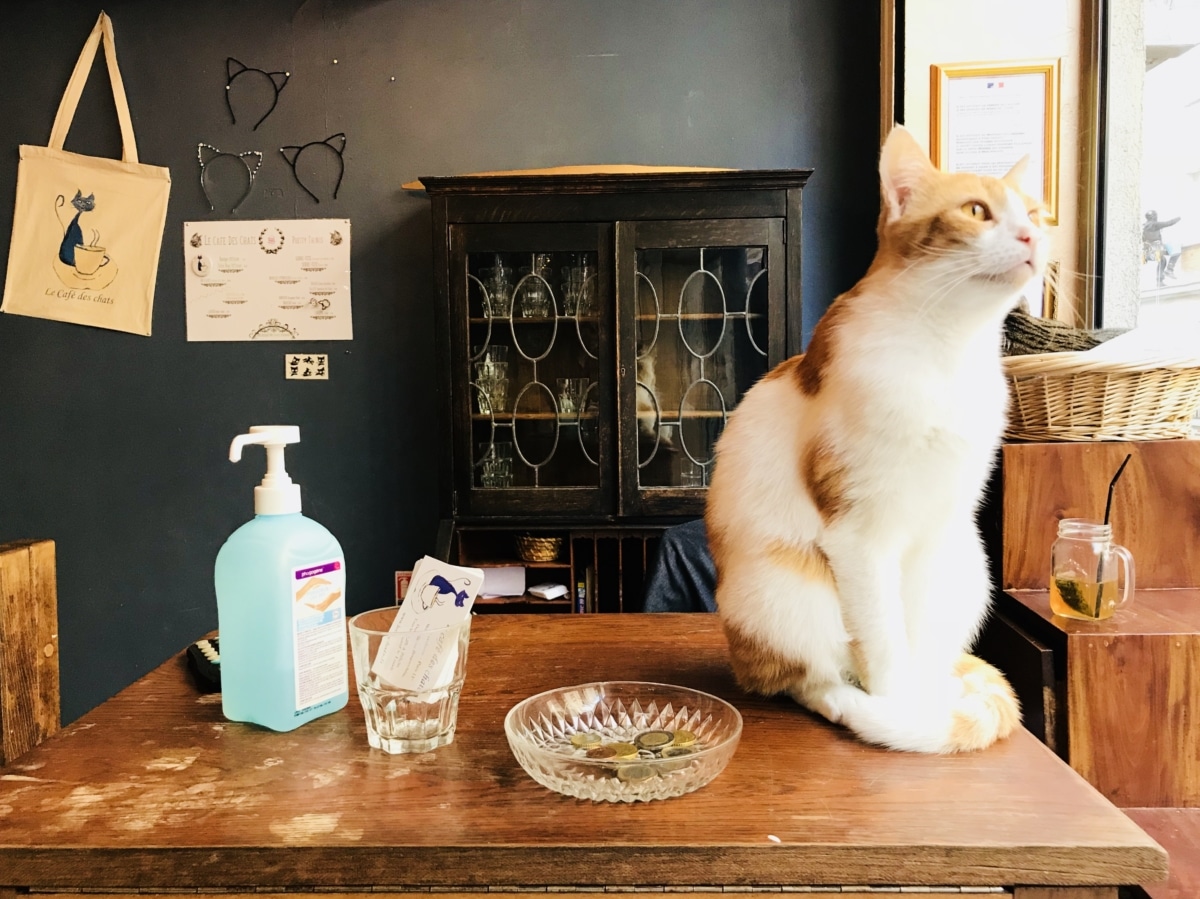 While the cafes are chic and beautiful, the French make sure things never get too precious by adding offbeat touches. Le Chat Puccino (Rennes) serves espresso in miniature cups adorned with hipster cats dressed in stocking caps and French Navy shirts.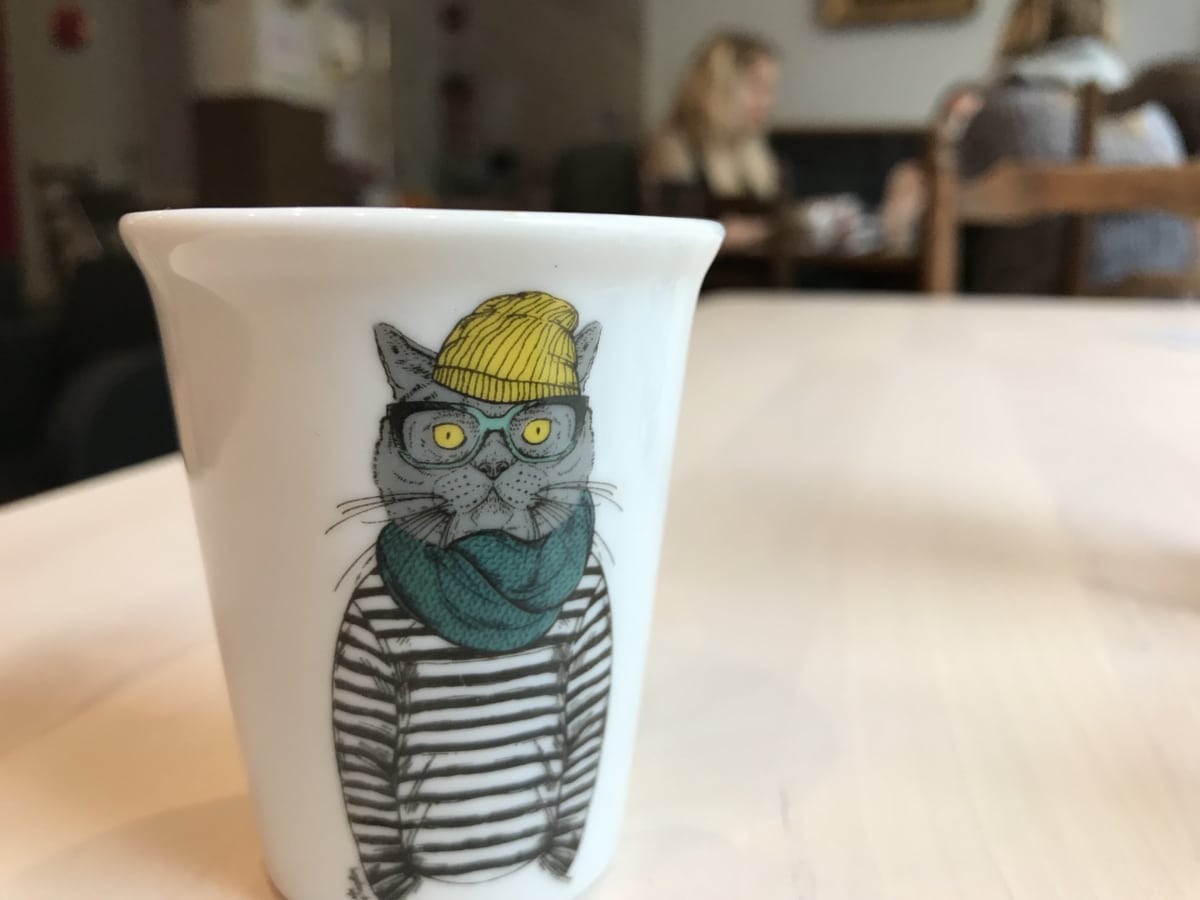 Ronron pays tongue-in-cheek homage to venerable Reims Cathedral (the coronation site of French kings dating to 1027) as one wall prominently features a mural of the cathedral adorned not with saints, but of cartoon cats.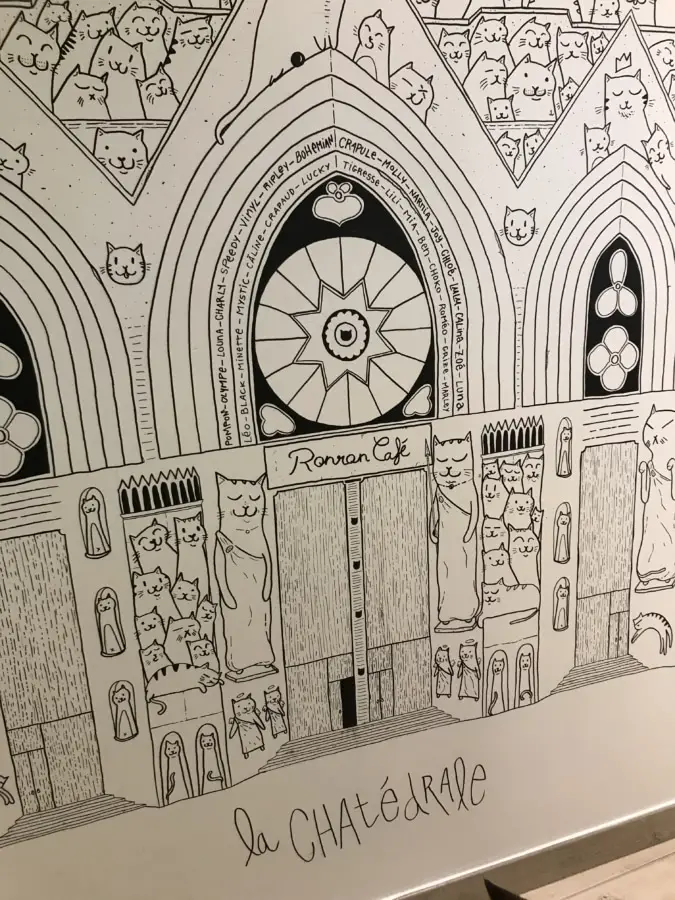 Ambience is not the only area where the French are on point, as their cat cafés also deliver gourmet food experiences.
Many cat cafés are unable to serve food due to local regulations, so I completely understand that it's just not possible in many locations.
However, a cat café reviewer can't live on kitty love alone, and while a solid cup of coffee is usually enough to satisfy me in the presence of felines, there was no need to break into my emergency stash of almonds in France's cat cafes.
When it comes to French cat cafe epicurean delights, I'm still dreaming about the meal I had at Le Darwin in Troyes. The starter was a snappy amuse bouche of garlic sauce with croutons and radish, while my Oeuf Frite main, a crumb-coated soft boiled egg finished with bacon, was divine.
For dessert, I indulged in a crusty almond cupcake split in two and topped with a dense white chocolate frosting and mango sauce, plus a side of icy lemon sorbet adorned with bits of sea salt, merengue and candied lemon peel. It was very sweet but nicely balanced by the citrus and a furry lap visitor.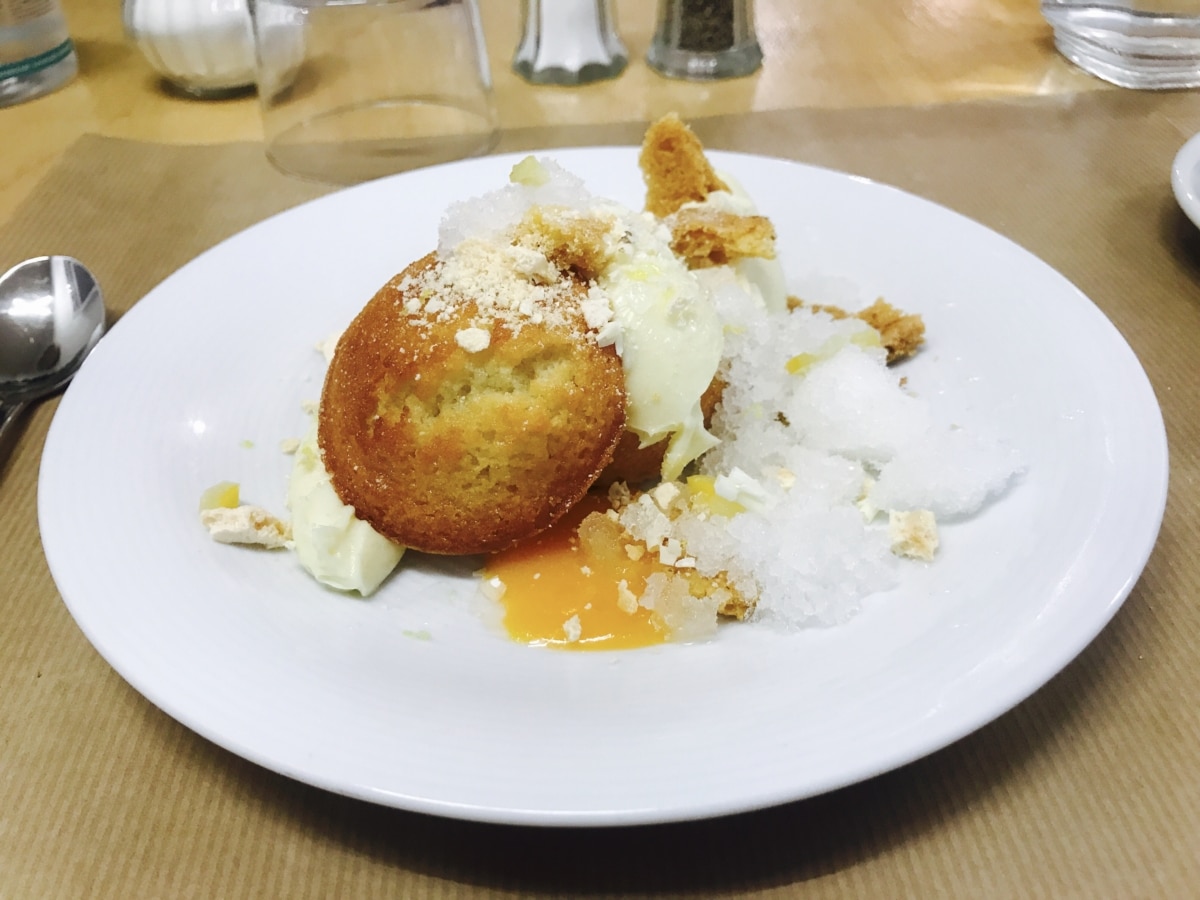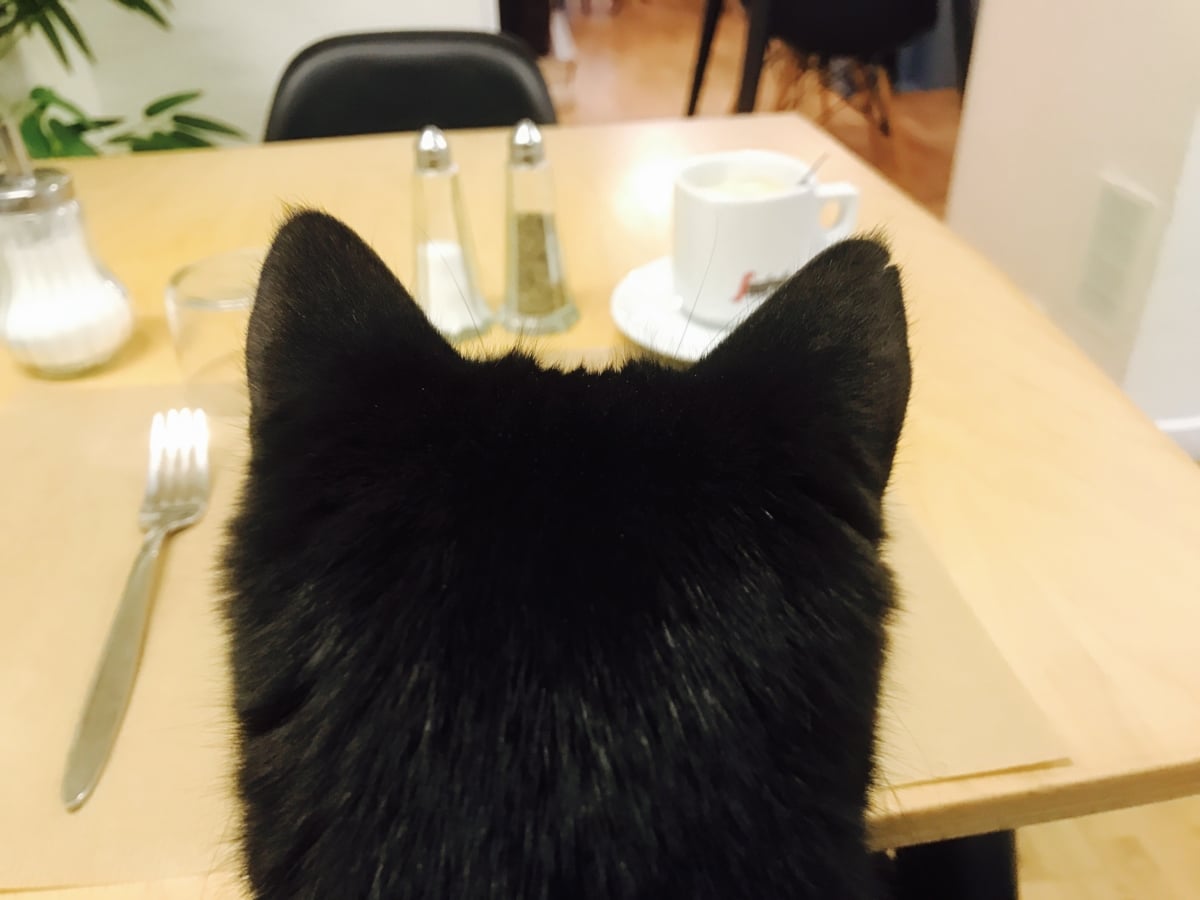 I would come to realize that the availability of classic French lunch fare was not an exception, but the norm. Ronron in Reims serves a tasty quiche and Chat l'Heureux a hearty butternut squash soup. Vegetarians will rejoice at Au Chat Perché, where you can find such selections as lentil burgers, curried carrots and a side of kitty cuddles.
There is no skimping on dessert either, with delectable and artistically presented creations at Le Café des Chats in Paris and Maison d'Elise in Nantes.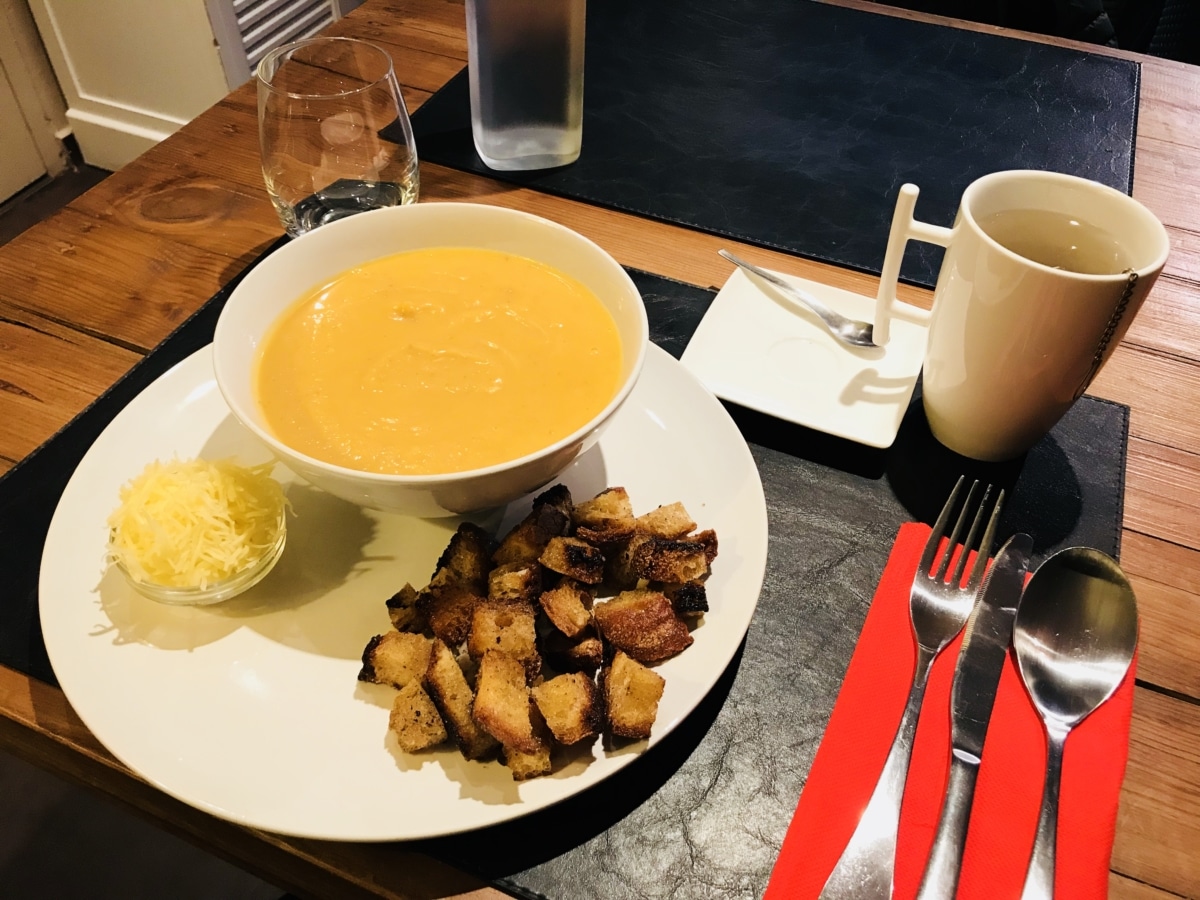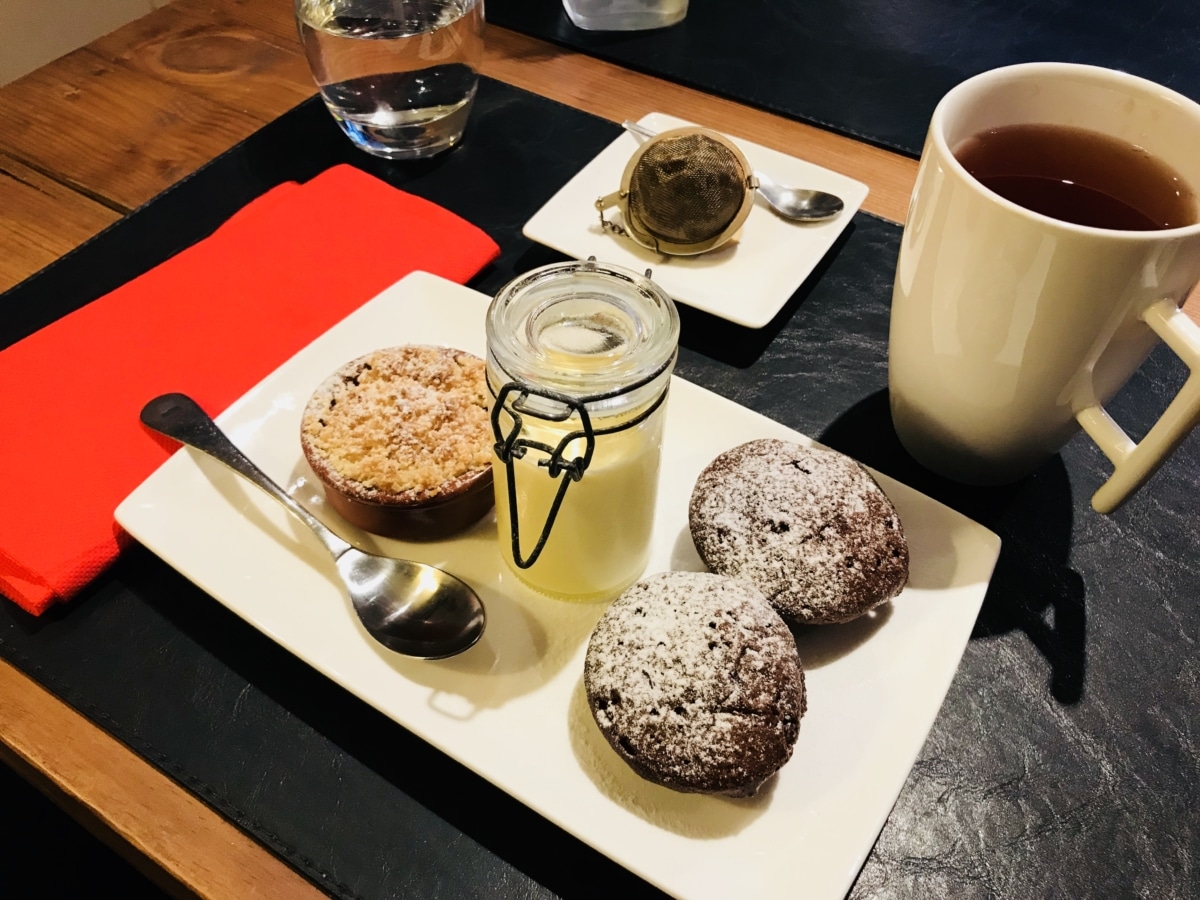 Last, but certainly not least, there are the cats.
Unlike American cat cafés, which almost exclusively feature adoptable rescues, France offers a variety of choices.
A few cafés spotlight pedigreed or posh felines like Maison d'Elise, home of five gorgeous Maine Coons, and Chat Mallows Cafe which houses a clowder of Sphinxes, a British Shorthair, and even a dog!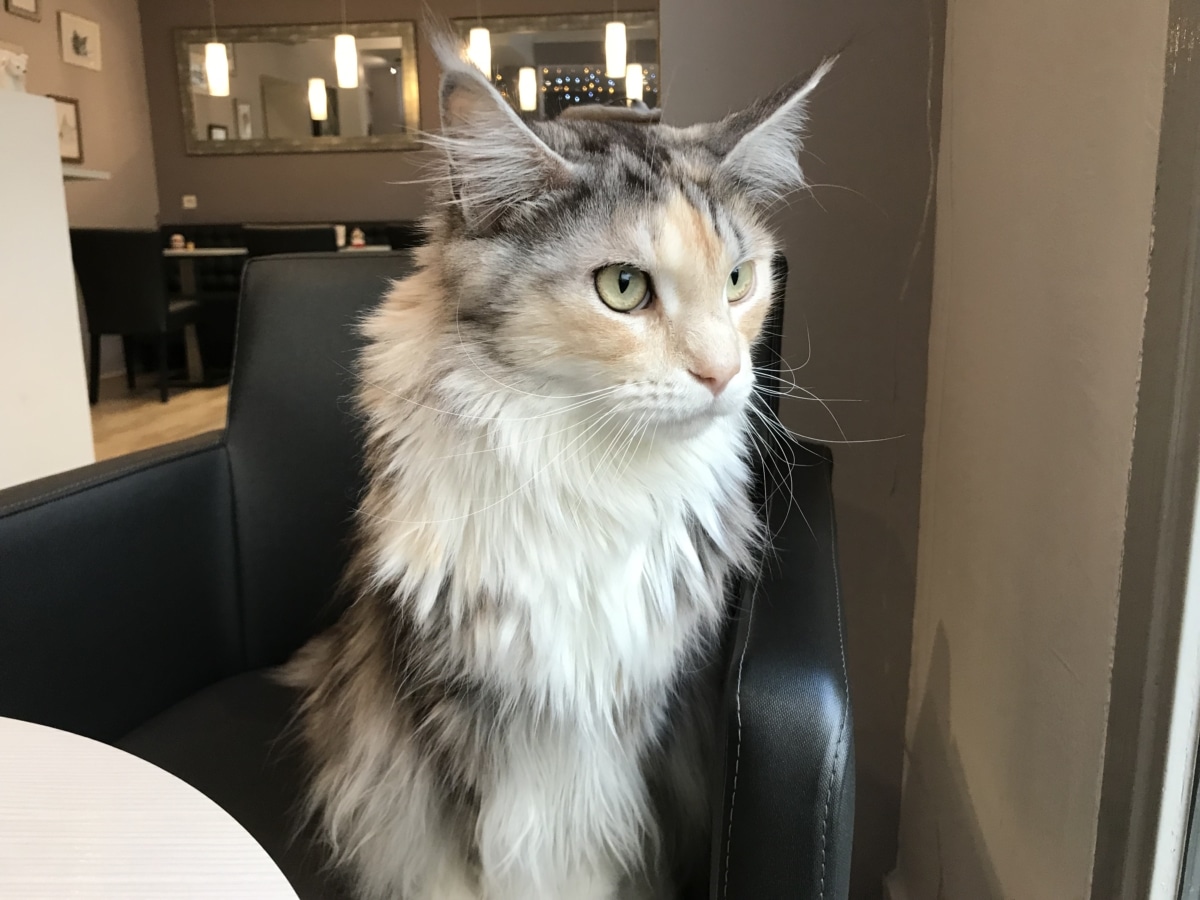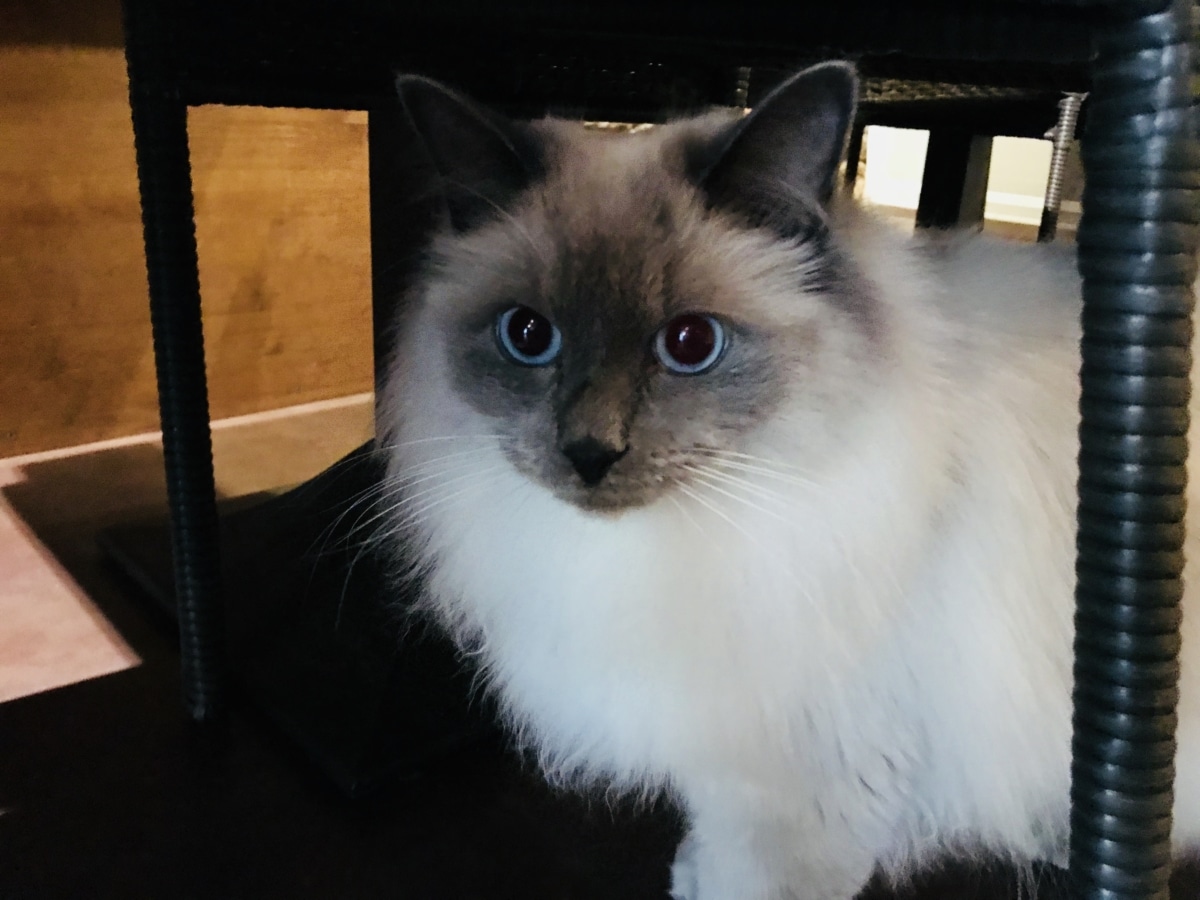 Some cafés' cats are rescues in permanent residence (non-adoptable), such as Au Chat Voir Vivre and Le Café des Chats—where my favorite cat in Paris, Izmir, lives.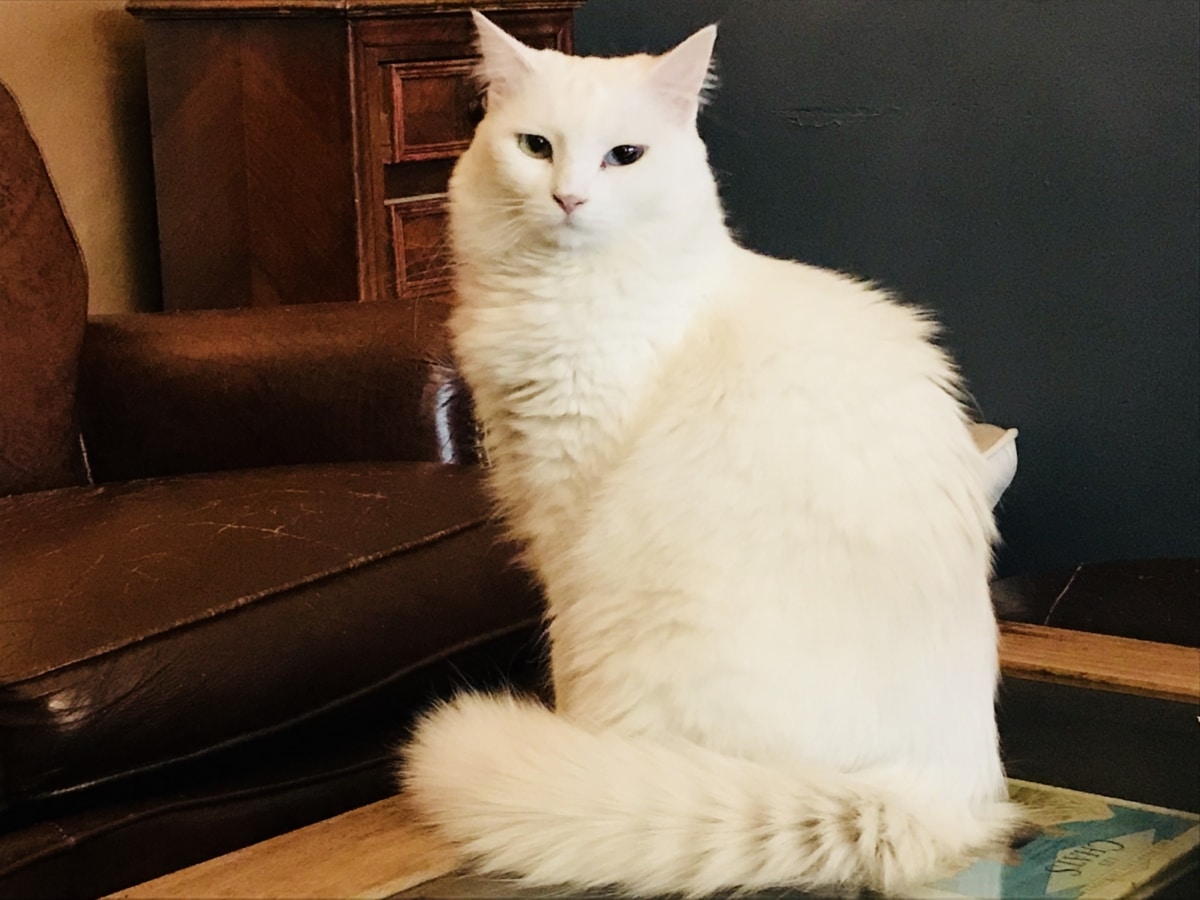 However, most of France's cat cafés house rescue cats for adoption, including Café Moustache (Rouen), Au Chat Perché, Le Chat Puccino, and Ronron.
Roxane, owner of Ronron (the French term for purr) previously volunteered with a cat welfare association before opening her café, and she has developed a keen understanding of cats and their behaviors. Today, Roxane has specific requirements for the organizations that supply cats to the café, mainly that the cats are relatively social and enjoy the company of people.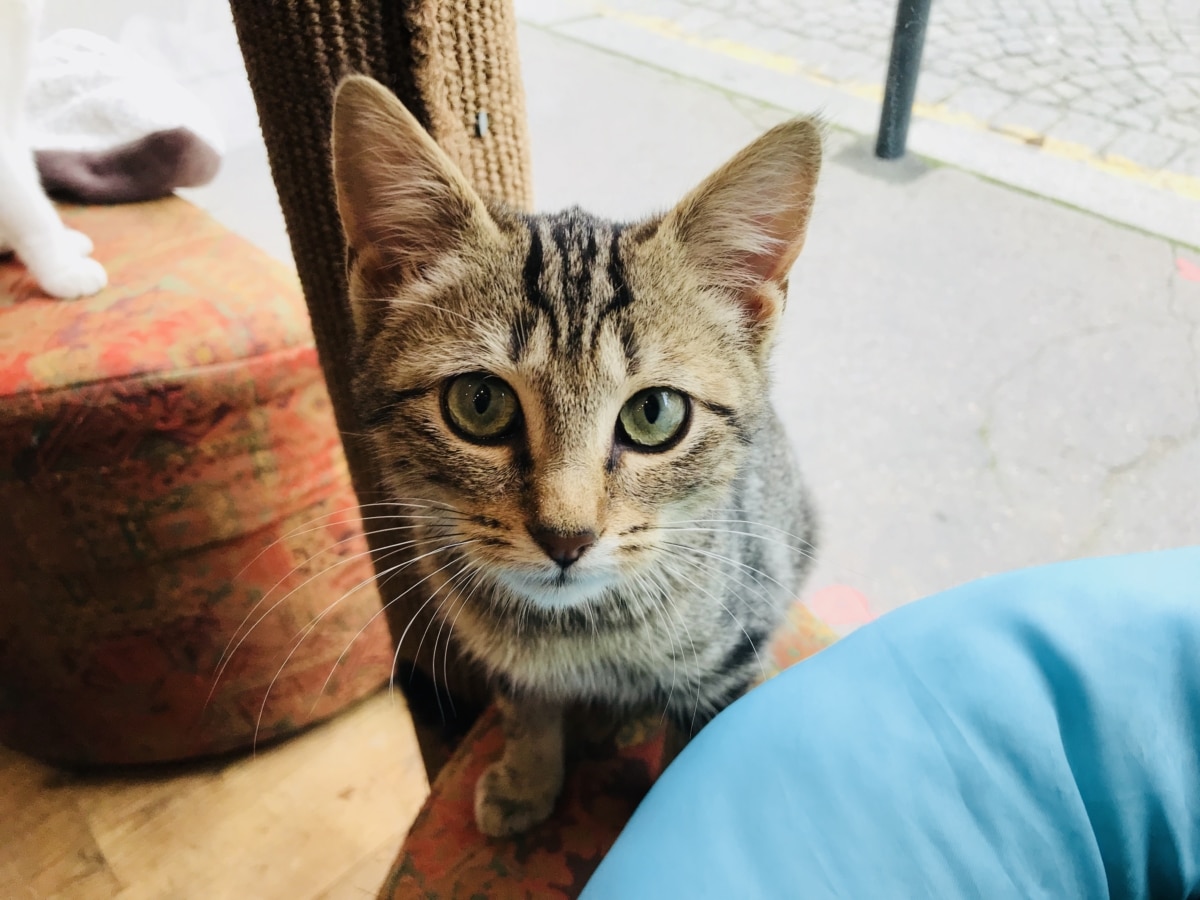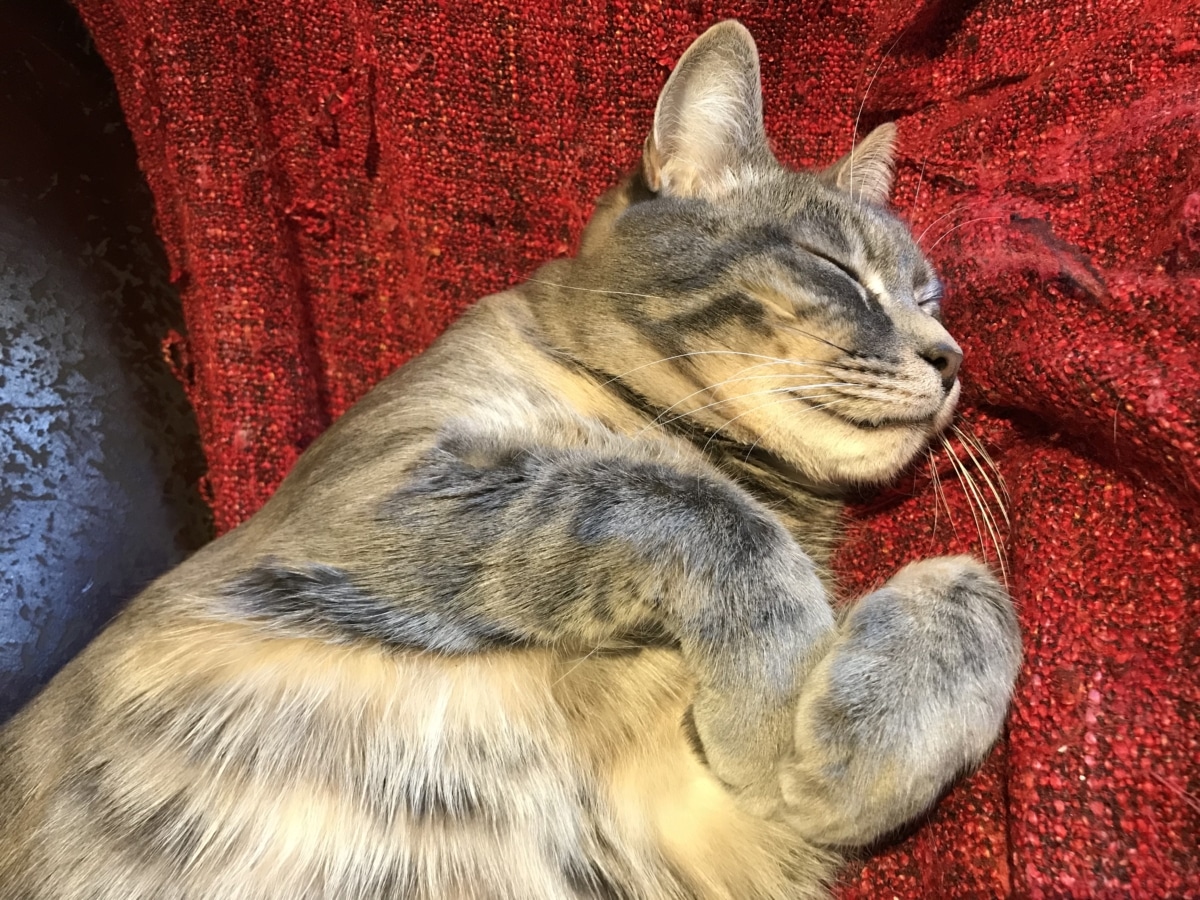 She goes one step further by requesting adults and older cats with short hair or less attractive features (missing eye, tail) that might cause them to be overlooked in a traditional shelter. This approach, combined with the relaxed environment, has been successful—resulting in 22 adoptions since the café opened in March, 2017.
With few exceptions, I found French cats to be friendly and playful, a testament to the love and care they receive from the dedicated owners and staff, who are passionate about animal welfare and rescue/adoption.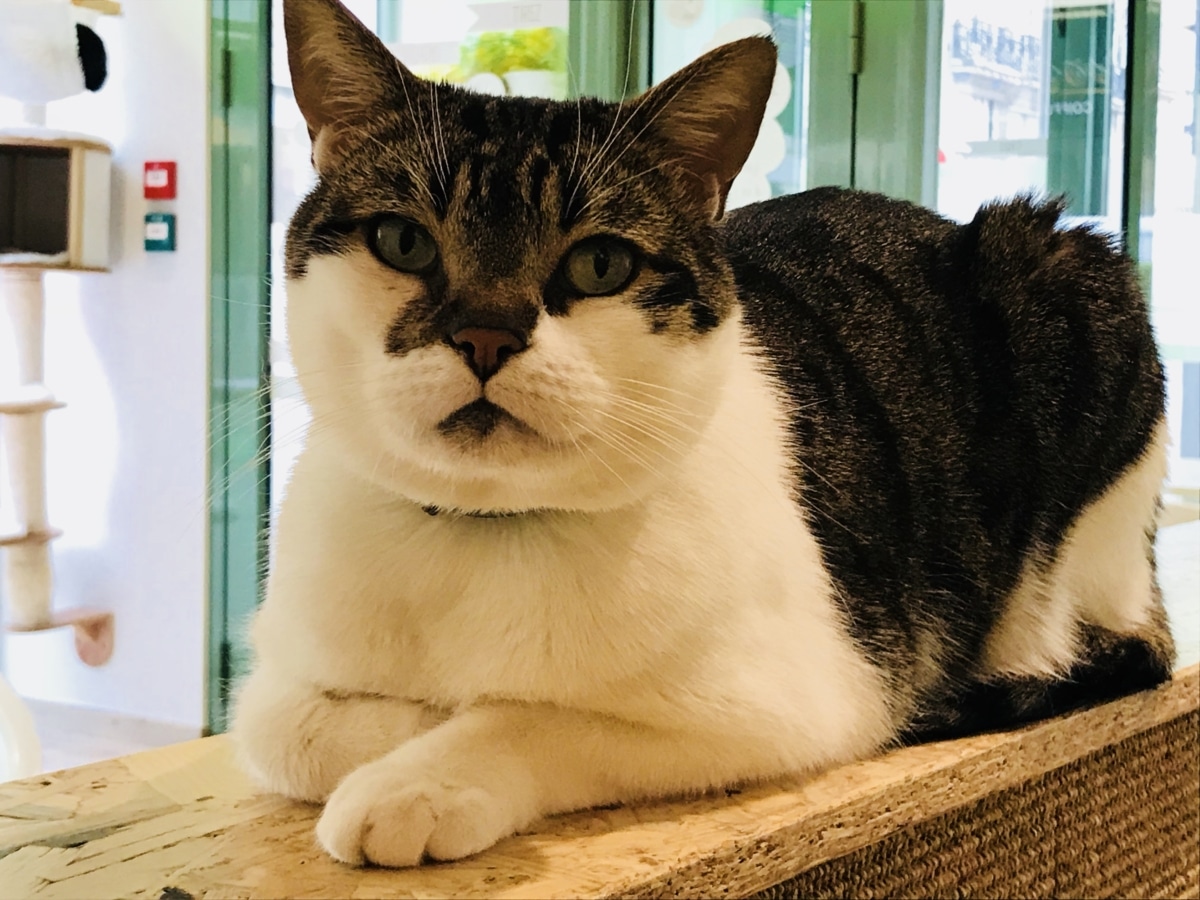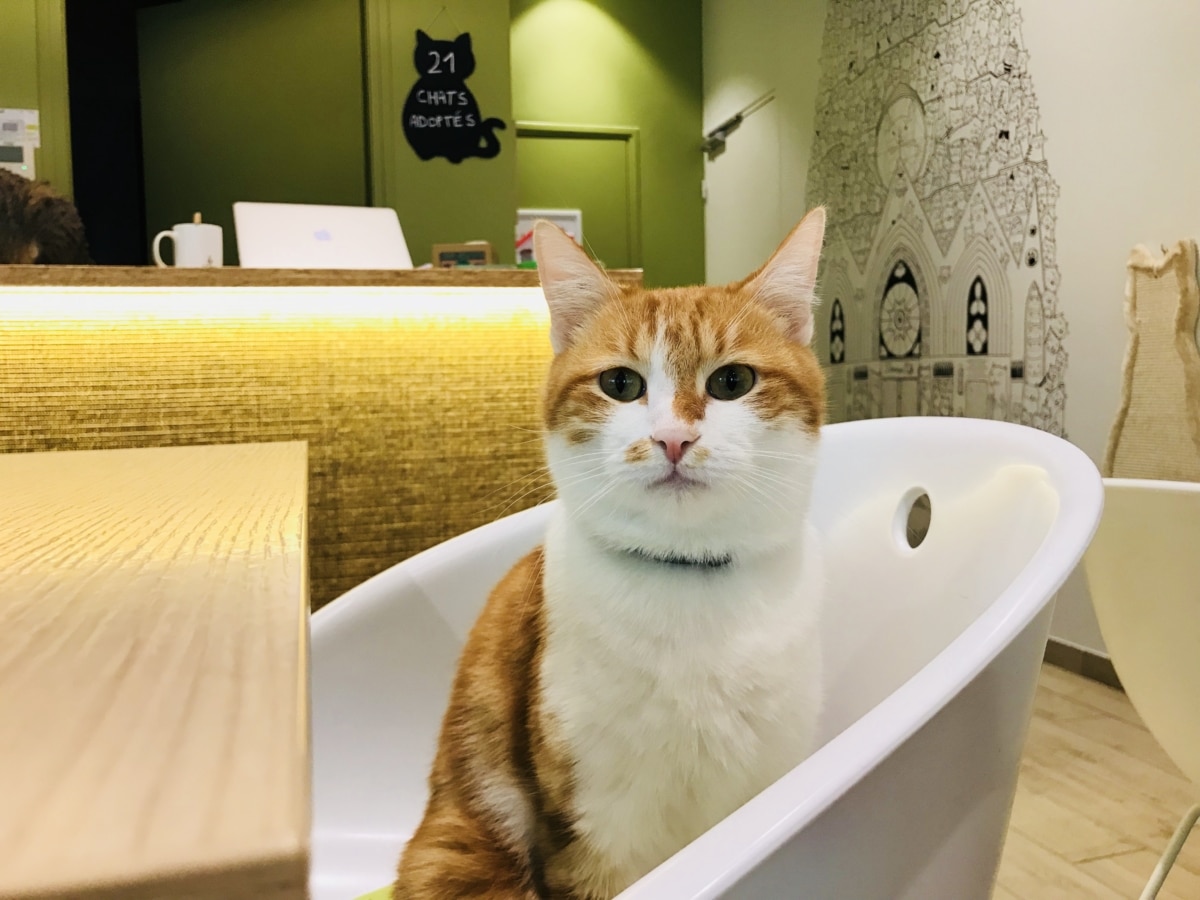 So, what are you waiting for? France's cat cafés don't just settle for a few cute kitties and a cup of coffee. The full French café experience is on offer, complete with charming atmosphere and fabulous food. Traveling around the country to visit these cafés would be a highlight for any tourist, even if you don't consider yourself a cat lover.
But when sweet Zoe nudges your hand, I suspect you might change your mind.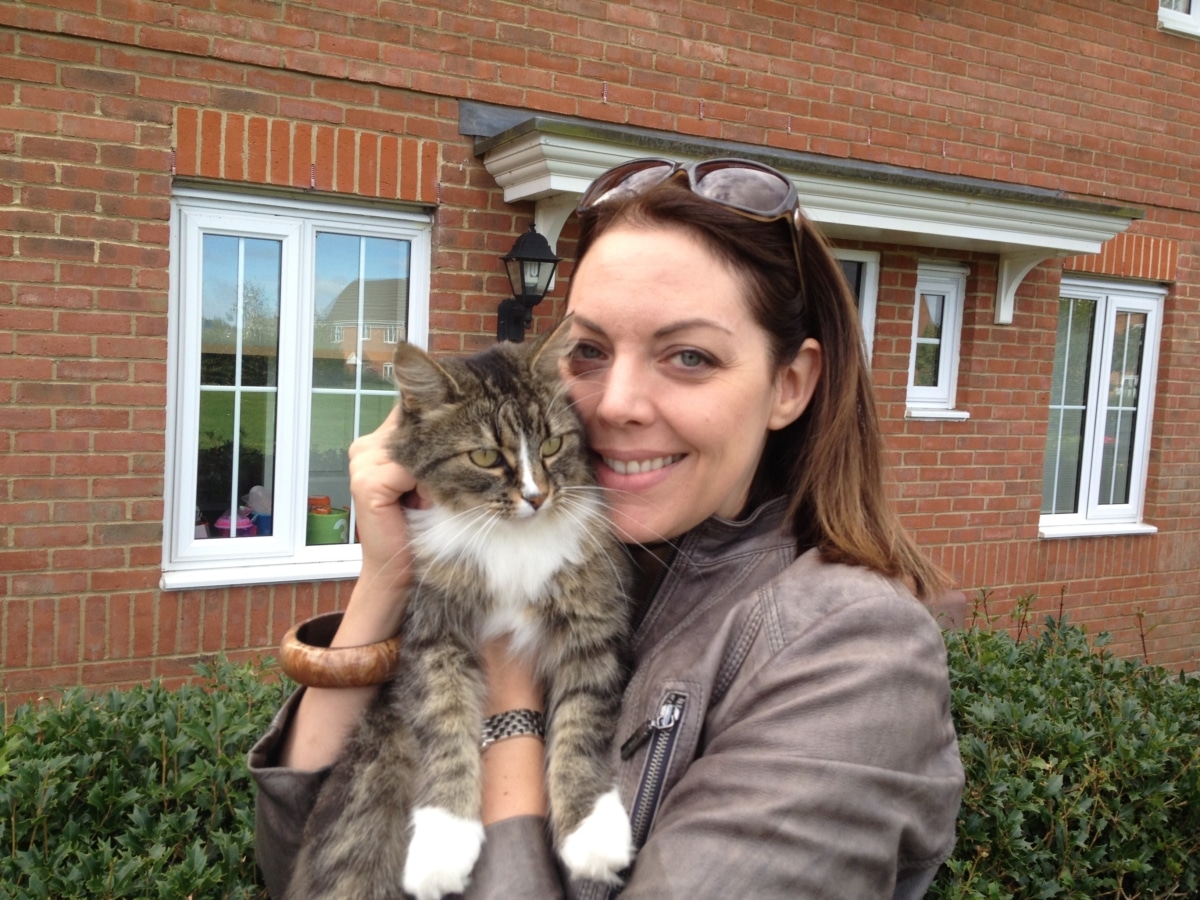 What began as an innocent mistake changed my life forever.  Shortly after moving to the UK, I took in a homeless cat that kept appearing on my doorstep.  Probably because I kept feeding her. Over time, I fell completely in love, only to discover nearly a year later that she was actually the neighbor's cat.  Luckily, we all became good friends, the neighbor, the cat and me, and even though I no longer live in the UK, that cat hasn't left my heart.
Since then, I've been wandering around the world with my partner Perry, visiting cat cafes, and trying to forget my beloved fur baby. You can follow my adventures at The Neighbor's Cat blog.