courtesy of Angela Colley, Yahoo! Contributor Network
Your cat needs a balanced diet of vitamins, protein and carbohydrates to live a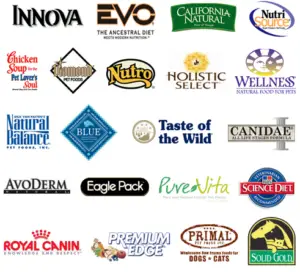 long, healthy life. While most mass produced cat foods meet the requirements, they use poor sources of meat and stuff the food with unnecessary fillers like corn and grain. Over time, your cat could develop allergies or serious illnesses from eating these foods. Natural cat foods have all the nutrients without the junk and they are made in a more environmentally conscious way- better for your pet and the planet.
The Top Five Natural Cat Food Brands
EVO 
The EVO natural cat food line includes dry food, canned food and cat treats. The foods are grain and filler free and use whole meat sources for protein. The EVO line includes a variety of different flavors include chicken, turkey, duck, venison, herring and salmon. They carry a line of dry food for kittens and a special weight loss formula for adult cats.
Wellness
Wellness offers dry and canned food as well as a special line of moist dry food for finicky eaters. Each product contains human grade ingredients, whole sources of meat and fruits and vegetables for balance. The Core line includes both dry and canned foods free of grain products. Wellness also sells a line of jerky treats for cats in chicken and lamb or turkey and salmon flavors.
Earth Naturals
The Feline All Life Stages dry cat food from Earth Naturals contains 100 percent natural ingredients. The company uses deboned chicken as a primary source of protein as well as other whole food sources for vitamins and minerals. Earth Naturals products do not contain wheat, soy, grain, added sugars or artificial coloring agents.
Halo
Halo sells both dry and canned natural cat food. The dry food products use whole ingredients and do not contain any grain or wheat fillers. The canned food, known as Spot's Stew, is free of by-products and comes in a variety of flavors including salmon, beef, chicken, turkey and lamb. All Halo products are 100% natural and formulated to meet nutritional needs.
Blue Buffalo
The Blue Buffalo line includes dry and wet foods formulated with high protein content and natural ingredients. The Blue Basics line was designed specifically for sensitive stomachs. This natural cat food includes whole meat sources and vegetables that reduce the risk of digestion problems.