Dogs, and babies and cats – Oh my! While the cat's litter box is probably not one of your favorite places to hang out –  for some reason, it's THE place to be if you're a dog or a small child. That's because what we see, isn't exactly what your dog or your child sees, when looking at your cat's litter box!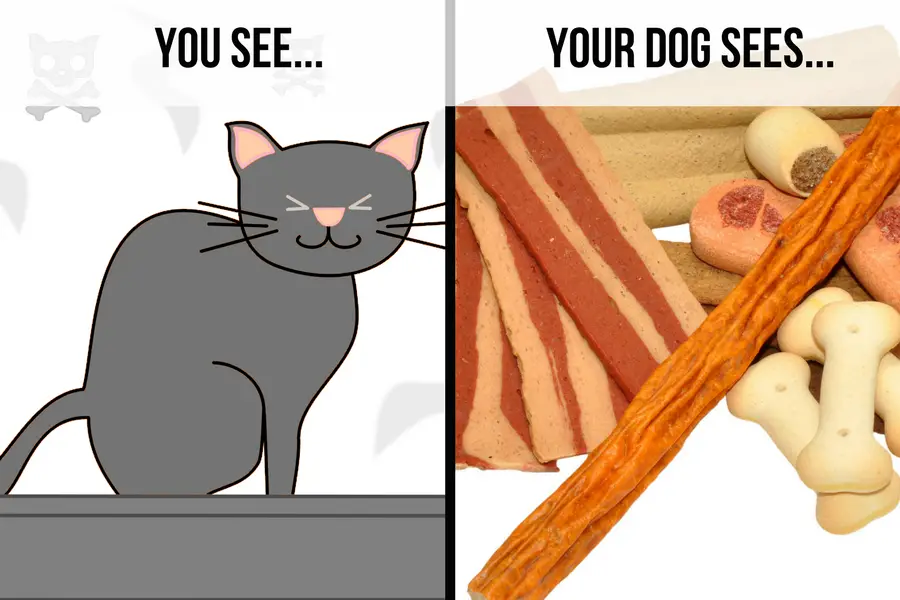 Enter The Door Buddy!
The Door Buddy helps manage all of the little ones in your house – be they cats, dogs or kids! Door Buddy allows the cat to have access to all of the areas they need, while keeping the larger dogs and the tiny toddler out.
How Does Door Buddy Work?
Door Buddy is a neat little contraption that has an adjustable strap anchored between two pieces of strong plastic that easily affix to your door using 3M VHB tape. When placed up out of reach of little ones, an adult can easily unhook the latch and open the door, and re-latch the door from the outside.
The strap allows the door to be opened just as far as you want it – to allow the cat access, and at the same time, it prevents dogs and small children from getting inside, because the opening is too small for them to fit.
Door Buddy offers other features like door stoppers and pinch guards to ensure that the door doesn't close on anyone inadvertently.
How Much Does It Cost?
At about $15-$20, the cost of Door Buddy is very inexpensive – particularly when you consider some of the alternatives, like gates which can cost hundreds of dollars. Additionally, gates work when your cat is young and healthy and can easily jump… for older cats, jumping over a gate can become problematic and lead your cat to find a different place to "do its business."
Do your cat a favor and buy him a Door Buddy or two. Your cat will be happy to have its food and litter box kept out of the way from eager dogs and curious kids. As a human or pet parent, you'll feel better knowing that you won't have to worry about your dog or child getting into the cat's food or litter box.
Where Can I Get It?
You can get your own Door Buddy either directly from the Door Buddy website or on their Amazon Store.
BONUS: Use code '
20CATNIP

' to get 20% off!

(Use code without the quotes)

TheDoorBuddy.com

The Catnip Times reviews cat products from time to time and reports on our genuine experiences with you, our readers. Many times, manufacturers will send us free products to test and try and other times we purchase our own products (because we shop around for cat stuff just like you!) In either case, we only post about products that we genuinely like and find to be of exceptional quality. If a product doesn't meet our standards, we will not post about it nor promote it.

This blog may contain affiliate links. For more information about third-party advertising on this site, please click here.