After interviewing a variety of cat experts about the cat products they just couldn't live without, one particular product continued to be mentioned over and over again. So naturally, we had to send out the kitty committee to investigate! The product with all the buzz?  The Dezi & Roo Hide & Sneak Paper Cat Tunnel. We had to try it out.
If you aren't familiar with the Dezi & Roo Brand, you should be. Started by Dr. Lynn Bahr, a cat veterinarian, Dezi and Roo Products are designed and made for cats based upon Dr. Bahr's passion for, and deep knowledge of, cats and their unique needs. Aside from the awesome toys – these products are really affordable – so they are accessible to many humans!
Our Trial
The Hide 'N Sneak tunnel is conveniently packaged to fold into a compact and flat square. When you open the package – you simple open the tunnel like an accordion. Place it on the floor and add cats! It's that easy.
Everyone got in on the action – inside and out.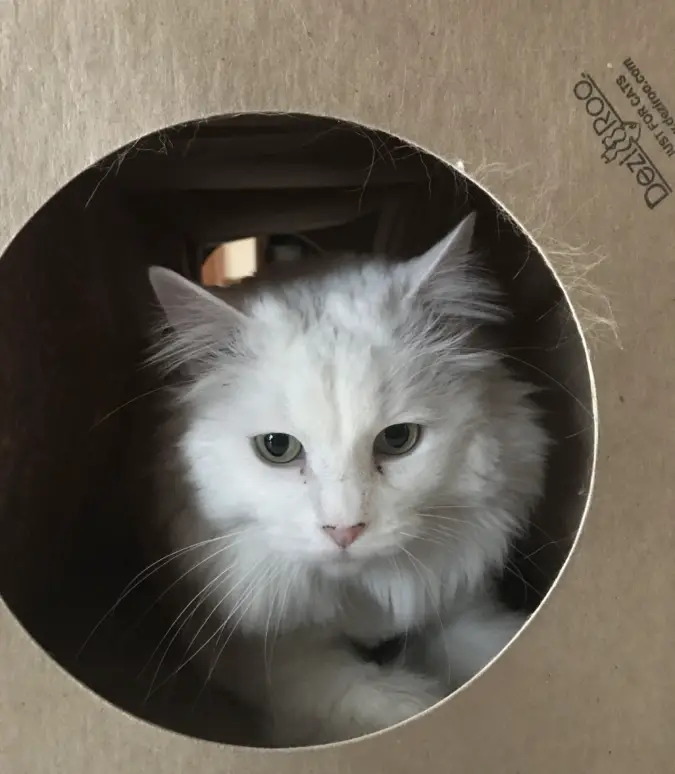 Monkey decided to hang out…and then when he left, Jady took his spot… and then Rocket decided he would test the strength of the roof!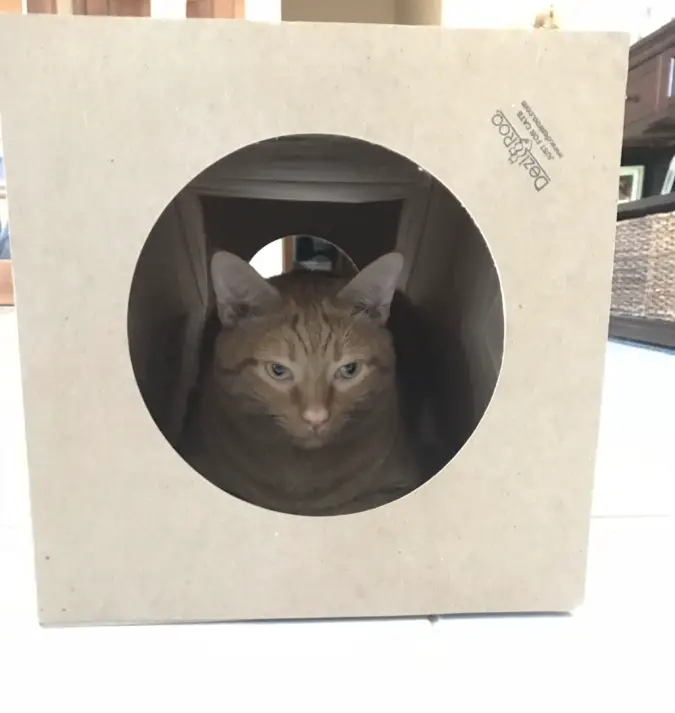 The Result?
The experts were right. This ingenious blend of box, bag and tunnel are irresistible to cats…! Other bonuses
It's handmade in the USA by a team of veterinary professionals

It's eco-friendly, made entirely of biodegradable paper and cardboard material

And the price is purrfect!
Buy it on the Dezi & Roo website or on Amazon!
Other Really Fun Toys We Tried
The Wiggly Wand Cat Toy was also a huge hit! The little fuzzy wiggly thing really caught the attention of my cats and when they had exhausted me, I saw one of them dragging it around the house!
The Wiggly Ball was also a feline fan favorite!  It's a rubber bouncy ball with the same little fuzzy wiggly thing that wiggles and moves like a bug. One of my cats likes to bring it to me as a "present" while singing her "I caught a mousie" song. You know what I'm talking about, right? "mrow…mroww…mroww"