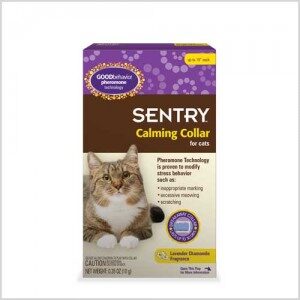 One of my cats, Wesley, has always been really skittish. Wesley leads somewhat of a legendary existence as no one has ever seen him, except for me, my husband and the vet.
When I brought some foster cats into my home, Wesley began to urinate in the bedroom in which he is accustomed to staying. He is just too nervous to pee in a litter box where the other cats go.
I decided to try SENTRY HC Good Behavior™ Pheromone Collar Cat 15 in. I was really very skeptical as I've tried other pheromone products such as Feliway, with marginal success. The product has a very pleasant fragrance, that smells a bit like candy.
Wesley's The Cat's Trial of the Sentry Calming Collar for Cats
I am going to document Wesley's reaction/progress while wearing this collar to see if it makes any difference.
Trial Day 1:
I was concerned that Wesley wouldn't accept the collar; he has never worn a collar in his 13 year life. The collar was easy to slip over his head and tighten enough so it wouldn't come off. At first, he was frightened and fled under the bed. Not more than a minute went by and he came out and began meowing at me. I picked him up and he went almost limp. I never hold him because he's so uptight. So far so good.
Trial Day 15:
Wesley seems much more confident than usual.  He is no longer fearing the foster kittens.  He seems to be coping very well.
Trial Day 27:
Wesley continues to do well.  The other cats are treating him well and he doesn't notice the collar.  I will try taking the collar off and seeing if the changes are permanent.
Trial Day 40:
Wesley has had the collar off for about a week and has not reverted back to fearing the kittens.  It appears that the behavior has changed for the better.  I'm delighted to see him feeling better and confident.
If you have a nervous or skittish cat, give this product a try. At $34.99 (as of this writing), it's a small price to pay to potentially make your cat for confident and less fearful.