As far as cat care is concerned, cleaning the litter box is probably the most distasteful aspect. Between the offensive odors and dust, litter boxes can be gross and full of germs. Everyone who has cats knows it's important to keep the litter box clean, but not everyone follows through with it.
When the litter box is not cleaned regularly, it poses health risks not just to you, but also to your cat. Many cats won't use a dirty litter box and will choose to urinate or defecate in other areas of the home. Any litter box that makes cleaning the litter box easier is a litter system that we want to try!
Introducing the PetSafe Scoop-Free Self-Cleaning Litter Box
We tried the new PetSafe Scoop-Free Litter Box and it's the first litter box that is automated that we've tried. Here we'll describe our real-world experience so that you can evaluate if this product is something that might be a fit for your cats and home.
Test Driving The PetSafe Scoop-Free Self-Cleaning Litter Box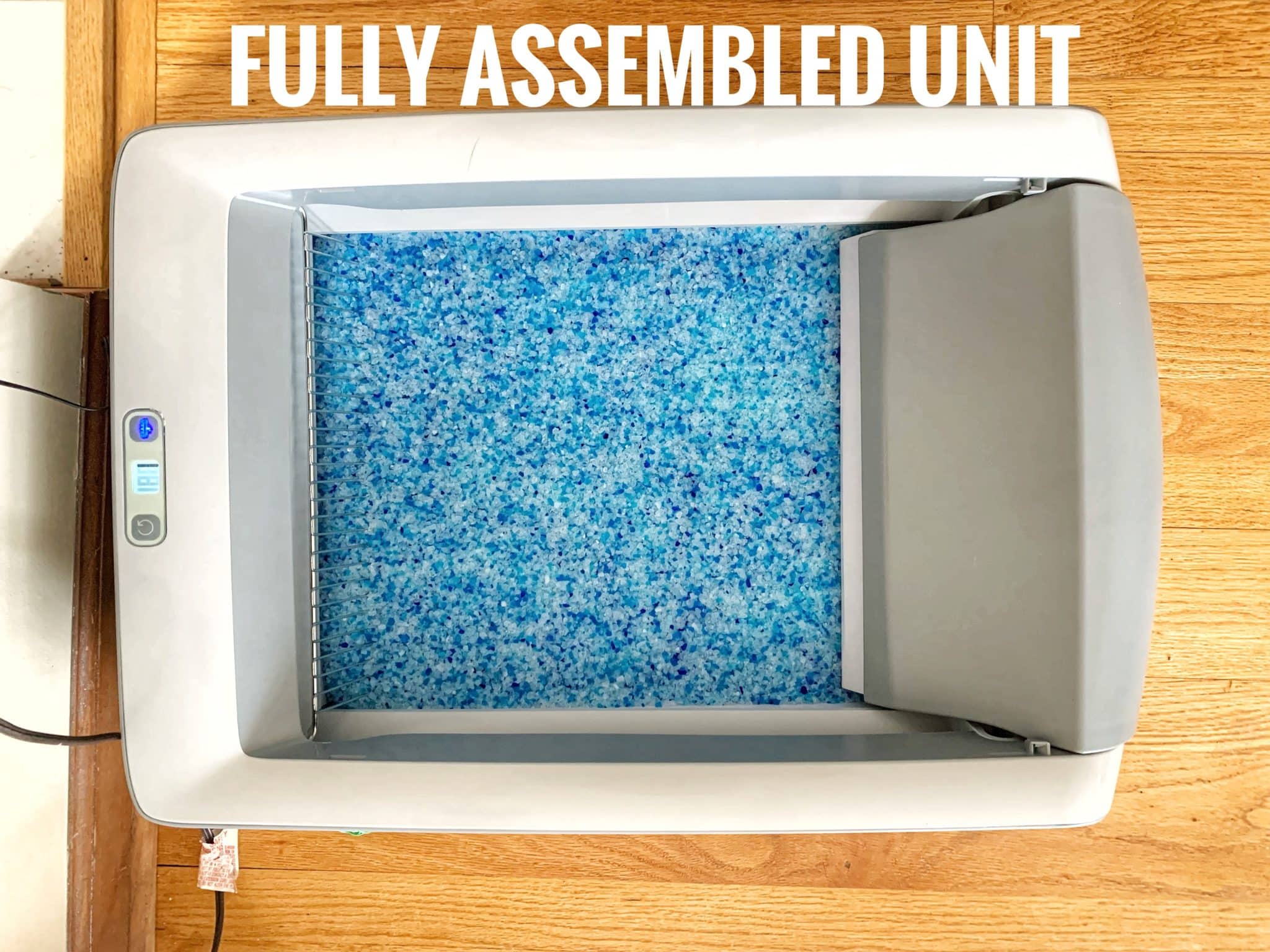 Things To Love
This litter box has a lot of positive aspects that we just love including:
Sleek design – The litter box has a sleek design with a low profile. It can also be fitted with a hood if your cat prefers a hooded litter box. Our PetSafe Scoop-Free Litter Box did not have a hood.
Easy to Assemble – The box arrived and it was very easy to assemble the litter box. Simply plug it into an outlet, snap in the waste receptacle cover and place the unit directly over the disposable litter tray.
Disposable litter tray – The box sits on top of a litter tray that is filled with crystal-style litter. When the box has met its useful life, which is about a month of use for one cat, you simply throw it away.
Efficient – The crystal-style litter absorbs urine while any poop is automatically pushed into a waste receptacle. A metal rake mixes the litter to refresh it while pushing the solids out of the box.
Digital Display – The litter box unit has a digital display that lets you know how many times your cat has used the box and triggered the rake to mix the litter and scoop away the solids. The light will blink for some time to let you know a cat has just used the box. The cleaning rake will not start for quite a while after your cat has left the box so as not to startle your kitty.
Dust/Tracking Free – This product really delivers on the "no dust" and "no tracking" claims. I haven't seen any of the product in my home – unlike traditional clumping litter which gets tracked everywhere.
Other Considerations
When looking at switching up your cat's litter box routine, there's lots to consider. If you have multiple cats or cats with health issues, you may want to consider the following:
Unit Price – The cost of the box and replacement litter pans can get costly if you have multiple. If you have multiple cats and want to have multiple units, it can get costly. We have seven cats and therefore have eight litter boxes. If we were to switch over entirely, it would cost over $1,000 to make the switch and get 7 more boxes – but our household is not the norm.

Other automated litter boxes can cost significantly more – so if you're looking for an automated litter box, consider this one. It's less expensive, and very high quality.

Litter Refills – Litter refills cost about $20 each and come with 4.5 lbs of litter. With that said, PetSafe claims that this systemuses five-to-ten times less litterthan clumping or clay litter.
Crystal Litter – If your cat has never used crystal litter, then it can take some time to transition your cat. You will likely need to maintain another litter box in case your cat isn't happy or takes a long time to adjust.
Waste is out of sight – This can be a positive or negative depending on how you look at it. Many cat illnesses can present themselves in the litter box, so it's important that you see that your cat's urine and feces (poop) are consistent. If there are changes to your cat's urine or feces, you may need to see a vet. This system can make it more challenging to spot changes in your cat's normal elimination behavior.
Overall, the PetSafe Scoop-Free Self-Cleaning Litter Box is a great tool to have in your home. I would recommend it for households with less than three cats. Additionally, I feel it's a great fit for cats and kittens that are young and in good health.
Our Personal Experience
I'm excited to have this new addition in our home and some of my cats have been using it, but I suspect not all of them because the electric counter has a reading of "12" so it has only been used 12 times so far. I also recommend that pet owners with adult/senior cats carefully monitor the contents of their litter box so that should there be a change, you'll be able to recognize it and take the appropriate action. Additionally litter box contents from cats with other health issues such as kidney disease or diabetes should also be monitored carefully. Changes in output could mean changes in your cat's health that require a vet visit.
*Note none of the information in this review is intended as veterinary or medical advice. Always seek the advice of a licensed veterinarian when it comes to the health and care for your pets.
FTC Disclaimer: In exchange for our unbiased review, we were given this product free of charge as well as compensated for detailing our experience and writing this review. This post contains affiliate links. We only recommend products we love and companies we support through our own patronage and will only post reviews for products we believe in.  When you click on one of our links, we may get compensated a small amount for sharing these products and discounts with you. Please be assured you will never pay extra and in many cases, we are passing along discounts. Any commissions we receive helps to support this website. Thank you so much for taking time out of your day to read our review. We love our all of you and appreciate your support!