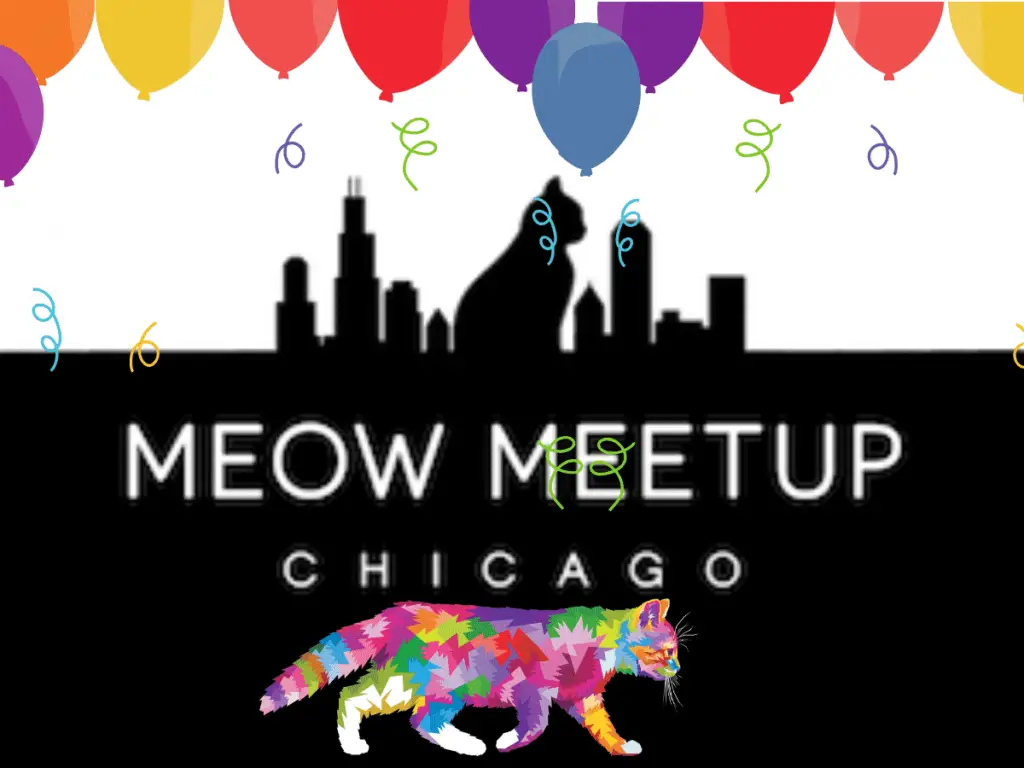 MEOW MEETUP 2018 PRESS HIGHLIGHTS
INTERVIEW WITH MEOW MEETUP & THE CATNIP TIMES FOUNDER, LAUREN MIELI, ON WGN TV NEWS
WGN TV NEWS COVERAGE OF MEOW MEETUP 2018
CHICAGO - If you fancy felines, there was a Chicago-area event you'll be sorry you missed. It was called "Meow Meetup Chicago," and it drew 2,300 cat lovers from across the Midwest. The event at the Donald E.
CBS:  "Meow MeetUp is Catnip for Cat Lovers"
CHICAGO (CBS) - For cat lovers, it's the purr-fect way to spend the weekend with furry, four-legged friends from around the Midwest. The first-ever Meow Meetup, sponsored by the Catnip Times blog is taking place on July 21-22 at the Stephens Convention Center in Rosemont.
Daily Herald:  "Her Cat Blog Has Over 1 Million Followers…"
The founder of a popular blog about cats -- that has more than 1 million followers -- is bringing her educational programs from the digital world to the real world this weekend in Rosemont. Lauren Mieli of Palatine started The Catnip Times six years ago, and along with her legions of cat fans that read her blog, "hundreds of thousands" more visit the website.
Chicago Reader: "Meow MeetUp Slideshow"
Comprehensive guide to Chicago
Chicago Reader: "Chicago's First Cat Convention"
click to enlarge The first rule of Meow Meetup: When other attendees ask about your Instagram, it's a trick question. What they're inquiring about isn't you-sorry, human-it's your cat's social media presence. It's a pretty good time to be alive if you're a Felis catus. Or so it seemed at Chicago's first-ever cat convention.
Daily Herald: "Going to the Cats?"
Dogs get special parks, nationally televised kennel club shows, chances to compete in leaping and agility competitions, and much more. It's about time cats and the people who love them got their due. At least that's what Palatine cat blogger Lauren Mieli figured when she organized this weekend's inaugural Meow Meetup Chicago, a two-day convention for fellow cat lovers.
Chicago Sun Times "Things to Do" in Chicago
CHICAGO (CBS) - There are many festivals and activities happening around the city and suburbs this weekend. Pitchfork Music Fest Pitchfork Music Festival kicks off Friday, July 20 through Sunday, July 22. The fest takes place in Union Park in Chicago. Tickets range from $75-$175. To see the full lineup and more information, click here.
Chicago Sun Times "Have Fun in Chicago" Guide
Making weekend plans? We've got some suggestions that just might fill the bill. Check out our Sun-Times "Have Fun in Chicago" guide for events for you and your family: An underwater-inspired oasis awaits July 20-July 29 at the 900 North Michigan Shops.
Steve Dale Talks about Meow MeetUp on the Bill & Wendy Show
Today's guests include Dave Hoekstra, Steve Dale, and Eric Zorn! Bill and Wendy are back together again after their long holiday break. They talk to Dave Hoesktra about his upcoming WGN Radio trip to Ireland. Then, noted pet expert Steve Dale stops by to talk about Meow MeetUp Chicago, the firing of director of Chicago Animal Care and Control Susan Russell, and more!
Steve Dale's Pet World w/ Lauren Mieli & Dr. Kendall Houlihan
Steve Dale is joined by Dr. Kendall Houlihan and CEO and Co-Founder of the Catnip Times, Lauren Mieli Morales, to get a full rundown on the upcoming Meow Meet Up - the largest cat convention in Chicago. Held July 21-22 at the Donald E.
Lauren Mieli, organizer of the Meow Meet Up, with her lovely companion, Jady. An estimated 3,000 cat enthusiasts are expected to attend the first-ever Meow Meetup at the Donald E. Stephens Convention Center in Rosemont July 21-22. The pet project of Catnip Times owner Lauren Mieli, the event will join the plethora of cat gatherings around the country.
Steve Dale for Matt Bubala featuring Lauren Mieli & Meow MeetUp
Steve Dale fills in for The Matt Bubala Show this weekend, which may be the last weekend WGN Radio broadcasts from the Allstate Showcase Studio. WGN's legal expert, Karen Conti joins the show to chat with Steve about Rod Blagojevich and Martha Stewart on whether or not they should be pardoned.
July 21-22 marks the largest cat convention in Chicago - Meow Meet Up. Steve Dale is joined by CEO and Co-Founder of the Catnip Times, Lauren Mieli Morales, to discuss what the Catnip Times is and how it has evolved throughout the years.