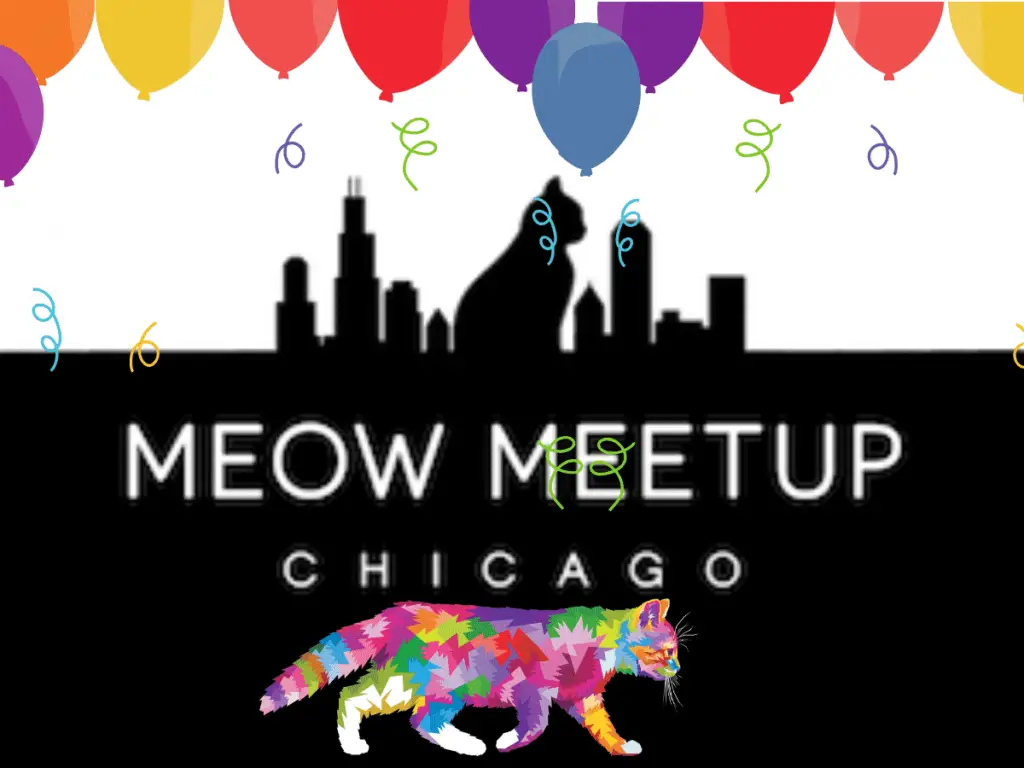 We can't wait to celebrate our collective love of cats with you! There is so much to do, see and experience at Meow MeetUp Chicago – the largest cat convention in the Midwest! Last year we raised over $10,000 for shelter animals and donated over 16,000 cans of food to homeless cats. Attendees achieved a state of purrvana with so much cuteness under one roof. Some of the non-profits that benefitted were Almost Home Foundation, Lil Bub's Big Fund through the ASPCA, Save A Pet, The Anti-Cruelty Society, and Windy Kitty Cat Café in partnership with Chicago Animal Care and Control.
Plan to spend the day or weekend with us as we celebrate cats. Enjoy a catpuccino in the cat café, take a break with a kitty yoga class or shop! On Caturday night, we'll continue the purrty at the Meow Mixer After Party. And don't forget to sign up for Kitty Bingo on Sunday! There's tons of kitty fun in store for you – so save the date and join us on July 20-21 at the Donald E Stephens Convention Center in Chicago!
CAT CAFE
ABOUT THE CAT CAFE
Sit down and relax with a catpuccino and other treats and enjoy hanging out with adoptable cats from Almost Home Foundation. Each seating is one hour long. Be sure to sign up to reserve your spot as we expect these to sell out. Visitors will enjoy:
Refreshments (coffee, tea and light snacks) in a cafe atmosphere
Time to spend with adoptable cats
Note – Due to the popularity and limited seating, time spent in the cafe may be limited
KITTY YOGA STUDIO
ABOUT THE KITTY YOGA STUDIO
Enjoy a full 50 minute session of relaxing yoga and hang out with adoptable kitties! Visitors will enjoy:
Training from a certified, experienced instructor
Time to spend with adoptable cats
The sessions are geared to all yoga skill levels, so no special clothing will be required
Yoga mat provided
Note: Attendees must be at least 12 years old to attend Kitty Yoga. Kids 12-16 must be accompanied by an adult. No exceptions.
MEOW MIXER AFTER PARTY
ABOUT THE MEOW MIXER AFTER PARTY
On Caturday night, let loose and hang out with other cat people with drinks, heavy appetizers and live music! Must be at least 21 years old to attend this event. Attendees will enjoy:
Complimentary alcoholic beverages and heavy hors d'oeuvres
Live Music
Opportunity to mingle withe other cat lovers and influencers
BREAKFAST & KITTY BINGO
ABOUT BREAKFAST & KITTY BINGO
On Sunday morning, join us for a light breakfast and some kitty bingo! Attendees will enjoy:
A continental breakfast including refreshments to eat and drink.
Playing several games of kitty bingo with meowverlous purrizes!!
All children under 16 must be accompanied by an adult
SHOPPING
ABOUT THE VENDOR VILLAGE
Shop til you drop at our vendor village – and be sure to buy lots of stuff for your cat who will be waiting very patiently for you at home. Before you come, be sure to take an inventory of the cat toys under your couch and then stock up on one-of-a-kind items!