This post was last updated in December 2021
Snow Globes Are Deadly For Cats 
Most of us have snow globes in our homes, they are popular gifts to give especially during the holidays, but they are often found on shelves year round. What most people don't realize is that snow globes are filled with a toxic chemical called ethylene glycol, which is the main ingredient in antifreeze. Ethylene glycol and anti-freeze are sweet tasting and highly attractive to pets. Unfortunately, it is also extremely toxic and most often deadly when ingested, even in very small amounts.
What To Do If You Think Your Cat Has Ingested Anti-Freeze
If you believe your pet may have ingested ethylene glycol (anti-freeze) in even the tiniest amount, time is of the essence.  Get help immediately.  According to the pet poison helpline there are three stages seen with ethylene glycol poisoning:
Stage 1: 30 minutes to 12 hours.  Looks similar to alcohol poisoning. Signs include the appearance of walking drunk, drooling/hypersalivating, vomiting, seizuring, and excessive thirst and urination are seen.  CATS MUST BE TREATED WITHIN 3 HOURS. 
Stage 2:  12-24 hours after a dog or cat has gotten into antifreeze.  Signs of "alcohol" poisoning appear to resolve, however NOTE THAT underlying severe internal damage is

still occurring

. Signs of drunkenness seem to improve, but signs of an elevated heart rate, increase breathing effort, and dehydration may start to develop. Your pet is not okay – it needs to be treated by a vet.
Stage 3: In cats, this stage occurs 12-24 hours after getting into antifreeze. In dogs, this stage occurs 36-72 hours after getting into antifreeze. During this stage, severe kidney failure is developing secondary to calcium crystals forming in the kidneys. Severe lethargy, coma, depression, vomiting, seizures, drooling, and inappetance may be seen. (Death also occurs if not treated.)
ABOUT CHARLIE'S STORY
Charlie's mom, Donna, contacted me because she lost Charlie to snow globe poisoning in 2006 and was absolutely devastated and wanted to ensure that his death was not in vain.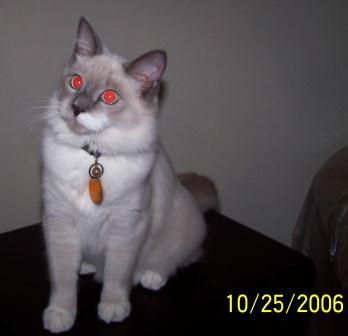 Sweet little Charlie not even a year old.
Charlie's Story
This is the story of Charlie. Let's make sure that not one more cat (or dog) dies from ethylene glycol poisoning – be it from a shattered snow globe, or antifreeze from other products like windshield deicing agents, brake fluid, motor oil, developing solutions for hobby photographers, wood stains, solvents, and paints.
Charlie was adopted by Donna in May of 2006 during an All Pet Adopt-A-Thon in Jacksonville, Florida. He was about 4 months old and had a beautiful coat, fabulous eyes and a face you couldn't resist! Donna knew he was her cat and took him home. Charlie adjusted to his new home, his new brothers and sisters, was always playful and loving – he was a really smart kitty. As time went on, Charlie was turning into a gorgeous cat with a fabulous bushy tail and stunning blue-gray eyes. Little Charlie was Donna's little boy.
On Christmas Eve day of 2006, little Charlie, who was always getting himself into everything decided to wander into the guest bedroom where a couple of Donna's other cats were sleeping. Donna headed to work and later received a call from her husband, Jim, that she was going to be unhappy because Charlie knocked over and broke her mother's snow globe and broke it. Donna was upset because her mother had passed away a couple of years earlier, but she knew that these things are expected when you have cats. Jim dried off Charlie and went on with his day.
When Donna returned home from work after 6:00 p.m. she noticed Charlie behaving a little strange. His big fluffy tail was down and he seemed to be not feeling well – he just wasn't himself. She asked Jim how he had been through out the day. Jim said Charlie had joined him for a nap earlier and was very affectionate rubbing all over him and wouldn't leave him alone.
Donna decided to do some research on snow globes to find out what they contained. The Poison Control Center told her that it was most likely salmonella poisoning and Charlie probably had an upset stomach. But Donna wasn't satisfied with that answer. It didn't make sense. She pressed on and discovered that most snow globes contain ethylene glycol, also known as anti-freeze, to prevent the contents from freezing during transport. Donna knew that poor Charlie had anti-freeze poisoning!
Even though Jim had dried him off, Charlie licked his fur – as all cats do – and that was enough. That tiny amount was enough to damage his kidneys. Charlie was being poisoned.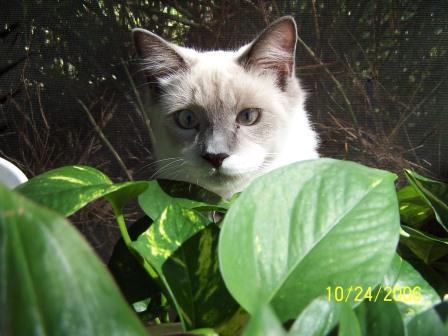 Charlie playing outside in the garden.
Donna was absolutely panic-stricken. She rushed Charlie to the local emergency vet hospital – 7 hours had already passed since the accident and little Charlie's time was running out. The vet tested Charlie for anti-freeze poisoning and the results came back positive… and unfortunately too much time had passed since the accident. His little kidneys had already begun to crystallize. She asked the vet to treat him, knowing that in 9 hours, the damage is irreversible.
Donna left Charlie at the ER Vet for treatment overnight and picked him up on Christmas day. He was still hanging on but was getting worse by the hour. The next day she took Charlie to another emergency vet hospital. He was treated but his chances for survival were becoming slim. The following day her regular vet was open and she brought Charlie in. Dr. Sleeper made arrangements for Charlie to be seen at the teaching hospital in Gainesville, Florida. They confirmed her worse fears. They said that there was no hope of saving Charlie.
Jim researched transplantation as an option but it was too late. Charlie was too weak and too far gone for the operation. On December 27, 2006 at 3:20 p.m. just three days after the accident, their precious baby passed away…. He was only 10 months old.
Donna and Jim later learned that the overly affectionate behavior was all part of the anti-freeze poisoning. Anti-freeze poisoning gives the pet a feeling like being drunk and the small amount of anti-freeze left on Charlie's fur, even after being dried off, was enough to poison him.
Donna says "I can't begin to describe the feelings of helplessness and guilt me and my husband felt. Me for leaving the door open and Jim for not washing him off. I made a promise on that day that his death – it would not be in vain. I started calling and emailing every news media in my area. Someone had to listen. I finally got a call from Allie Gorman, health reporter. She agreed to hear my story."
Donna recounted the events leading up to Charlie's passing and the lack of knowledge and dangers of snow globes. The reporter agreed to air Charlie's story.
"It was heart breaking to relive the events leading up to his death but I knew if even one pet could be saved from Charlie's story it would be worth it," said Donna.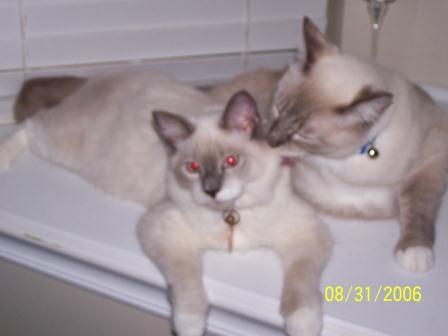 Charlie enjoying a bath
A Vow To Prevent Anti-Freeze Poisoning in Pets
After Charlie's death, Donna went on to contact poison control, Humane Society of United States, ASPCA, FloppyCats.com and anyone else she could think of to inform them of how anti-freeze is used in snow globes and how dangerous it is. She was very surprised to discover how many people (vets and other humane societies) had no idea about the anti-freeze added to the contents of snow globes. Her local newspaper even ran a full page on snow globes.
Each year Donna relives the nightmare and Christmas has never been the same. And each year she makes sure that Charlie's story is shared with hopes it can prevent another tragedy from happening.
Since Charlie's death, Donna decided to adopt and grow her cat family – though nothing can replace Charlie, her cats Sammie, Georgie, Gracie, Stella, Tux, Frankie and Scoots bring immense joy to Donna and Jim… but they will continue to keep Charlie's memory alive – as long as anyone will listen. Don't let Charlie's death be in vain.
Were you aware that snow globes contained ethylene glycol? Will you share Charlie's story so other pets don't suffer the same fate and others are aware of the dangers snow globes and cats?
Waterless Snow Globes
Still love snow globes? If you still love snow globes, some companies are starting to produce waterless snow globes. I saw a few inexpensive snow globes at Michael's, and of course, there's always Amazon… but they are hard to find. Think of alternative decorations like flameless candles, or lighted candle warmers that are lamps…
This post contains affiliate links. We only recommend products we love and companies we support through our own patronage. When you click on one of our links, we may get compensated a small amount for sharing these products and discounts with you. As always – we appreciate your support!