Tidy Cats Litter Cures Insidious Affliction
A little-known fact: Millions of Americans suffer needlessly from Stank Face – but now there's a cure.

Tidy Cats takes Stank Face seriously. That's why they put out a very important public service announcement (PSA) on the dangers and cure to this hideous affliction. The PSA spokeswoman is Angela Kinsey who is most famous for her portrayal of crazy office cat lady, Angela Martin, in the hit TV Series "The Office."
Check out my full interview with Angela Kinsey.
Stank Face affects all people. Whether you own a cat or not, this terrible condition has surely affected you and the ones you love. Watch the important PSA to learn how you can overcome Stank Face or help your loved ones who are suffering needlessly.
Stank Face PSA
The Good News? You're Not Alone.
You've been there. You walk into someone's home and the smell of cat urine hits you in the face like a ton of bricks. Instantly, without ever even seeing a cat – you know without question that this home has cats and a serious stank problem.
One of my friends has a cat and a serious stank problem. Her home is beautiful and it's such a shame because the second you walk in the door, you're overwhelmed with the unmistakable odor of cat urine. I'm not sure if she is just used to it or what (is that possible?) – but it makes me completely averse to going to her house because the odor is so overpowering. The result? Stank Face. I desperately try to suppress the look of disgust so as not to make her feel bad – but the effort is futile.
Stank Face is an embarrassing issue and a health concern for your cat and home. Scooping your cat's litter box is a chore that many people hate, however, it's extremely important to scoop regularly and often (at least daily). If you have multiple cats, you should scoop them more often.
After all, cats are discerning… and that's why we love them.
Cats are very clean animals and if the area where they "do their business" is not clean, they will go elsewhere. And let's face it – wouldn't you do the same? Once the cat decides that the litter box is not a suitable clean area that meets their needs, it can be hard to convince them to go back.
Scooping the Litter Box Doesn't have to be a Miserable Experience
Tidy Cats is making the chore of cleaning litter so much easier– which makes it so much more pleasant and healthy for your cats. It also ensures that your home smells like a home – and not like filthy dirty cat litter.
Do YOU have Stank Face? Use our handy symptom checker

Our Trial
As a Tidy Insider, Tidy Cats sent me some new and improved Tidy Cats Lightweight Litter with TidyLock™ protection (TidyLock™ protection is also available in their traditional instant-action clumping litters).
A few months ago, we road-tested the lightweight litter for the first time. Now, I'm comparing Tidy Cats Lightweight Litter against this new Tidy Cats Lightweight with TidyLock™ Protection. Here's what I noticed…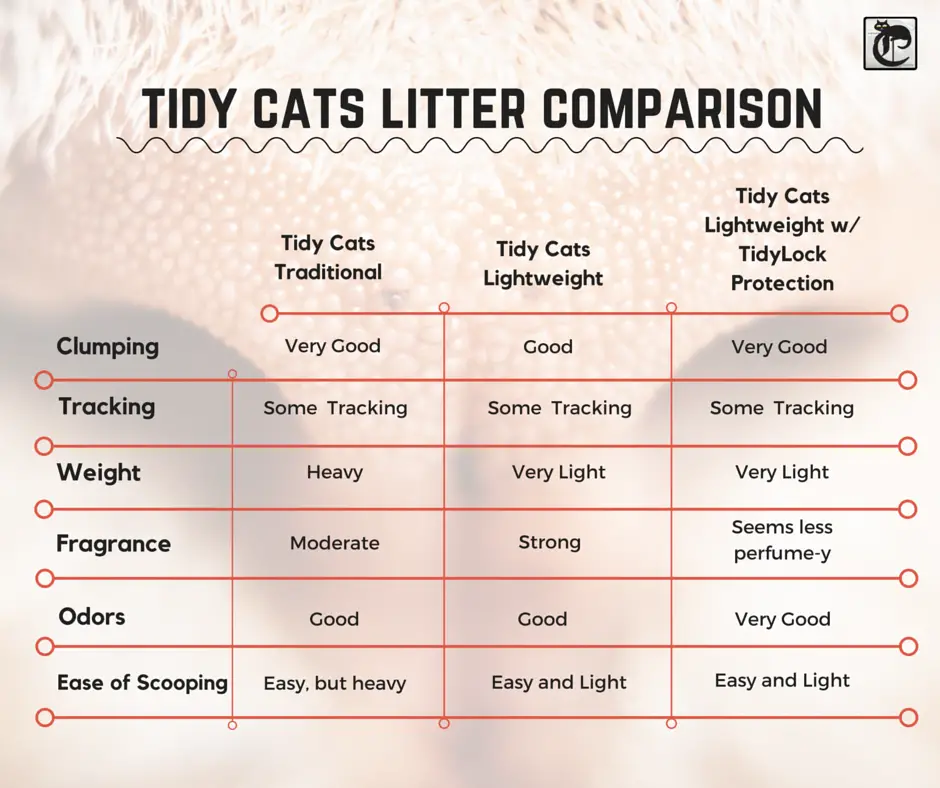 My overall experience with the new Tidy Cats Lightweight with TidyLock™ Protection was very positive. My cats seem to like the litter and visit the box where I tested it with no issues.
The big difference that I'm seeing (and many of you commented on in a previous post) is regarding the clumping and fragrance of the first generation of lightweight litter – and I could relate. Tidy Cats doesn't reveal their formula, so these are just my observations. I could be imagining it but…
Better clumping?
Mr. Woo, my senior cat, has early stage renal disease. He drinks more water and his pee-balls are larger. The previous version of Tidy Cats Lightweight wasn't always clumping fast enough to handle the larger volume of urine output. As a result, and on occasion, his back feet could become caked with litter that then clumped to his little feet. I was continually cleaning his back feet of litter. This time, we've had no issues with slow clumping – and his feet are nice and clean. None of my other cats had this issue – just Mr. Woo. Note: I'm not sure if this is an actual improvement in the product or my kitty is just being more nibble in the litter box…
Less Perfume?
I also felt like this new version had less perfume. Some cats (and people) are very sensitive to perfumes. TidyLock™ Protection seems to have taken care of this issue. The scent is pleasant, but not overpowering. These changes have made a huge difference and I plan to continue using this litter. Note: I could be imagining this – but my husband agreed with me…
In the spirit of full disclosure, I also use another litter with no perfume because one of my cats can't stand perfumed litter and I'm not willing to risk him going elsewhere. It's always a good idea to change out any litter gradually.  If you're switching brands or types of litter this will help you to monitor how your cat's reaction and to ensure a smooth transition.
Busted Shoulder = Lightweight Lifesaver
While TidyLock™ protection is available in both the regular and lightweight varieties, I recently gained an increased appreciation for the lightweight version. I tore my rotator cuff (shoulder) a couple of months ago, making it really difficult for me to lift heavy items. The lightweight litter really made life easier in coping with this injury. I can imagine that the lightweight formula would also be appreciated by elderly people caring for their feline companions – and probably anyone who is sick of hauling heavy tubs of litter around. Overall – I really like this new formula.
Want to try it? Enter for a chance to win your own!
Show us your best Stank Face or simply comment #StopStankFace in the comments section of The Catnip Times Facebook page for a chance to win FIVE (5) manufacturer's coupons to buy the litter and stop the stank in your own life.
Rules:
To enter, post your best stank face picture or comment "#stopstankface" in the comments of the giveaway post (link coming soon).
You must post your comment to our Facebook Page. Comments on Instagram, Twitter or Google+ or our website will not be considered valid entries.
Enter until 11:59 p.m. CST (Chicago) on Friday, August 5, 2016
Must have a valid U.S. mailing address
Winner will be chosen randomly
Winner will be contacted privately via Facebook and announced within 24-48 hours of the end of the giveaway.
Tidy Cats will mail manufacturer's coupons to the winner
For more information on how you can stop Stank Face in your home visit the Tidy Cats Store on Amazon…and if you know a household suffering from Stank Face – be sure to share the cure with them!
The Fine Print
This post is sponsored by Tidy Cats. The Catnip Times is part of Tidy Cats' Insiders Program which allows us inside access to Tidy Cats' newest products so we can try them out and let you know (honestly) what we think. The Catnip Times will only cover products and stories that we feel will be interesting to The Catnip Times' community. We hope you enjoyed this one!