Your heart gets all tied up in the decision your head has to make.
Maybe you just received the news that your cat has a terminal illness, or maybe you are just noticing that she is not herself and you are worried something may be wrong. Either way, the realization that your time with your pet may be coming to an end is absolutely heartbreaking. So how do you make the time they have left as comfortable and stress-free as possible?
End-of-life care goes to the heart and spirit of the bond we have with our pets. We want their last days to be dignified, comfortable and enjoyed as much as possible. You are your pet's best advocate, and you can help ensure the best care for them when they are near their end-of-life.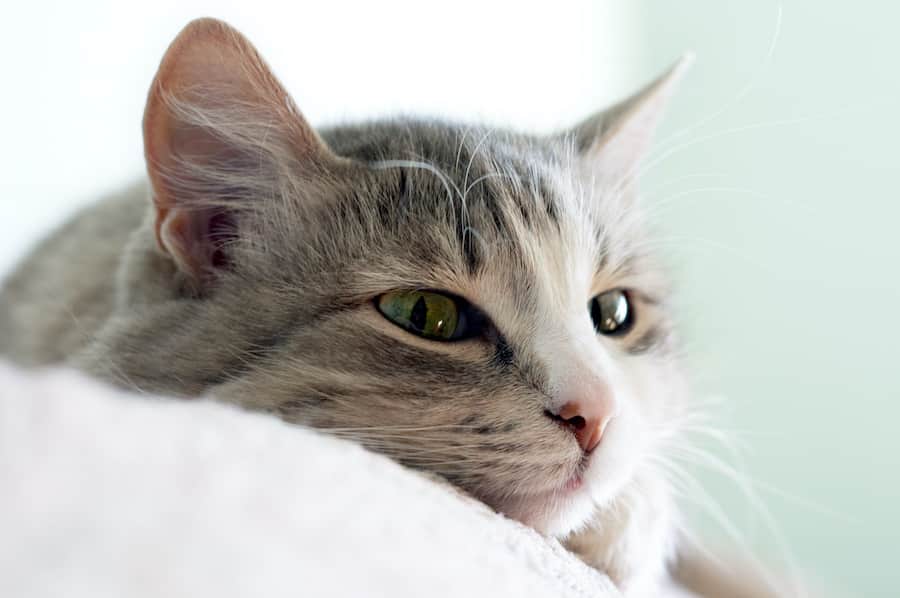 How Do I Know When It's 'Time?'
Pet parents often ask, "How will I know when the time comes?" Your cat will tell you. You know your pet better than anyone — as you care for your cat, you will learn more and more about what continues to make them happy and comfortable, and there are tools to help.  Here are a couple things you might consider to help your kitty: Make sure they have a comfortable, quiet place they can go if they need to escape the bustle of home life. A warm, soft bed with easy access to food, water and litter box, and reassuring words from you are all important caretaking measures.
Talk with your veterinarian. Dr. Katie Hilst says a Quality-of-Life assessment can help you work out a plan with your vet. "Sometimes, after the discussion, people realize that their pet is enjoying life, and they still have time left with their pet. Other times, people realize their pets are suffering more than they were aware, so they choose the final act of caring." Here are a few questions to get you started:
Can your cat get up and down without assistance?
Does your pet have frequent accidents?
Is your cat still enjoying toys?
Has your pet lost vision and/or hearing?
Does your pet spend more time alone, hiding, or in seclusion?
How is your pet's appetite?
It can be exceedingly difficult to think about making plans for your pet, both before and after death, whether it is a natural death or by euthanasia.
Dr. Michael Henson, from the University of Minnesota College of Veterinary Medicine says "Almost every day, pet parents tell me they want to say goodbye before there is significant suffering… No matter how stressful it is to decide a time for euthanasia, you may ultimately find that to end your pet's suffering is indeed a gift and an act of love and compassion." Learn more about how to know when it's time.
Look for Mobile Vets, Pain Management and Hospice Services
Sadly, during this time of COVID-19, it may be difficult to get an appointment at your veterinarians' office and makes your choices even more challenging. Look for mobile veterinary services in your area, which will be able to help your cat in the comfort of your home. Ask your veterinarian to recommend mobile vet services they trust, and hospice professionals to support you. Together, you can develop a plan-of-care that works for you and create a meaningful, dignified goodbye to your cat.
Take Care of Yourself
It is important to acknowledge the love that you feel for your cat, and the seriousness of this loss. You might need emotional support and help with grief. Now might be a good time to find a counselor you trust, resources for grieving, or join a pet loss support group in your area. When you feel supported, chances are you will be better able to care for your cat. Check out these helpful articles about grief and support resources.
Deciding if Pet Hospice is Right for You
Our beloved pets have the right to die pain-free and with dignity. Pet hospice can provide quality, compassionate care for cats facing an end-of-life diagnosis with a combination of expert medical care, pain management, and emotional and spiritual support. Pet hospice can give you and your family valuable time together and tools to prepare for how, when and where you will say good-bye to your cat.
Clinical psychologist Dr. Linda Harper says: "Having support makes all the difference! In turn, a good, peaceful end of life experience affects everything – how owners feel about themselves, their pet, their veterinarian team, deciding to love again, and even their view of death. It affects the quality of lives for both humans and animals."
More than anything, remember that you are not alone, there are resources to support you and your cat.

Helpful Tools For End-of-Life Care, Pet Hospice and More
Peaceful Passing for Pets  provides home hospice care and symptom management for pets in Minnesota, grief support for the people that love them, and a wealth of online resources to help you during this difficult time. Having adequate resources and support will help you and your beloved cat move through this painful transition with a measure of confidence and ease.
Peaceful Passing for Pets: A Caregiver's Guide to Pet Hospice Care  Caring for a pet that is seriously ill can be overwhelming and exhausting for a pet owner.  Peaceful Passing for Pets: A Caregiver's Guide to Pet Hospice Care is an invaluable resource.
Author: Paula Sallmen, R.N.,B.A.N.
Executive Director Peaceful Passing for Pets
Peacefulpassingforpets.org
Peaceful Passing for Pets is a nonprofit 501 (c) 3.
Vision
Every pet with a terminal condition will have the opportunity to receive compassionate, coordinated hospice care in their home.
Mission
To ensure that pet owners, the veterinary professional team and the hospice professional team are provided the resources and practical tools to accomplish our vision.
Goals
To create a model for pet hospice care in Minnesota that can be replicated by veterinary schools and communities across the US.
Partner with veterinary clinics thus enabling veterinarians to offer the full scope and philosophy of home hospice care to pet owners facing end-of-life for a beloved pet.
To lead as a resource in pet hospice care providing education, communication and interaction among professionals and the public.
To provide relevant information though our website, publications, and educational opportunities that pet owners and families need and want during this heartache time.
About the Founder, Paula Sallmen
Paula Sallmen is founder, President and CEO of Peaceful Passing for Pets. Prior to her work with Peaceful Passing for Pets she spent four years as hospice case manager with Allina Home, Hospice and Palliative Care and prior to that was Supervisor and Manager of Pillars Hospice House with Health East.
For twelve years, Paula was the Program Director of the Virginia Piper Cancer Institute of Abbott Northwestern Hospital. During her years at the Cancer Institute, she worked to create and develop Abbott Northwestern's Cancer Pain Service and outpatient Cancer Pain Clinic, the Piper Breast Center and "Life Choices in Healing" a program which incorporated the best in Conventional Oncology Care combined with Complementary Therapies, Arts and Humanities and the Living Room Cancer Resource Center.
Paula was the cofounder and coordinator of the Minnesota Cancer Pain Initiative. This Initiative was a voluntary statewide effort by health professionals, educational institutions, clinical care facilities, and regulatory agencies working to overcome the knowledge deficits, attitudinal factors, and barriers in the health care system that prevented pain management for cancer patients.
Paula's career as a nurse started in open-heart surgery then turned to oncology and hospice, always with a focus on the whole person: body, mind, heart, and spirit.
It was through insights in the care provided to human patients that she saw the value and service of what hospice care could mean to pets and pet owners.