Summer is finally within reach, and for many people, so are summer vacations. If you're a pet owner, jetting off to forget about life for a while isn't so easy. Pets are like family, and if you can't take them with you, you're going to want them to be in good hands while you're gone. Boarding may seem like a good option for you, but it's not always the best for your pet, especially cats. According to petMD, being in an unfamiliar environment with unfamiliar people can cause a great deal of stress, and there is the added risk of sickness when surrounded by so many other animals. It's in your cat's best interest to hire a sitter. Finding the right sitter may seem like a daunting task, but there are steps you can take to hire someone who is trustworthy and works well with your cat.
Choosing a sitter
Pet owners can always look to online resources such as Rover.com and Care.com, which will drum up plenty of sitters in your area with reviews from people who have hired them in the past. Another great source is the National Association of Professional Pet Sitters. Using their pet sitter locator, you can find sitters near you who are NAPPS certified–something Rover.com and Care.com don't require for their sitters. Cathleen Delaney is the Administrative Director at NAPPS. She explains that the certification program covers "pet care, health, nutrition and behavior for a variety of animals," and sitters also learn pet first aid.
Interviewing your sitter
You should absolutely interview your potential sitter before leaving your cat in their care. Cat owners know better than anyone that cats don't always take well to new people, so it would be a good idea to do the interview in your home. This will be a chance to have your cat start getting comfortable with the sitter.
Here are some important questions to ask:
Are you insured?
What training and/or certification programs have you completed?
What will you do if my pet has an emergency while I'm away?
If you are unable to make your visit, who will come in your place?
Are you able to administer medication?
How will you keep my house key, alarm code, garage code, etc. secure?
Can you provide references?
Have you and your employees or coworkers been given background checks?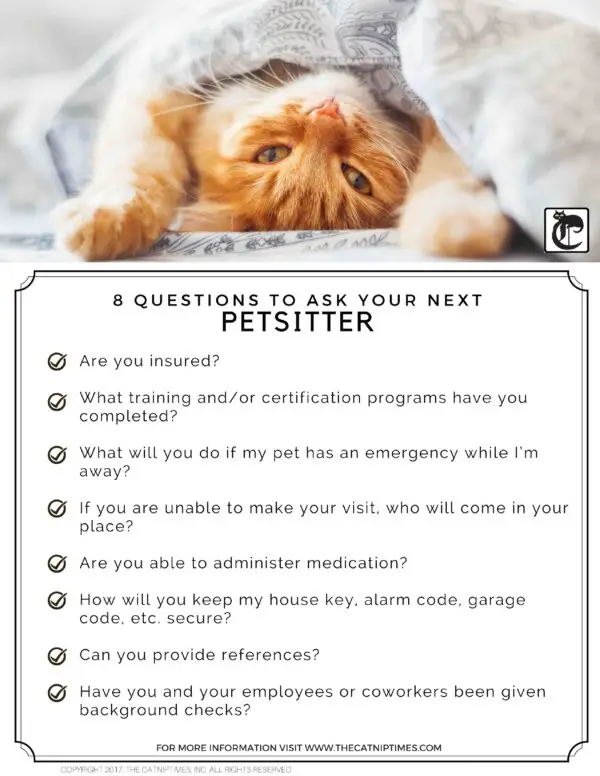 If you can't decide whether your sitter should stay with your cat 24/7 or do scheduled, drop-in visits, Delaney suggests discussing it with the sitter, providing specifics on your cat's care. "Use the sitter as a resource/tool," she says. "They will be happy to provide suggestions, guidance, etc."
"Use the sitter as a resource/tool…"
Make sure everything is in order
Now that you've found the perfect sitter for your cat, you'll want to make sure everything is in place for your sitter to have successful visits. Remember to check that you have more than enough food and that whatever your litter box routine is, everything is set to go. If your cat requires any medication, it would be smart to measure out the doses if possible.
As much as you might like them to, your feline friends can't go everywhere with you. But that doesn't mean you can't take a nice vacation every now and then. Hiring a pet sitter when you do go away will be great for both you and your cat; they get to stay home in a familiar environment, and you can enjoy your vacation knowing your cat is safe and sound.
The Catnip Times is built on recommendations from you, our vibrant cat-loving community; it's how we uncover hidden gems like new products, important issues, and cuteness. If you know of an interesting story or a topic that deserves awareness, tell us about it!
About the author
Dana Mack is a freelance writer and copy editor living in Illinois. She recently graduated from Columbia College Chicago, where she studied multimedia journalism. Dana enjoys arts & culture and outdoor/recreation writing, and aspires to move out West in the future.