It's no secret that cats love to be up high. Whether that means climbing atop the refrigerator or keeping an eye out from the window sill, cats prefer higher places because that's where they feel most comfortable and secure. According to PetMD, it's a primal instinct passed down from ancestors like panthers and tigers who use height to stalk prey and watch for threats.
While cat trees are the most popular perching products, there are several other creative ideas to try at home that are sure to give your cat a sky-high lounging area they'll love.
DIY Wall-Mounted Cat Shelves
Most of us reserve wall space for pictures and decorations, but if you have a free wall in the house (or you don't mind giving one up for the sake of your kitty's happiness), wall-mounted perches are like a cat's vertical playground.
Wall perches are easy because there's really no right or wrong way to do it. Simply buy some shelving from your local home improvement store, install individual shelves in various places on your wall, and let your cat get to climbing! There are a couple tips to keep in mind during installation, though:
Make sure the shelves are mounted within reasonable distance from each other so that your cat can easily jump from shelf to shelfs
Your cat may not immediately understand that the shelves are for him or her, so physically place your furry friend on the different shelves to show them what to do. If he or she still doesn't understand, consider placing some treats or toys on various shelves so it's more obvious.
Depending on how big your wall is (and how crafty you are), you can setup as few or as many shelves as you want, in pretty much any design you want. Here's one tutorial to get you started.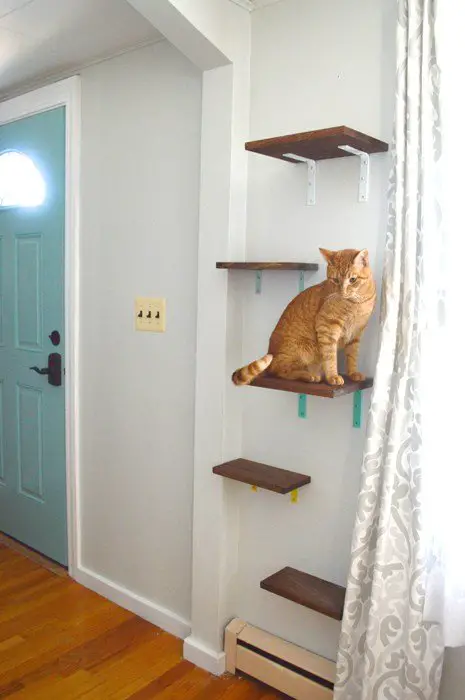 DIY Window Perch For Cats
While it's fun for cats to watch what's going on inside the house, they'll take any chance they get to look outside instead. This doesn't just fulfill those viewing instincts we talked about, it also gives them some entertainment! Whether it's people jogging by or birds in the trees, window perches are a must-have.
If your window sills are already large enough to comfortably fit your cat, just add a small patch of carpeting or fake grass for them to lay on and they'll be happy as can be. If your windows don't have sills or they're too small, you can make your own or you can buy one pre-made.
Window perches using suction cups tend to be the most popular, but those are usually better to buy pre-made. Building that design on your own can get tricky, and you don't want to run the risk of it falling off the window because it wasn't built properly or the materials weren't strong. On the other hand, if you'd prefer to make your own, check out these tutorials for using wall shelving or a basket and rope.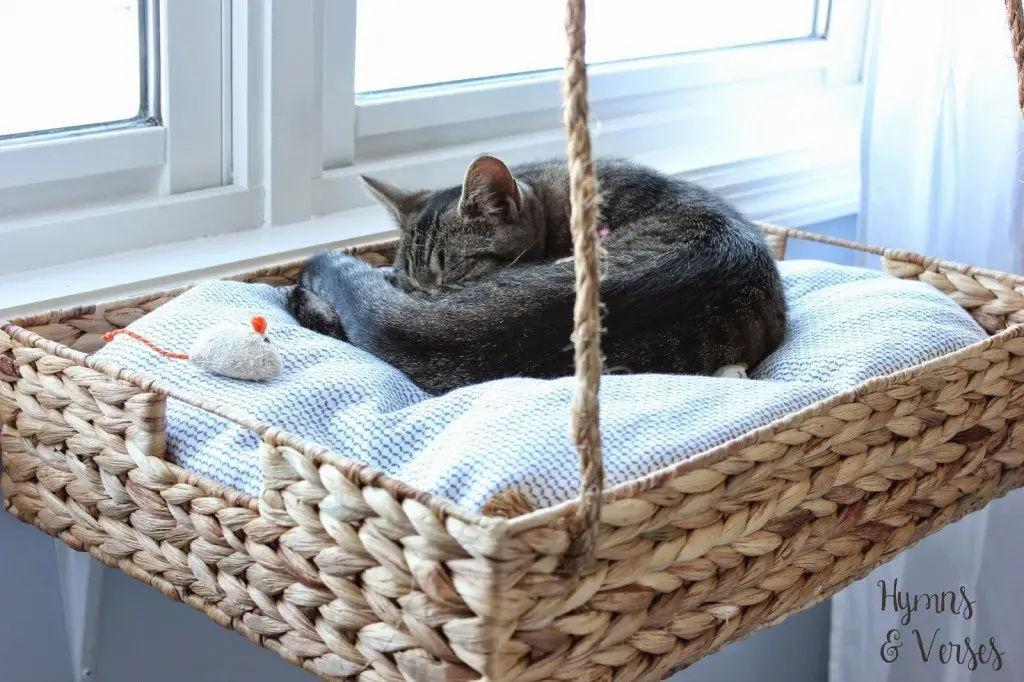 DIY Indoor Jungle Tree For Cats
Despite the name, cat trees are anything but trees. If you've got some extra room in the house and really want to give your cat the "jungle" feeling they long for, you absolutely must check out this video about building an actual indoor tree perch. It definitely requires some handy work and preparation, but it's by far the most creative cat perch out there if you put in the time and effort.
Given that this is a more advanced project, there are quite a few things to consider before building. Check out the user comments in the video for more, but here are some key points:
Prep the tree outside so that you don't drag dirt, insects, and other unwanted debris into your house. Wash thoroughly, use sandpaper to smooth it down a bit, and consider a protective sealant to prevent against wood-borne insects in the future.
Make sure the base is weighted and stable so the tree doesn't fall over and damage anything (or worse, harm your kitty!).
Use a durable rope when wrapping tree limbs so your cat can scratch or embed their claws without tearing up the material and requiring future replacement.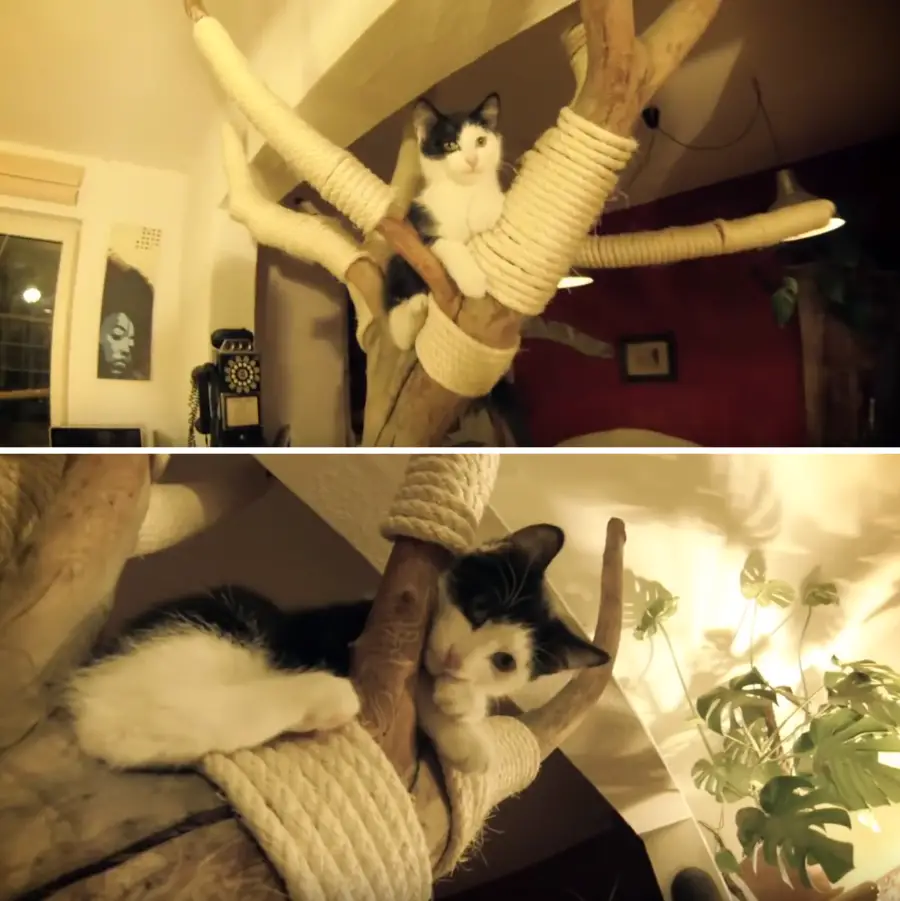 Conclusion
Cat trees are available in literally hundreds of shapes and sizes, and there's no doubt that cats love them. However, one lonely perching spot isn't enough. Cats need to have multiple places to perch high for both safety and comfort. If you have the space and don't mind putting in a little time and effort for your furry friend, these creative projects will truly give them some new perching spots to love.
Author bio
Cory Mercer is a father to three fur babies, two kitties and one puppy. On paper, he rescued them – but the truth is, they rescued him. When he's not outdoors hiking with the pup, you can find him at home binge-watching TV shows with all three at his side.