An Interview with Steve Dale – Chicago's Best Known Animal Behaviorist
If you're from Chicago and you love pets, you know Steve Dale. Steve is a Certified Animal Behavior Consultant, and the radio host of nationally syndicated radio shows "Steve Dale's Pet World" and "The Pet Minute." And for over 20 years, his syndicated twice-weekly column in the Chicago Tribune was read and enjoyed by millions of pet lovers over the years. He has been recognized for his work by dozens of veterinary and pet-related organizations. So, bottom line – you could say that Steve knows a thing or two about pets.
To add to Steve's long list of achievements in the pet world, he is the keynote speaker for Meow MeetUp Chicago, at the Donald E Stephens Convention Center on July 21. We had the pleasure of talking one-on-one with Steve to learn more about him and how he became such an important voice for pets.
The Catnip Times: Steve, what motivated you to become a Certified Animal Behavior Consultant? You must have grown up with a lot of pets at home!
Steve Dale: Actually, I didn't have any pets growing up. I grew up watching "Wild Kingdom" with my dad and it was my dad that encouraged my interest in animals. My dad loved wildlife and one of my favorite and most memorable moments with my dad is when we took a trip to Kenya together.
The Catnip Times: I'm shocked that you didn't grow up with any pets and still had such a passion for them! So how did you get started in the animal field? How did you turn your interest in animals into a career?
Steve Dale: I started out at Chicago's Lincoln Park Zoo as a volunteer. I was the editor of the volunteer newsletter and I also had the pleasure of getting to know Dr. Fisher at the zoo who served as a great mentor and friend to me.
After college, I was a DJ and radio producer and would interview all kinds of performers and celebrities who were in town for a performance – but I always had animals in the back of my mind.
I then worked for Crains Chicago Business as a lunch reviewer and freelanced for the Chicago Tribune covering entertainment and again interviewing performers. With my love of animals on my mind, I asked if I could also cover pets in addition to my other work and The Tribune agreed. I covered Chicago's zoos and the aquarium for the Friday section of the paper. That led to becoming the syndicated pet columnist for the Chicago Tribune and the pet editor for USA Weekend.
Steve's cat Ricky jumping through a hoop
The Catnip Times: First, next to animal behavior consultant, being a "lunch reviewer" has to be one of the best jobs in the world! (laughs). That all makes sense now…you married your love of animals with your background in media. Purrfect. As a Certified Animal Behavior Consultant, what are the most common issues that you hear about affecting cat owners?
Steve Dale: This is easy. As I received letters from readers, they all seemed to fall into two distinct categories: 1) My cat has been missing the litter box for months (or years) and if I don't fix it, my husband is going to get rid of the cat! 2) Why does my cat… (fill in the blank). People are curious about the interesting things that cats do and why they do them – from purring to "making biscuits" – the public wants to better understand their feline friends.
The Catnip Times: I can definitely relate. In fact, when I started The Catnip Times, much of the inspiration I had was from curiosity from my own cat's behavior. How do you stay up-to-date on issues affecting pets?
Steve Dale: I love going to veterinary conferences. It gives me the opportunity to learn and hear from the best of the best. But I learned the most from my cat Ricky who was a Devon Rex. Ultimately, Ricky changed my life and the life of cats around the world. Ricky taught me that cats can learn and that cats are social creatures. It was through my interactions with Ricky that I learned how to teach other cats and to communicate with other cats.
Ricky was diagnosed with feline hypertrophic cardiomyopathy (HCM) at a young age– but that didn't stop him from being featured on many domestic and international TV shows and animal networks including Animal Planet and National Geographic Explorer. Sadly, at the age of 10, Ricky suddenly died while eating. I was devastated by his death more profoundly than I could have imagined. Inspired by Ricky, I started "The Ricky Fund" with Winn Feline Foundation for HCM which has raised hundreds of thousands of dollars for HCM research. We still don't have a cure for HCM, but some gene defects have been identified in certain breeds like Ragdolls and Maine Coons. Breeders of those cat breeds can more carefully breed them to avoid the defect.
The Catnip Times: I'm so sorry about Ricky – but the legacy he left behind is amazing. Most humans don't have that kind of legacy. Ricky was such a blessing to you and you to him. Who are some of the people that you most respect in the animal community?
Steve Dale: Wow. There are so many. And I have such a deep respect for those that came before me. I have a very deep respect for veterinary behaviorists as a group. They have taught me so much and have been such an invaluable resource to me and to cat owners. They save lives.
The Catnip Times: Are there any mentors that helped you on your own personal journey with animal behavior?
Steve Dale: Definitely. Mordecai Seigal was one of the first people to demonstrate that there was a market for pet information and that pet books could sell. Darlene Arden was a special friend of mine. She wrote a great deal about small dogs and toy breeds – and a book about cats. Sadly she died of ovarian cancer. Her legacy is a really incredible fund that goes toward dogs that can identify (sniff out) ovarian cancer. Dr. R.K. Anderson – also known as "the cookie pusher" was a great mentor and friend. Years ago, "bad dogs" were abused and euthanized. Dr. Anderson demonstrated that he could change behavior of these so-called "bad dogs" by giving them cookies. I also learned so much about cat behavior from Pam Bennett-Johnson. She has helped fix many misconceptions about cats. Her early books were some of the most brilliant pieces ever. She's a pioneer that helped change the world for cats. I feel so much gratitude to all of the people and pets that came before me.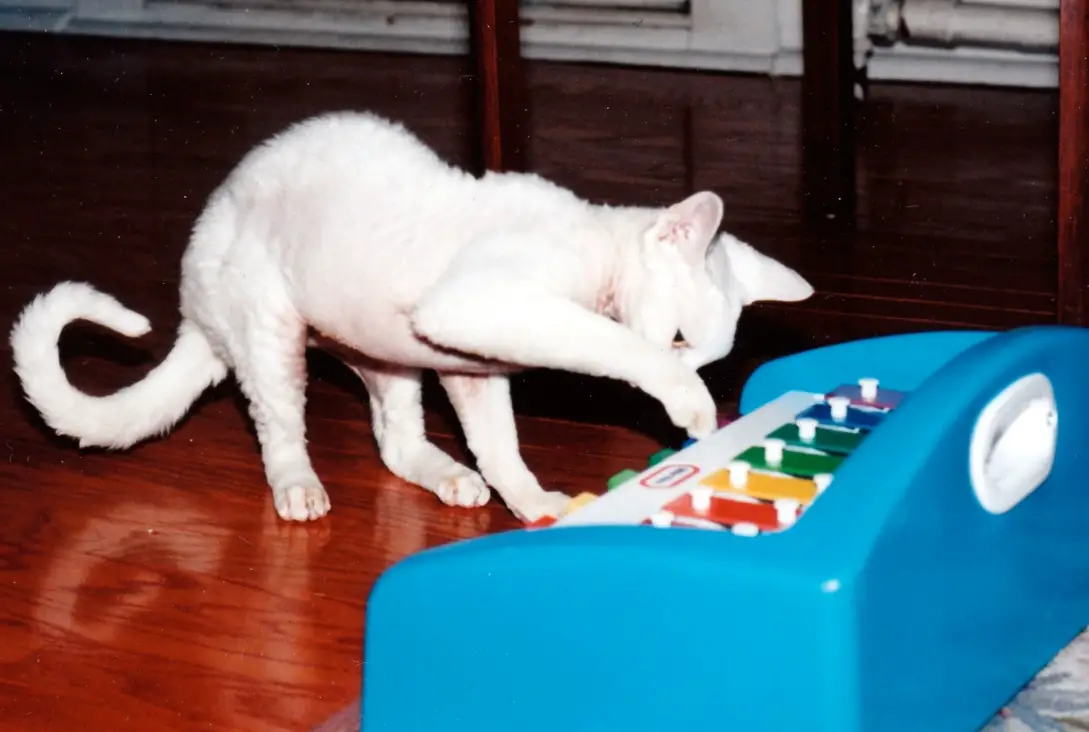 Steve's cat Ricky playing the piano
The Catnip Times: I think that's so important to recognize those who came before us and who were pioneers in their time and paved the way for us today. We have the luxury of standing on their shoulders. Now, if you had one piece of advice to give to cat owners regarding preventable behavior issues, what would it be?
Steve Dale: Any time there is a change in your cat's behavior, see your veterinarian. Yes, you can look online, but that website can't test your cat's blood. Many pet owners assume that a behavior problem is just bad behavior – and that assumption is wrong. When a cat is experiencing a medical issue – it often starts by noticing a change in behavior. Take your cat to the vet.
The Catnip Times: Great advice. So many people (self included) reach out to Dr. Google for medical advice. Our cats can't speak to us, the way we speak – their behavior is a language we need to learn and listen to carefully! We are so excited to have you at Meow MeetUp this summer to open the conference with your keynote. What can attendees look forward to hearing about?
Steve Dale: I'm really excited about the conference too. They will hear about the various misconceptions people have about cats and what the audience can do to make their own cat's lives better. I'll also talk about how cats have changed my life – and of course I'll talk about Ricky. Cats are good for us – but this audience knows that!
The Catnip Times: You'll definitely be among friends – that I can tell you! What are you most excited about at Meow MeetUp?
Steve Dale: I'm really excited to listen to the other experts who will be there. I'm excited about the cat café and the event in general – because it mixes entertainment and fun with education.
The Catnip Times: Okay – one last crazy question – if you were stranded on a deserted island with your cat, what are the three cat products you couldn't live without?
Steve Dale: Well that's the first time I've ever been asked that… let's see. No scratching posts because there's trees. Feliway wipes for sure. I won't need food because there will be mice and fish for the cat to eat. I would want a speaker system so that when my cat meows really loudly – nearby boats would come and rescue us… and maybe have Ginger and MaryAnn from Gilligan's Island nearby because I figure that they would love cats and come to my island and make us happier.
The Catnip Times: (Laughs) That's a purrfect answer! Thank you so much for your time, Steve! And thank you for sharing such interesting anecdotes from your life and experience. I know that our readers and the audience at Meow MeetUp are really going to enjoy hearing what you have to say!
Want to learn more about Steve Dale or follow him on social media?
Check out Steve Dale's Website. He's also on the radio and social media including Facebook,  Instagram, Twitter, and YouTube! 
This blog may contain affiliate links. For more information about third-party advertising on this site, please click here.