Is there anything more relaxing or soothing than a cat's purr?
While researching cat stories on the internet, I came across a really interesting and admittedly addictive website called Purrli that I think every cat lover needs to know about. Purrli is a white noise generator of sorts – but the noise is a cat's purr. How purrfect!
The cool thing about Purrli, besides it being a free purr machine, is that it lets you customize the purr to your mood:
Sleep vs. Happy
Steady vs. Lively
Purr In vs. Purr Out
Relaxed vs. Overjoyed
Close vs. Distant
Purrfect vs. Meowy (When set toward "meowy" a cat's meow will interrupt the purring, which can be startling when you're zoning out with the purring…)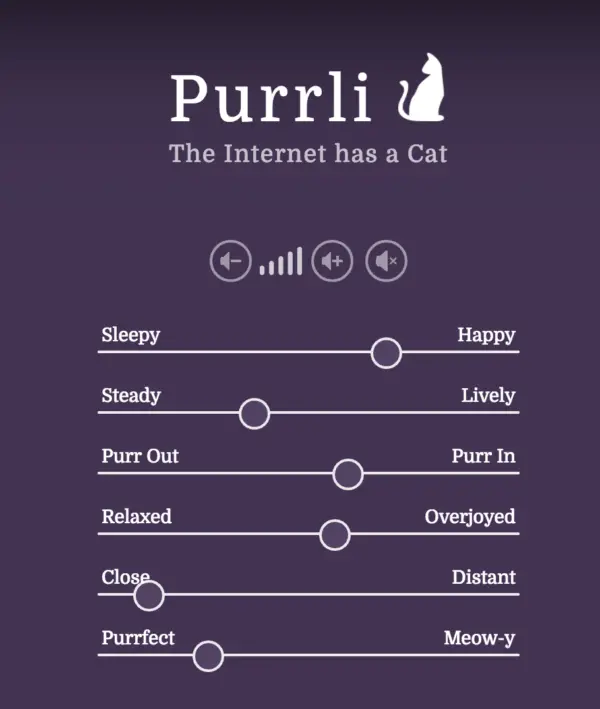 Benefits of Purrli White Noise Purr Generator
The site was developed by Stéphane Pigeon, research engineer & sound designer from Brussels, Belgium and has fans purring his praises! Those who have visited the site often leave comments regarding the benefits they see from using this purr-generator including:
Anxiety and stress relief
Better sleep
Healing and pain management
Homesickness and fond memories
Increased productivity
Increased happiness
Helps other cats
When I had this going on my computer, my cats came over and were very curious about it which matches what many of the site's testimonials had to say…
So give it a try! I promise, you won't regret it!!
You're welcome. 🙂
P.S. If you do try it – let us know what you thought. Did you like it? Did your cat(s) like it?