Most of us rely on pet food companies to develop cat food that is not only nutritious, but is palatable to our finicky cats. Just as human awareness about the quality of food we eat is on the rise, pet parents are starting to pay closer attention to what they are feeding their feline friends. The organic pet food market has been steadily increasing, signaling that food quality is highly important to cat owners (and dog owners too).
Do you know which ingredients to look for, or more importantly, which ingredients to avoid in your cat's food? When it comes to your cat, you want to protect them and give them the best chance at a happy and healthy life. Check out this infographic from simplewag.com detailing some ingredients that could be harmful to your cat and potentially lead to longer-term problems.
Ingredients to Avoid in Cat Food
Some controversy surrounds these food additives – so do your own research and talk to your veterinarian. Common sense would seem to dictate that keeping healthy foods in their natural state, without adding chemicals or additives would be better for both human and pet: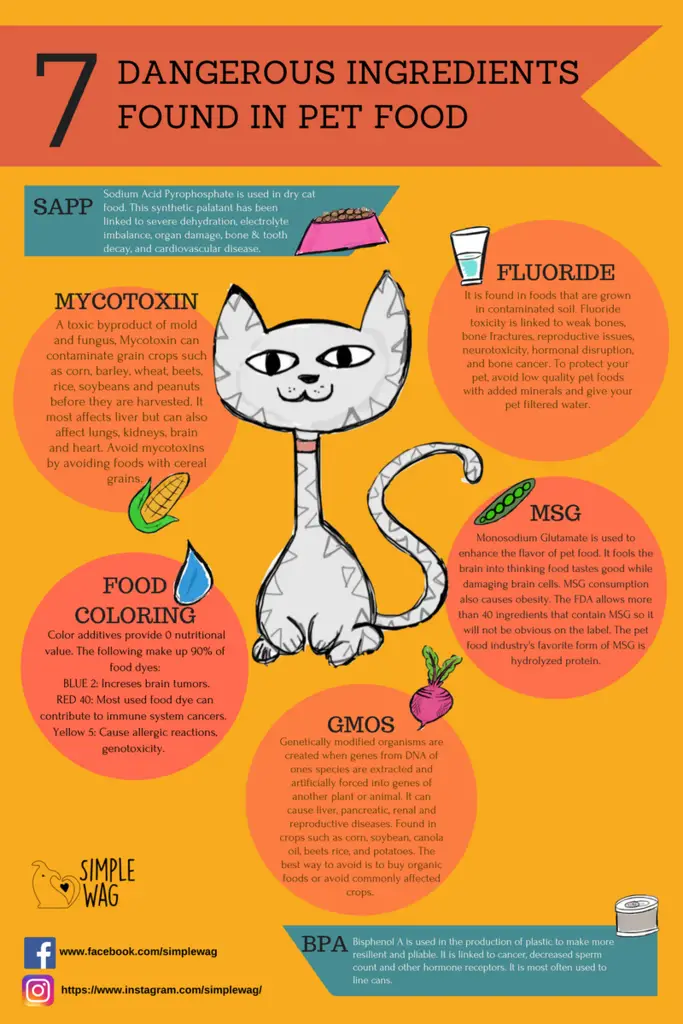 The bottom line? Be sure to read pet food labels carefully before purchasing and feeding anything to your pet. Always do your own research and consult with your veterinarian before changing your pet's diet.