[fusion_builder_container hundred_percent="no" equal_height_columns="no" menu_anchor="" hide_on_mobile="small-visibility,medium-visibility,large-visibility" class="" id="" background_color="" background_image="" background_position="center center" background_repeat="no-repeat" fade="no" background_parallax="none" parallax_speed="0.3″ video_mp4="" video_webm="" video_ogv="" video_url="" video_aspect_ratio="16:9″ video_loop="yes" video_mute="yes" overlay_color="" video_preview_image="" border_size="" border_color="" border_style="solid" padding_top="" padding_bottom="" padding_left="" padding_right=""][fusion_builder_row][fusion_builder_column type="1_1″ layout="1_1″ background_position="left top" background_color="" border_size="" border_color="" border_style="solid" border_position="all" spacing="yes" background_image="" background_repeat="no-repeat" padding_top="" padding_right="" padding_bottom="" padding_left="" margin_top="0px" margin_bottom="0px" class="" id="" animation_type="" animation_speed="0.3″ animation_direction="left" hide_on_mobile="small-visibility,medium-visibility,large-visibility" center_content="no" last="no" min_height="" hover_type="none" link=""][fusion_text]
On  SATURDAY 14 JULY 2018 the OVAL SPACE in central London will transform into a place for all the cat lovers across the UK and those that can make it from abroad.
Tickets are available via Eventbrite for £20 per adult ticket plus a £2.15 booking fee.
Catfest makes its debut in London, bringing stylish buzz-worthy cat products, inspiring talks, books, art, music, vegan street food, cat-themed cakes and cocktails, along with adoptable rescue cats (catfestlondon.com)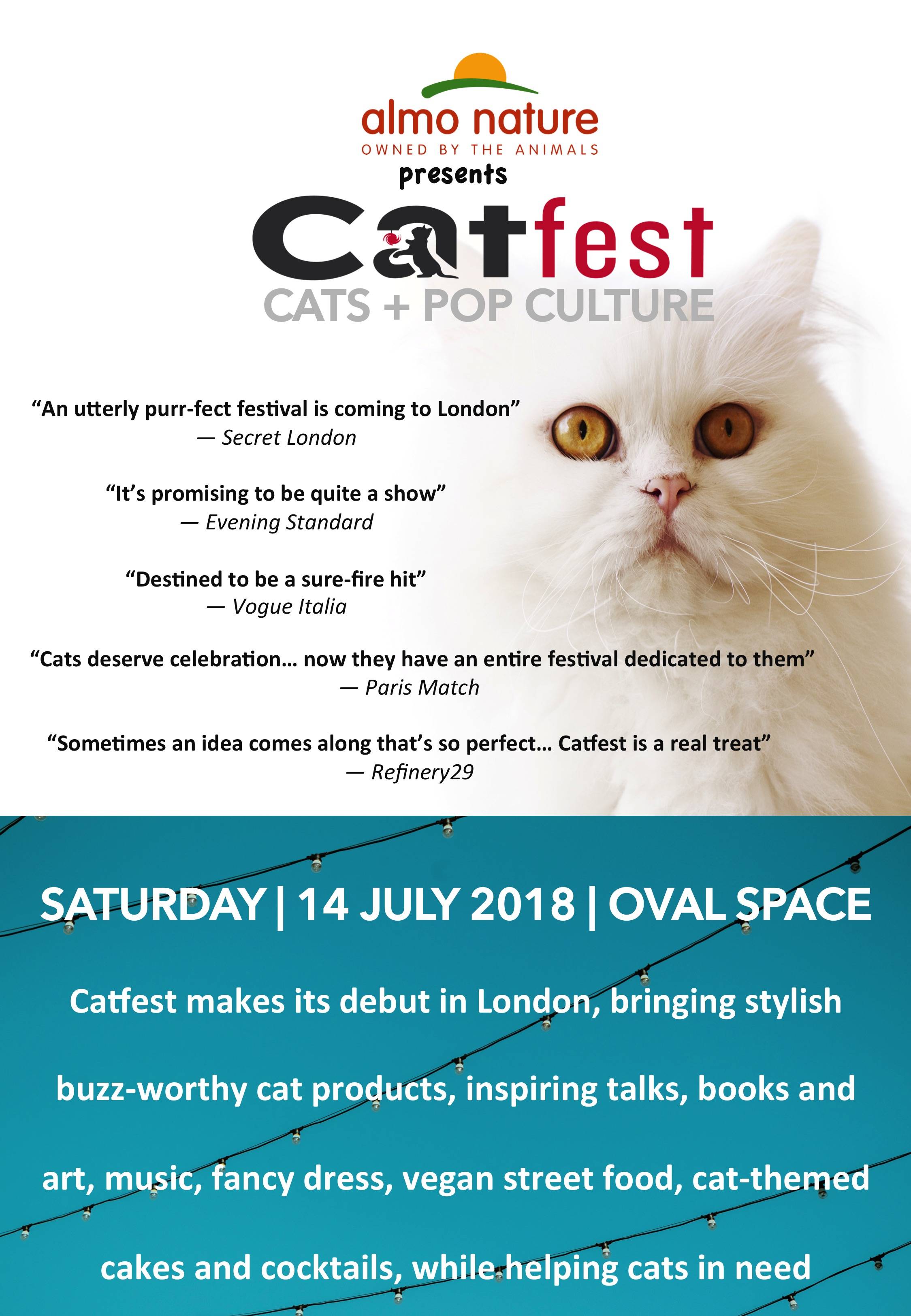 Catfest has teamed up with Almo Nature to bring together a thrilling and original summer festival, with cat-related products, soulful and inspiring talks from bestselling writers and animal experts, while helping cats in need. Cat enthusiasts can come in fancy dress, meet Instagram feline superstars, browse through the pop-up Kitty Lit & Art Corner with finely curated cat art and books.  
At the Mews Market out on the terrace, sample fabulous vegan street food and kitty-shaped cakes and cupcakes; meet and hang out with other cat lovers over cat-themed cocktails from the vintage airstream Pussycat Lounge to the sounds of Sixties and indie classics from the Beatles and the Stones to the Libertines and the Pixies; play cat bingo or have a tarot-card reading from Harper's Bazaar's go-to psychic Jacqui Cosham aka Mystic Mog. Take part in raffle and competition for the best costume for a chance to win fabulous prizes for yourself and your kitty while helping Moroccan street cats.
Fall in love at the MEOW PARLOUR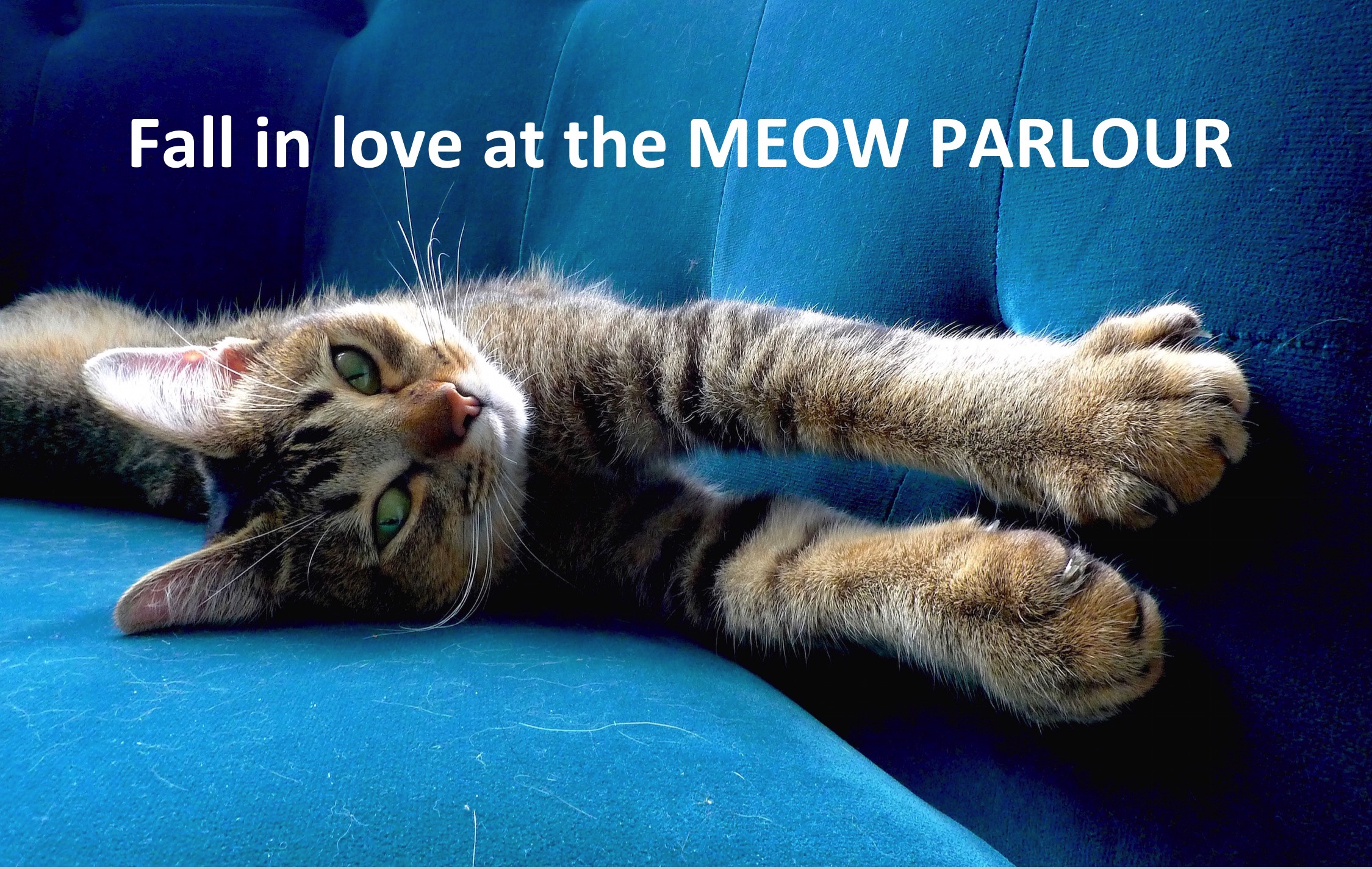 Self-described cat ladies and cat men won't be able to resist the Meow Parlour. Catfest will donate £2 from every ticket to ACE Dog, Cat & Kitten Rescue (adoptions and home-checks will be facilitated by our beneficiary charities), and a charitable project of TICA. Additional funds from raffle and competition will go to Erham to help Moroccan street cats. For every adoption, Almo Nature will give a month's supply of free food; plus festival goers will get swag bags for their cats at home. Almo Nature, the pioneer of human-grade pet food started by animal lover Pier Giovanni Capellino, is the first-ever brand "owned by the animals", which means that all profits generated from the sale of Almo Nature products are used to support cats and dogs in European shelters and rescue centres and wildlife projects through the Fondazione Capellino.  
[/fusion_text][fusion_title margin_top="" margin_bottom="" hide_on_mobile="small-visibility,medium-visibility,large-visibility" class="" id="" size="5″ content_align="left" style_type="none" sep_color=""]
VIDEO ABOUT ERHAM  they hope to raise money for sterilization and medicine to help stop the suffering of the street cats in Morocco
[/fusion_title][fusion_youtube id="nweB3ZquLhc" alignment="center" width="900″ height="" autoplay="false" api_params="" hide_on_mobile="small-visibility,medium-visibility,large-visibility" class="" /][fusion_separator style_type="none" hide_on_mobile="small-visibility,medium-visibility,large-visibility" class="" id="" sep_color="" top_margin="20px" bottom_margin="20px" border_size="" icon="" icon_circle="" icon_circle_color="" width="" alignment="center" /][fusion_text]
Catfest Speakers: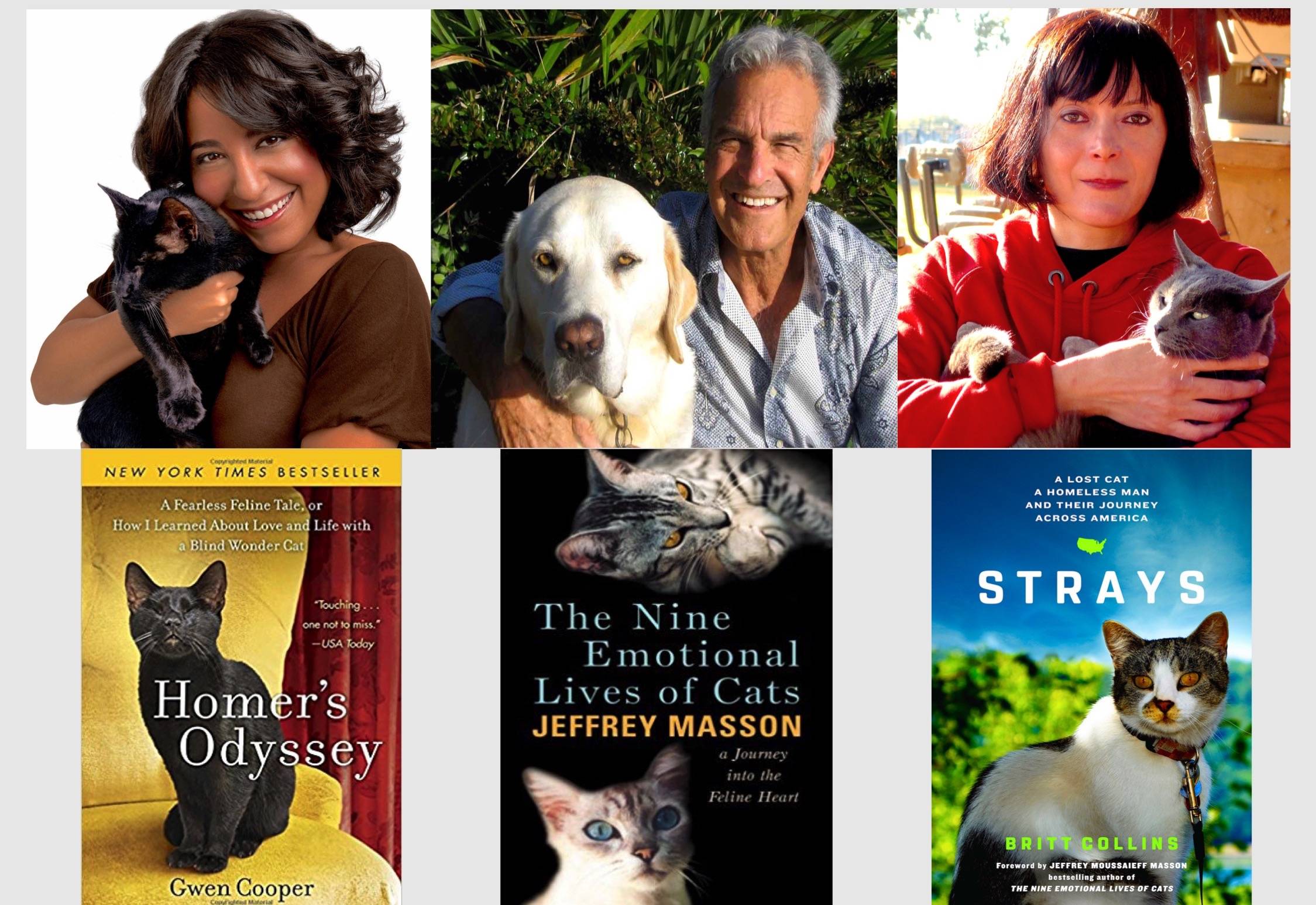 Jeffrey Moussaieff Masson, animal-rights advocate and author of nine bestsellers on the emotional lives of animals, including the revolutionary When Elephants Weep, and multi-million-selling The Nine Emotional Lives Cats andDogs Never Lie About Love, will unveil his forthcoming book Animals: Love & Loss.He will be joined by Britt Collins, London journalist, activist and author of the new non-fiction book Strays: a Lost Cat, a Homeless Man and their Journey across America,to discuss the human-feline bond and magic that cats add to our lives.
Gwen Cooper, the New York Times bestselling author of the memoirs Homer's Odyssey: A Fearless Feline Tale, will share her stories about life with a celebrity cat and preview her new book: My life in a Cat House: True Tales of Love, Laughter and Living with Five Felines. She gives 10% of her royalties from Homer's Odysseyto charities that serve abused, abandoned and disabled animals.
CATFEST ANIMAL EXPERTS
Dr Jeremy Campbell, whose mission to make going to the vet a less stressful experience, started the London Cat Clinic, a calming and special place just for felines. He will share his expertise on feline nutrition and care and looking out for the hidden signs of illness that may save lives. Before starting LA's Kitty Bungalow Charm School for Wayward Cats, Shawn Simons was a successful Hollywood producer and didn't have any cats. She has since rescued and rehomed thousands of homeless felines at the only feral-cat socialiation non-profit in the US. She will discuss her groundbreaking work of turning feral kittens into lap cats. London photojournalist Anne Heslop thought a little house in Azemmour, Morocco would be a lovely place to rest and then she noticed the cats. Touched by their plight, she and her Moroccan friends formed ERHAM, sterilising, treating and improving the lives of vulnerable street cats and kittens. Her short and moving film will be shown with a Q&A session. Aman Kanwar is so passionate about animals he's risked his life to free distressed animals from rogue farmers and drug dealers. The young Canadian vegan vet, who has worked at a low-cost community clinic in Boston and currently at the ASPCA in New York City, will talk about his rescue and relief work with street animals in St. Kitts and realizing a lifelong dream of setting up his own non-profit.
CATFEST FELINE SUPERSTAR GUESTS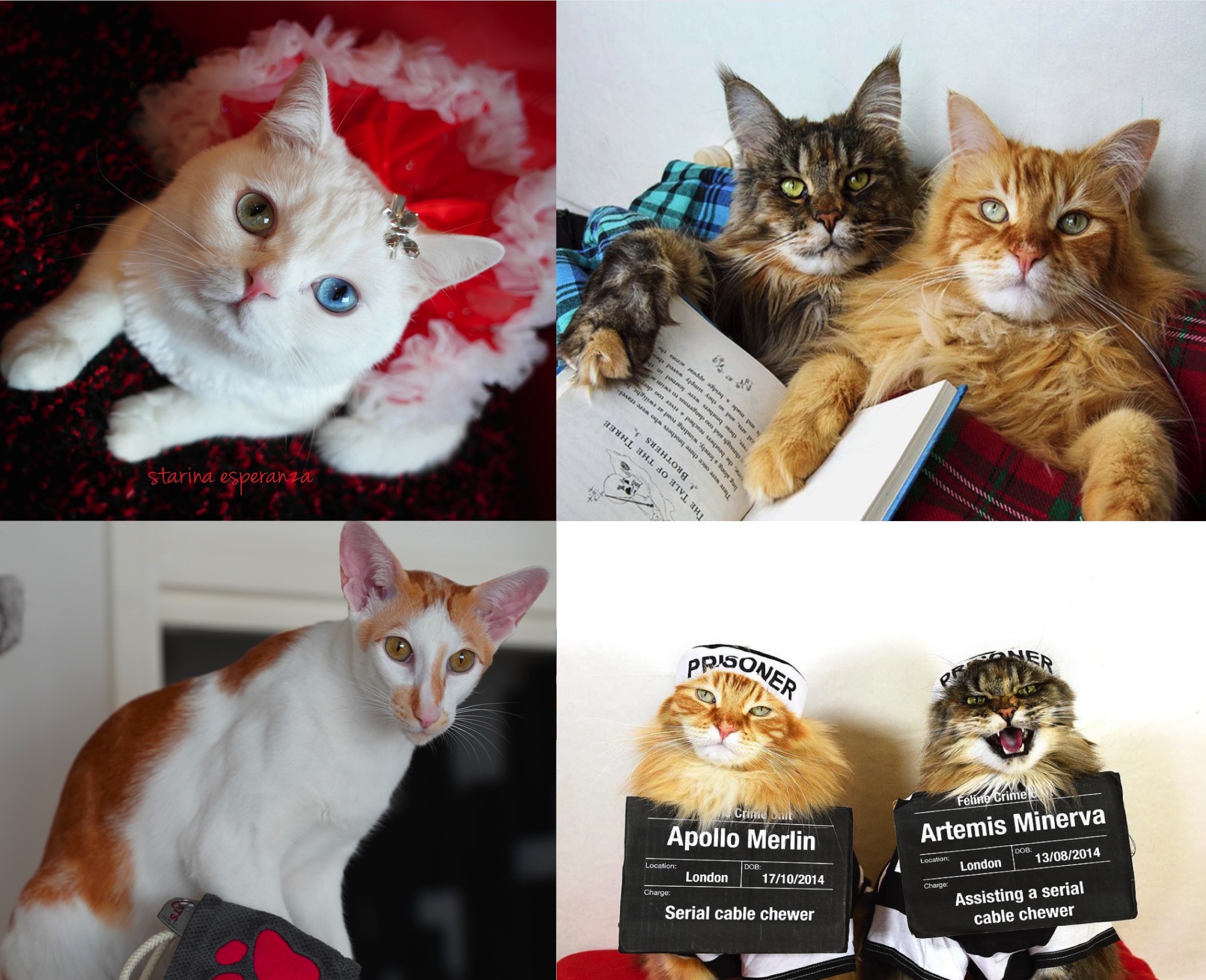 Named after the goddess of the moon and god of the sun, Maine Coon siblings ARTEMIS & APOLLO—who have been to Paris, Budapest, New York, Los Angeles, Las Vegas and share their cosmopolitan life with their 114,000 followers—will bring the feline glamour.Supermodel kitty STARINA ESPERANZA, the white British shorthair stunner with David Bowie eye who has posed for Vogue, Tatlerand Stella McCartney, will be posing like a rock star at the Howler rock 'n' roll kitty accessories stall. Adopted former show-cat PRINCE RENEGADE, connoisseur of the finest food available to humanity, is one of the three feline mascots of the popular Katzenworld magazine and will be doing meet-and-greets and accepting treats at their stall.
CATFEST SPECIAL GUEST APPEARANCE
The gorgeous Meyer Dancers, whose daily uniforms consist of cat-eye flicks, go-go boots and mini skirts, will kick off Catfest to the opening tune of Russ Meyer's feminist cult classicFaster, Pussycat! Kill! Kill!and more Mod beats. London's coolest Go-Go dancers have appeared in Hollywood films, supported Sixties icons the Sonics at Glastonbury and shimmyed all over the world from the Secret Garden Party to Berlin Beat Explosion and now they'll be bringing Sixties stardust to Catfest.
The event Host will be Steve Ludwin who became famous through his 28 years of snake venom use which is now helping scientists to derive safer anti-venoms.
[/fusion_text][/fusion_builder_column][/fusion_builder_row][/fusion_builder_container]