Finding Affordable Options for Veterinary Care
More than 85% of Americans consider their pet to be a part of their family. And as such, they want to provide the best healthcare options that they possibly can to help their furry family members live long, healthy lives.
Veterinary healthcare advances and treatments are on-par with human medical treatment options today. Therefore it's not surprising that veterinary healthcare costs have risen substantially in recent years. So while the best treatments are available for our pets, not everyone can afford them. Unfortunately many people find themselves having to make the extremely difficult decision to part with their cherished pet because the cost of treatment just isn't feasible. Luckily for pet owners, veterinary healthcare care–and healthcare for cats is now more widely accessible for you and your furry family members – you just need to know where to look.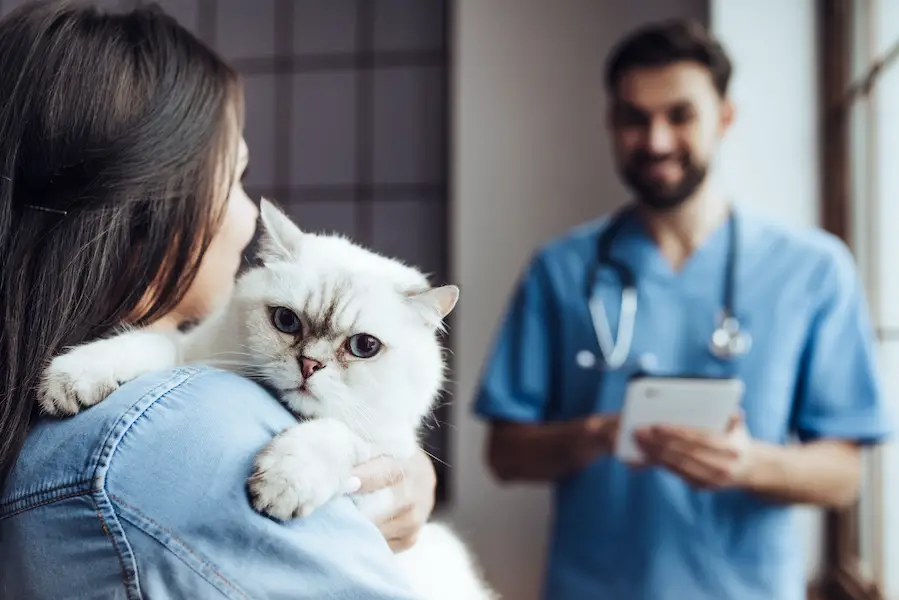 Important Pet Healthcare Options You Need To Know About
As pets are increasingly considered to be an important part of people's families, those with financial means spare little-to-no expense when it comes to caring for their cats' medical needs. Sadly, people without financial resources have had to risk losing their cats/pets because they don't have the financial wherewithal to care for their pet's health. Thankfully, some big changes are on the horizon including an active effort to create awareness of low-cost pet care options, the rise of affordable veterinary care and pet insurance for your cat's health.
Pet Health Equity Initiatives
There's a real champion for affordable veterinary care for cats and dogs – Dr. Michael Blackwell of the University of Tennessee – Knoxville. Dr. Blackwell has an amazing career history and resumé of service to the veterinary world. Today Dr. Blackwell is spearheading a new initiative called AlignCare® which seeks to provide veterinary care for people in underserved communities. The program addresses the whole person and their pet including social, veterinary and financial services to help ensure that pets aren't suffering if their owners are going through a tough time.
"Prior to the COVID-19 pandemic, we estimated that more than 29 million dogs and cats lived with families participating in the Supplemental Nutrition Assistance Program (SNAP), commonly known as Food Stamps. Qualifying for SNAP is an index of one's limited capability to pay for veterinary care. A national study of barriers to veterinary care conducted by the Center for Applied Research and Evaluation at the University of Tennessee found that 28% of pet owners faced a barrier to veterinary care, with the primary reason being lack of funds to pay for the care," says Blackwell.
The Rise of Affordable Veterinary Care Clinics
The affordable vet care trend came within recent years as an answer to the high cost of veterinary care and the desire of less affluent individuals to provide ongoing preventative care for their pets. Pet insurance can help with that too. PetLifeToday.com estimates that the total spending on vet care in America during 2020 will reach $16.62 billion, and that figure doesn't even include over-the-counter pet medication.
One veterinary company experiencing growth is THRIVE Affordable Vet Care. They're dedicated to essential pet care and services to maintain good health while reducing costs. Located currently in the Southeast and Midwest, THRIVE's mission is high-quality preventive pet care to track patient health and wellbeing. By conducting their own testing and diagnostics in-house and applying current technology throughout the process, they keep costs down. With ongoing medical attention, potential health problems are discovered and addressed before they can become even bigger problems.
Thanks to companies like THRIVE, more people who couldn't provide effective pet care for their cats can do so now. A healthy cat can lead to a longer, happier life for both pet and owner.
"Did you know that over 40% of pets go unseen by a medical professional during their lifetimes?  At THRIVE, we believe it is more cost-effective to prevent diseases before they happen. We are able to keep our costs affordable by focusing our services and employing technology to streamline processes (mobile app, online bookings, chatbots, telehealth, call center) so that when our clients visit, they have our undivided attention. Our clients and our patients appreciate the unprecedented value at an affordable cost," says Odis Pirtle, CEO of THRIVE.
Other providers of reduced-cost pet health care include Banfield Pet Hospital and VCA (Veterinary Centers of America).
Consider a Pet Insurance Policy
Another component of more affordable cat health care is pet insurance. With any kind of insurance, you need to research, ask questions, and be sure you understand the policy before choosing a provider. Here are some questions to consider when looking for a good policy:
What does the policy cover? What does it exclude?
Are there age limits?
Are there waiting periods?
Is the plan customizable to fit your budget?
Can you visit any vet or emergency vet? (Or are you confined to a network?)
Do they offer multi-pet discounts?
Are there any restrictions on breed, hereditary conditions, or congenital conditions?
Do they offer a money-back guarantee?
Note: No pet insurance company covers pre-existing conditions. Some may cover a pre-existing condition if the condition is considered cured for a pre-determined period of time (e.g. six months, a year, etc.) and if it comes back, it may be considered new. Check with each insurer about this.
Most pet insurance companies offer accident and illness or accident-only coverage. These plans are meant to cover large vet bills from unforeseen accidents or illnesses. Coverage for regular preventative pet care is usually an extra expense or additional add-on option.Pay For Veterinary Care on Credit
Care Credit is a popular option for those who want to pay off their pet's veterinary expenses over time. Care credit is a line of credit offered by Synchrony Bank and is a credit card that can be used to pay for veterinary expenses. One downside is that the card is only issued for and accepted at veterinary offices in their network. As with any credit card, you can expect to pay interest on outstanding balances.  So if you don't have the funds to pay your Care Credit Card off in a few payments, the interest can quickly add up – just like any other credit card – and you'll be paying a whole lot more for your pet's already-expensive medical bills.