The Catnip Times interview with Dr. Kurt Venator, DVM, PhD, and Purina's Chief Veterinary Officer
With temperatures rising, the summertime brings new motivation to get out of the house and travel. And wouldn't it be great if you could take your cat along and be assured that your cat won't be miserable during your travels? What if they actually enjoyed it?
It's definitely possible.
We spoke with Dr. Kurt Venator, Purina's Chief Veterinary Officer about how to take the fear out of the cat carrier and make traveling with your cat safe and enjoyable for both of you.
According to Dr. Venator, much of what's required really depends on you, the owner. You'll need to have the discipline and most of all, patience, to help your cat get slowly acclimated. Never punish your pet or force them to do things at your pace. Instead listen to their body language and follow their lead.
Getting acclimated to the carrier
Tip #1 – Carrier Comfort
Start with a nice, roomy and comfortable pet carrier. If traveling by air, be sure your carrier is approved by the airline. The carrier should be large enough so that your cat can stand up and turn around with ease.
Tip #2 – Start Young
If possible, start young. If you have a kitten or young cat, get them acclimated to the carrier as soon as possible. If your cat is already an adult, don't worry. You'll follow the same process, but it will likely take longer. Therefore, mentally prepare yourself for the process to take time and patience.
Tip #3 – Positive Reinforcement
Make the carrier a safe and happy place for your cat by drawing a positive association between the carrier and the things your cat loves like. For example:
Use a spray pheromone to help reduce stress, like Feliway
Feed your cat near the carrier
Offer treats in the carrier
Allow your cat to sleep in their carrier
Positive reinforcement goes a long way to help your pet associate the carrier with good things!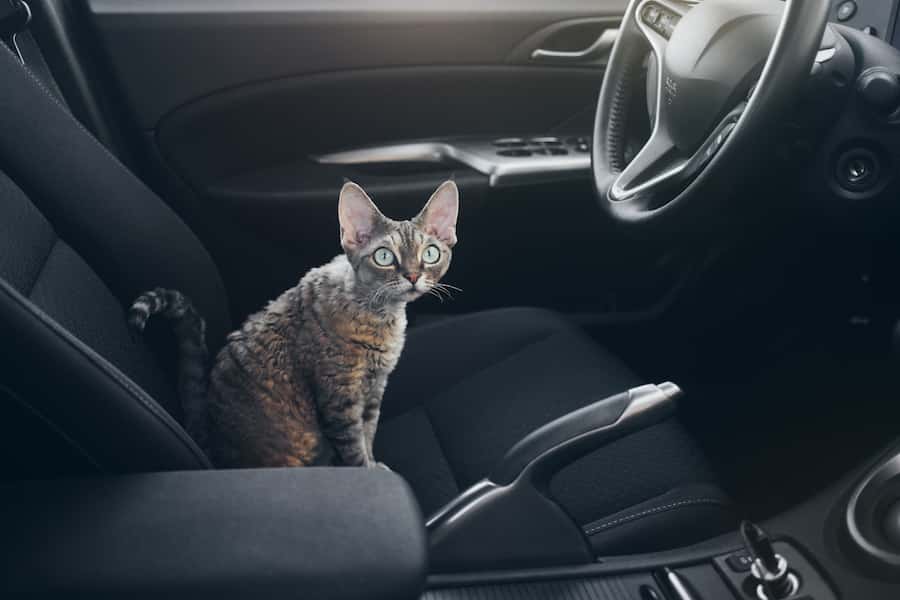 Tip #4 – Go for a Test Drive
Take your cat on short drives without going anywhere to get them used to the carrier and the car. Gradually increase the amount of time in the car. You can even arrange a visit with your vet where you just stop by without having an appointment. "Most vets will welcome this sort of visit because they know that in the long run, it will reduce fear in your pet," offers Dr. Venator. If your cat's first experience in their carrier is a scary trip to the vet, you'll have more negative feelings to overcome.
Tip #5 – Go slowly. Be patient.
If your cat isn't happy, stop. Cats take a really long time to adjust to new situations and routines, so be patient and listen to your cat. Offer more positive reinforcement. Give your cats treats, catnip or a favorite toy when they're doing a great job.
If all goes well, you and your cat will be happy travelers!
Ready to go?
Tip #6 – Bring the essentials
Be sure to bring all of the things your cat might need while traveling with you including food, water and a litter box. Make sure your cat is hydrated and offer water and wet food often during your trip.
Tip #7 – Be mindful of the temperature
Avoid traveling when temperatures are extreme. Never leave your pet in the car unattended– even with the windows open. The temperature inside your car can rise to well over 100 degrees in minutes leading to your pet's death. The following chart shows how even at seventy degrees Fahrenheit, the inside of your car can reach dangerously hot temperatures in minutes. Leaving a window open does very little to reduce temperatures.
"If it's too hot or humid for your comfort, it's definitely too hot and/or humid for your pet. Keep pets indoors and if you must go out, do so either early or late in the day to avoid peak heat." – Dr. Kurt Venator
Tip #8 – Beware of Hot Surfaces & Substrates
If you're walking your cat on a leash or harness, avoid hot substrates like asphalt and concrete – it can burn their paw pads. If the ground is too hot for your bare feet, it's definitely too hot for your pet's feet.
Tip #9 – Invest in Sunscreen Specially Formulated for Cats
Buy sunscreen that is specially formulated and safe for cats and apply to the ear tips and nose. Just like humans, cats can also suffer from sunburn. BEWARE however, as many common ingredients in human sunscreen are toxic to cats, including those with zinc oxide.
You're all set! You have all of the information you need to ensure a safe and happy trip with your cat. The hardest part will likely be your patience and persistence… you can do this!
Happy and safe travels!