Enriching your cat's indoor life is really important to the healthy and overall happiness of your cat. One of the easiest and best ways to add enrichment to your cat's life is to provide your kitty with somewhere to climb, perch and scratch. Cat trees come in all shapes and sizes for every type of cat and at every stage in life. They also come in a wide variety of price points, from under $100 to over $1,000.  Whatever your budget, it's important to change your cat's environment to fit their size and age.  For example, small and short cat trees are great for very small cats, kittens and senior cats. For adults and larger cats, be sure the cat tree is large enough to allow your cat to stretch, climb and perch while they're in the prime of life.
Here's a roundup of the best cat trees by breed size and life stage. 7
Cat Trees for Kittens
Kittens, being tiny, young and full of energy can have fun with just about any size cat tree. But if you want to start out small, try the On2Pets Luxury Cat Tree. It retails for about $149 on Chewy.
Starter Cat Tree for Kittens
For a great "starter"cat tree, try the Frisco 28" cat tree. At just over two feet tall and under $25, it's the purrfect starter cat tree for your growing cat.
Mid-Level Cat Tree for Young Cats
For a very nice mid-level model, consider the Midwest Feline Nuvo Escapade at under $75.  
Cat Trees for Senior Cats
As your kitty gets older, he may not be able to climb and jump as much as they used to, so help him out with a shorter cat tree or a set of stairs to help your little one get around. Even though your cat may technically be a senior, he's still your baby.
Shorter Cat Trees
Vesper 32.1" V-Base Cat Tree. It features three levels, all under 3 feet including a cat cave, and two perches – so it's purrfect for a cat that still wants to climb, but might be suffering from arthritis or other age-related ailments.
Cat Perch
Mr. Herzer's Seat Perch for Cats is a good option as well. It's a bit more expensive at $149, but allows your cat two perching levels or, if you have more than one cat, they can share. The low cat perch is 18.5" high and the higher cat perch is 10" higher at 28.5"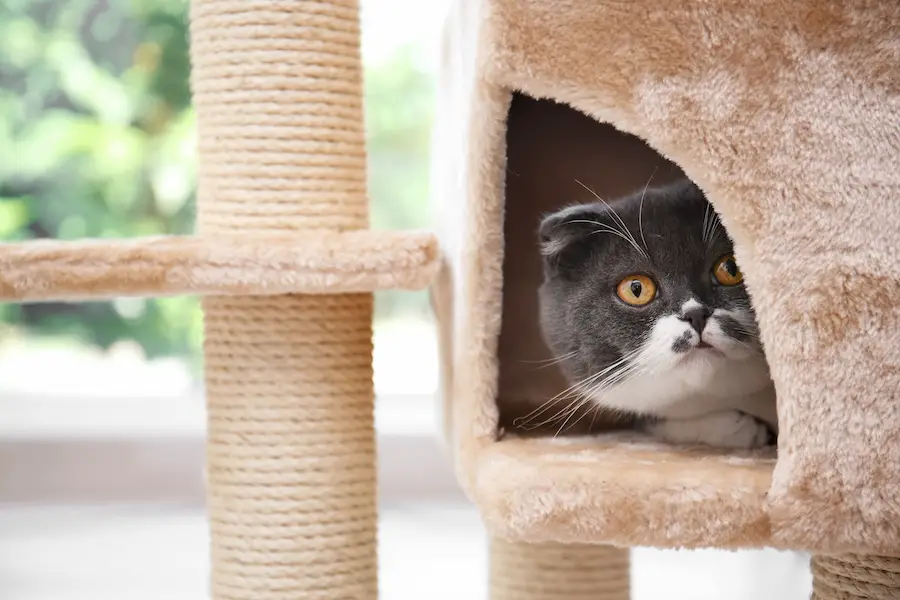 Cat Trees for Seniors, Declawed and Disabled Cats
First, let me start by saying that I strongly discourage declawing of cats. Cats need their claws and declawing is a cruel process. If you're not convinced, read about my cat that suffers from phantom paw pain. I have never declawed any of my cats, but I did adopt a cat that was declawed and on "death row." Cats who are declawed or may have a physical disability like amputees also like to climb – but you have to make it easier on them.
Pet Steps
Armarkat Pet Steps. It comes in 3 or 4 steps and regardless of how many steps you choose, the overall height is the same. The 4-step version will have less distance between the steps than the 3-step version. This product is very sturdy and at under $25 – it cannot be beat. Romeo, my senior cat, loves to sleep on my bed… but jumping off of my bed is really hard on his joints. To help him out, I bought foam pet stairs and he loves to take them down off the bed. For some reason, he never uses them to go up, even though I've showed him how many times…go figure).
Best Pet Supplies Foam Pet Stairs in White Lambswool is a great choice with options for 3, 4, and 5 steps. It's priced between $45 – $75 depending on the number of steps you choose. 
Play Tents/TeePee's
TeePee's and play tents have been all the rage lately for kids and pets. If your cat loves to hide, give the P.L.A.Y. Pet Lifestyle and You Horizon Dog & Cat Teepee Tent a try. It's a little pricey compared to other options but it's a really fun design.
Cat Trees for Healthy Adult Cats
Highly Rated Cat Tree
For your healthy, adult cat, choose a sturdy tree that they can climb up high and perch at various levels. One of the highest rated cat trees on Chewy.com is the Frisco 72" Cat Tree with Large Base. At 6 feet tall, it will give your cat a ton of climbing fun. Space-Saving Cat Tree
SmartCat Cat Climber. It makes use of any door in your home to let your cat climb and perch. I've had this in my home for years and it's held up very well. My only complaint is that it can be noisy when your cats climb it – but if you put a piece of foam between the unit and your door, it helps muffle any noise from rowdy cats. The ratings on this product are all over the map, but I will tell you that my cats give it 5 stars. They absolutely love it. We paired it with some shelves from Ikea, to help them get from the top of the door to some shelves that are in our foyer with a cathedral ceiling, so it works great for us. Unfortunately, I can no longer find it – so I'm not sure if it has been discountinued.
Extra Fancy Cat Tree
If budget isn't as much fo an issue, the On2Pets Large Luxury Cat Tree
Do you have a favorite cat tree? Tell the community about it in the comments!
Note: All pricing and price ranges are accurate based upon the publication date of January 2019.