Updated June 2022
Do you ever roast a chicken or turkey for dinner and then just throw the bones in the garbage? I used to – all the time! Now you don't have to – because you can truly use the entire animal and leave nothing to waste. Here's a fun and easy recipe for chicken stock for cats that will make you and your cats really happy! And if you're not much of a cook, check out some of the great cat soups below that many pet companies have come out with in the last couple of years!
For the recipe, here's what you'll need:
Bones from chicken or turkey
Carrot
1 Stalk of Celery
Water
Soup Pot with Lid
Mesh strainer
Directions
It couldn't be simpler to make fresh homemade chicken or turkey stock that is healthy for your cats! Here's what you do:
Put the bones in the pot – if there's some meat on them, that's perfectly fine. Add the carrot and celery to the pot – no need to cut them up.
Fill the pot with water (filtered if preferred). Use just enough water to cover the bones – important to get the right consistency.
Cover the pot and slowly simmer the chicken/turkey stock for about 6 hours on low heat.
Once the you've finished cooking these simple ingredients use a mesh strainer to pour the stock through into a bowl. Don't skip this step as the bones can fracture off and you don't want to give your cat any bone shards. In the bowl that you strained the stock into, you'll be left with a clear golden chicken stock.
Many recipes say that it's important to cool this soup down quickly for best results. Doing so yields a congealed consistency – which is rich and silky.  I like to freeze the chicken stock in silicon molds and make chicken stock ice cubes out of them. Once frozen, they make a quick, healthy and easy treat for your cat!
Take out a baking sheet and put the silicon molds on them. Then pour the warm stock into the molds (like the ones above) and put them in the freezer. After a few hours, they are ready to be popped out! Toss them in a ziploc freezer bag and store in the freezer.
I usually take one or two out every day and let them melt in a dish. My cat, Romeo, has kidney disease and he really enjoys drinking up the chicken soup. The best part is that it's a healthy treat that helps him stay hydrated!
Why shouldn't I just buy store-bought human-grade chicken stock?
Don't feed your cat chicken stock out of a carton, can or box that's made for humans. Most of these store-bought varieties contain onions, garlic and other spices that are not good for your cat and can be toxic. The recipe above is so easy – there's really no reason that you shouldn't make your own. If you're not up to making your own – there are lots of new choices at your local pet store! See below for some ideas…
Not much of a cook? Not to worry. Buy pet-safe broth!
So you're not much a cook, eh? Not to worry. Pet companies are finally catching on that cats love gravy and broth. Having a senior cat with kidney disease, we're always looking for great ways to hydrate beyond water (and subcutaneous fluids). Broths are a great way to supplement your cat's diet with a hydrating treat. Here are a few that you should definitely try out!
Cat Broths We've Tested
We've tried Fancy Feast broths and they've gone over well in our cat family. My cats seem to like the clear broths better than the creamy style ones… but to each (cat) his own!
We tried The Honest Kitchen broths in our home and unfortunately my cats wouldn't drink it. The broth comes in a powdered form that you need to add water to in order to reconstitute it. I really like The Honest Kitchen brand for their attention to quality ingredients – but at the end of the day, my cats didn't approve. Maybe your cats will be different…?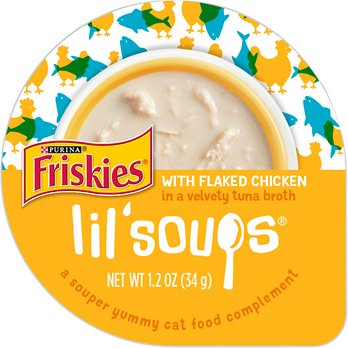 Friskies Lil Soups are the newest soups on the proverbial cat block. My cats tried the shrimp flavor and loved it. It's a creamy texture with bits of shrimp in it. While we haven't tried the other flavors yet – this one seems to get high marks from other cat owners. Remember that these broths are meant to be a treat or supplement to your cat's regular diet. They should not be served as a meal.
Other Cat Broths Worth Trying…
I haven't tried these yet – but they look really good and have great ratings. I particularly like that Caru markets their product as "human grade."