Cat Conference Delivers Tons of Feline Fun
Sometimes movie sequels disappoint. The sequel to CatConLA delivered.
I, along with 15,000 other people, descended upon The Reef Los Angeles on Saturday, June 25, 2016; and it seemed like just yesterday that I attended the very first CatConLA in 2015. All of the enthusiasm and buzz from last year were still fresh in my memory. I wondered how CatConLA would compare to its debut in 2015.
The verdict? CatConLA 2016 was bigger and even more sensational than CatConLA 2015 – if that's even possible. More cat ears, more cat shoes, more cat clothes, more cat people – so much so, I heard there was a line of cat-lovers wrapped around the building waiting to get inside!! People from all walks of life, young and old, and everything in-between, gathered to celebrate their love of cats.
CATCONLA BY THE NUMBERS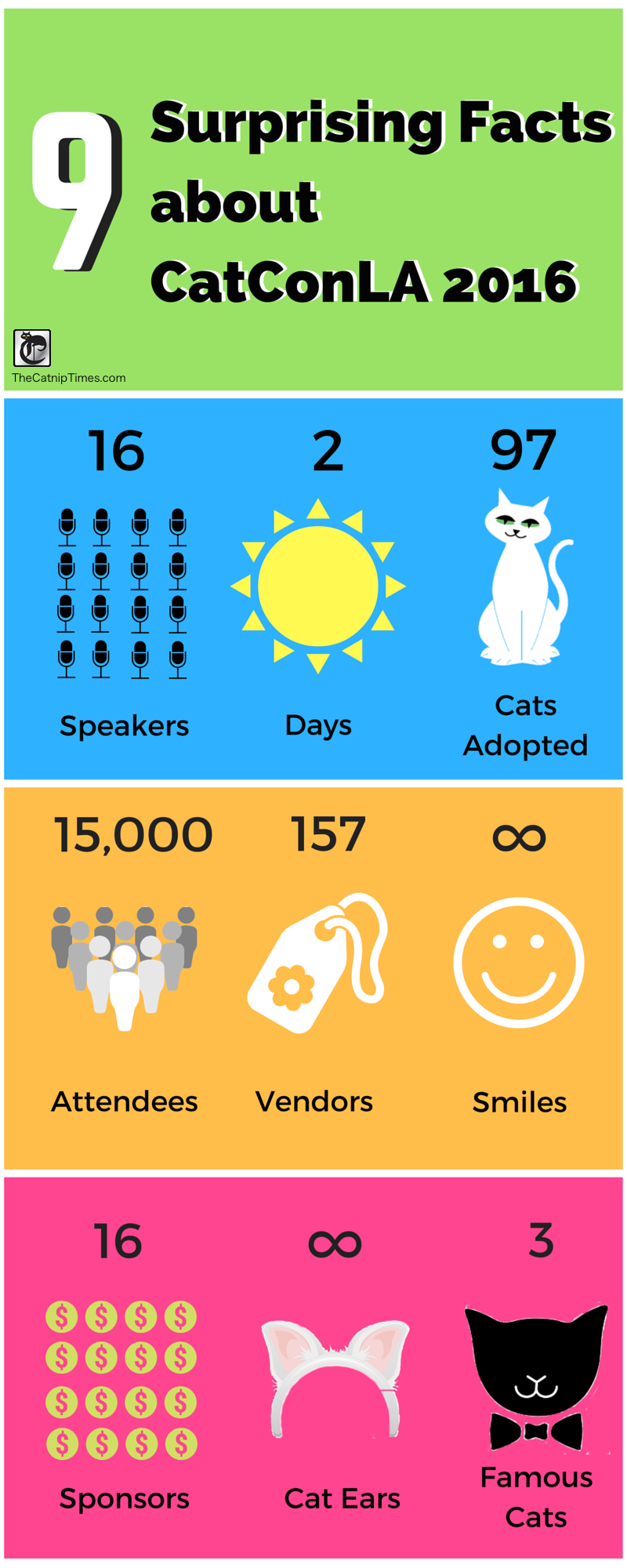 MANY FAMILIAR ACTIVITIES FROM 2015 MADE A COMEBACK…
Most of the great things from 2015 made a reappearance. The speaker presentations, vendor showcase, kitty manicures (caticures), cat adoption center and kitty meet-and-greets were all back this year.
"What I love about this event is so many people live virtually these days and this sort of forces people to come out and get to know each other and share their love of kitties." – Susan Michals, Founder, CatConLA
Speaker presentations featured many internet-famous cat people like Will Braden (Henri Le Chat Noir), Scott Stulen (Creator CatVidFest), Marilyn Krieger (aka "The Cat Coach"), Kady Lone, Pudge and Eli Omidi (Cats of Instagram), Mike Bridavsky & Lil Bub, Julie Newmar and Mariel Hemingway, to name a few. I was lucky enough to interview several of them:
"I'm a crazy cat lady trapped in a 36-year-old man's body." – Will Braden, Henri Le Chat Noir
…AND LOTS OF NEW ACTIVITIES WERE ADDED IN 2016…
To start, CatConLA added 30,000 additional square feet to the convention this year including an expanded vendor showcase. Instead of one floor of vendors selling all sorts of cat products, there were two! Many big brands joined in the kitty-fun this year, including Petco, Hill's Science Diet, Animal Planet, Purina, Rachel Ray Nutrish, Cats of Instagram, Pusheen, Colorwear and Kat Von D.
A FEW FAVORITES
Colorwear provided attendees the opportunity to get creative by coloring cat-themed t-shirts.
The Caticure bar was back with kitty manicures. Patrons were given the opportunity to choose either a black or white cat decal that was then neatly affixed to their nail.
The Kat Von D Beauty Bar offered free "cat eyes." The bar was staffed by senior make-up artists who worked tirelessly all day, glamming up patrons.
INTERNET CAT VIDEO FESTIVAL
To end the day, the 2016 inaugural Cat Video Festival was hosted by Will Braden at the Ace Hotel. The new Cat Video Festival will be debuted at CatConLA every year before touring the country. It will be a compilation of the year's best cat videos along with some classics.
SO WHAT'S BEHIND THE FELINE FRENZY?
I think a lot of things drive people to attend CatConLA: some are sporting their latest kitty gear, others like to dress up like cats. Some people want to hang out with other cat lovers or meet up with friends they've met through the internet. And still others are searching for the latest and greatest cat stuff.
For me, it was seeing old friends, meeting internet-famous-cat-people and perhaps most importantly, searching for that purrfect cat toy, cat bed, or cat-themed item.  Somehow, I knew that this would be the best place on earth to find the best and newest things for my cats. It's a good thing I packed an extra bag.