Beth Stern, wife of famed talk show host Howard Stern, has written a new book that will benefit the animal shelter that she advocates for in New York, North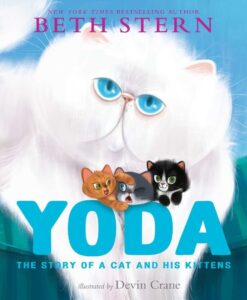 Shore Animal League.  Beth has been a staunch advocate for animals for a long time and she and Howard have fostered over 90 kittens in their home!
The book is based upon her cat Yoda, whom she adopted from the shelter.  Yoda was at the shelter "for too long" states Stern, so she took him home.  Soon after bringing him home, they learned that Yoda had a heart problem and probably only had three to six months to live.  Beth and Howard were determined to give Yoda the best life possible, for whatever time he had left.
At around the same time, Beth brought home a litter of kittens. Yoda followed Beth to the foster room and began grooming the kittens and watching after them.  "If one escaped, he'd chase after her and corral her back in. He has not left the foster room in six months!" states Stern.  Amazingly, this new purpose seemed to heal little Yoda's heart – both literally and figuratively.  Yoda is no longer on heart medication!
Beth is generously donating all proceeds of the book to Bianca's Furry Friends Campaign to create a cage-free habitat for the cats.
Read the full article which talks about Robin Quivers' involvement in the project (she also loves cats) and more about Howard and Beth's cats.  Beth also hosts the Kitten Bowl (the Super Bowl for Kittens).