To the people who took Mr. No Ears:
Please return Mr. No Ears to his home and his cat family in Albufeira, Portugal. Mr. No Ears has been fed and provided regular veterinary care by Amigos dos Gatos do Algarve (AGA) for many years (since 2000). They consider him family.
Mr. No Ears is part of a healthy, feral cat colony in Portugal. The entire colony has been sterilized and are living their lives out in a beautiful beachfront area in Portugal. The cats have shelter from the elements and plenty of food and daily visits from their caretakers.
A Plea for the Safe Return of Mr. No Ears
We believe that you believe you've done something admirable by taking Mr. No Ears into your home. The fact is, you stole a beloved cat from a town and people who have been caring for him for years. You removed him from the place where he is happy and surrounded by family. AGA has even been building a retirement community for Mr. No Ears and his family. These cats are loved.
If it was your desire to adopt this cat, you should have contacted AGA and gone through proper channels to do so. The people (many of them volunteers) who look after feral cat colonies pour their hearts and souls into this work. They show up to feed the cats day and night, rain or shine. It is unfair to take this well-known cat as your own without contacting the people who care for him and know his medical condition and needs.
We implore you. As fellow cat lovers: Do the responsible thing and return Mr. No Ears. AGA would like nothing more than a peaceful resolution to this matter and to know Mr. No Ears is safe and sound.
We trust that you will return Mr. No Ears promptly to his home in Albufeira, Portugal. If you need assistance in getting Mr. No Ears back to his home and family in Albufeira, there are many people who will help.  Please contact us if we can help.
The Catnip Times
When was Mr. No Ears Abducted?
Mr. No Ears was abducted on or about September 11, 2015 by people who have since posted pictures of Mr. No Ears and have told AGA that Mr. No Ears is now being cared for in a home and that they have no intention of returning him. Lyn, the caretaker, visits, feeds and cares for the colony every day, rain or shine. She noticed that Mr. No Ears didn't come to eat on Saturday, September 12, 2015. Once in a while Mr. No Ears chooses to take a catnap instead of eating, so Lyn went home. The next day, she still didn't see Mr. No Ears and realized that something was wrong. AGA and the caretakers are beside themselves with grief.
Why does Mr. No Ears have no ears?
Mr. No Ears is a white cat, like his brothers and sisters. As such, their skin is more sensitive to the sun. Mr. No Ears and some siblings suffer from Solar Dermatitis and some of them had to have their ears removed; which happened under veterinary care provided by AGA. Mr. No Ears also suffers from another dermatological issue which the caretakers have finally gotten under control.
Take the Poll: Voice Your Opinion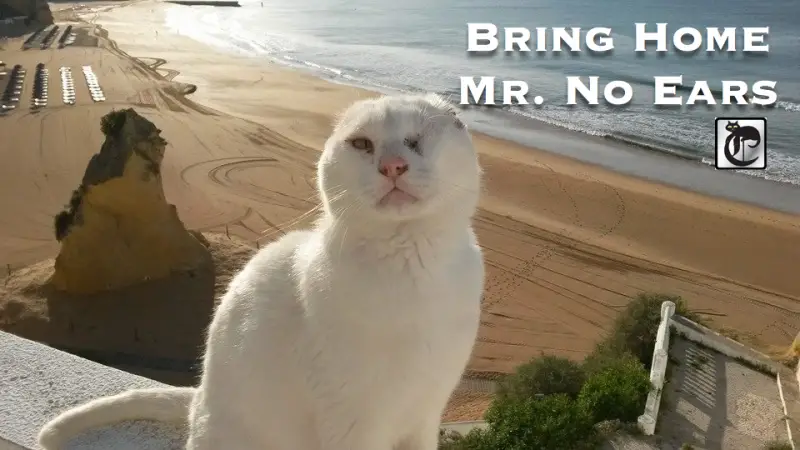 Uma carta aberta ao Abductor 'Mr. Sem Orelhas
Por favor, devolva o Sr. Sem Orelhas para sua casa e sua família gato em Albufeira, Portugal. Sr. Sem Orelhas foi alimentado e fornecido assistência veterinária regular Amigos dos Gatos do Algarve (AGA) por muitos anos (desde 2000). Eles o consideram família.
Sr. Sem Orelhas faz parte de uma alimentação saudável, colônia de gatos selvagens em Portugal. Toda a colônia foi esterilizado e estão vivendo suas vidas fora em uma bela área em frente à praia em Portugal. Os gatos têm abrigo dos elementos e abundância de alimentos e visitas diárias a partir de seus cuidadores.
Um apelo para o retorno seguro do Sr. Sem Orelhas
Nós acreditamos que você acredita que você fez algo admirável , tendo o Sr. Sem Orelhas em sua casa. O fato é que você roubou um gato amado de uma cidade e as pessoas que foram cuidar dele durante anos. Você removeu-o do lugar onde ele está feliz e cercada pela família. AGA foi mesmo a construção de uma comunidade da aposentadoria para o Sr. Sem Orelhas e sua família. Estes gatos são amados.
Se fosse seu desejo de adotar essa gato, você deve ter contactado AGA e passou por canais adequados para o fazer. As pessoas (muitos deles voluntários) que cuidam de colônias de gatos selvagens derramar seus corações e almas para este trabalho. Eles aparecem para alimentar os gatos dia e noite, chova ou faça sol. É injusto para tirar este gato conhecido como a sua própria, sem contato com as pessoas que se importam com ele e saber sua condição médica e necessidades.
Nós vos suplicamos. Como colegas amantes do gato: Faça a coisa responsável e devolver o Sr. Sem Orelhas. AGA gostaria nada mais do que uma resolução pacífica para este assunto e conhecer o Sr. Sem Orelhas é seguro e sadio.
Nós confio que você vai voltar Sr. Sem Orelhas prontamente para sua casa em Albufeira, Portugal. Se precisar de ajuda na obtenção de Mr. Sem Orelhas de volta para sua casa e família em Albufeira , há muitas pessoas que vão ajudar. Por favor, contate-nos se nós podemos ajudar.
O Catnip Vezes
Quando o Sr. Sem Orelhas foi sequestrado?
Sr. Sem Orelhas foi sequestrado por volta 11 de setembro de 2015 por pessoas que têm desde fotos postadas de Mr. Sem Orelhas e disseram que o Sr. AGA Sem Orelhas agora está sendo cuidada em uma casa e que eles não têm nenhuma intenção de voltar ele. Lyn , o zelador, visitas, alimenta e cuida da colônia a cada dia, chova ou faça sol . Ela notou que o Sr. Sem Orelhas não veio para comer no sábado, 12 de setembro de 2015. De vez em quando o Sr. Sem Orelhas escolhe para tirar uma soneca em vez de comer , de modo Lyn foi para casa. No dia seguinte, ela ainda não vi o Sr. Sem Orelhas e percebeu que algo estava errado. AGA e os cuidadores estão fora de si com a dor .
Por que o Sr. Sem Orelhas não têm ouvidos?
Sr. Sem Orelhas é um gato branco, como seus irmãos e irmãs. Como tal, a pele é muito mais sensível ao sol. Sr. Sem Orelhas e alguns irmãos sofrem de dermatite solar e alguns deles tiveram que ter seus ouvidos removidos; que aconteceu sob cuidados veterinários fornecidos pela AGA. Sr. Sem Orelhas também sofre de outro problema dermatológico que os cuidadores têm finalmente chegado sob controle.
[/fusion_builder_column][/fusion_builder_row][/fusion_builder_container]