The holiday season tends to bring out the charitable side in many people. We look to give back and spread good will and cheer to fellow humans and pets. Here, the ASPCA offers four easy ways to give back to animals this holiday season:
Adopt, Don't Shop
If you're thinking about adding to your family, adopt a pet at your local animal shelter. Avoid buying animals at the pet store. Many pet stores get their animals from puppy mills, which is a cruel and inhumane practice. Instead, search for local adoptable animals by visiting www.ASPCA.org/adopt
Help Local Shelters
If you have some time off this holiday season, consider volunteering at your local shelter to lend a helping hand. If you don't have the time, think about donating supplies. Many shelters have wish lists for much-needed items. Consider buying some items the next time you're shopping for your own cat.
Have a More Humane Holiday Meal
While the most humane meal would be one without meat, many people are not ready to make the commitment to being a vegetarian or vegan. You can still make a positive impact for animals, however, without being a vegan. Look for certifications on meat, eggs, or dairy that require better treatment for animals on farms, specifically Certified Humane, Animal Welfare Approved, and GAP (Levels 2 and above). Visit www.ASPCA.org/labels to view a label guide and get useful tips and info on how to have a more humane holiday.
Host a Holiday Sweet Swap
Consider hosting a holiday bake sale at your office or with friends and family and donate the proceeds to help animals in need. Find out how to start your fundraiser at www.ASPCA.org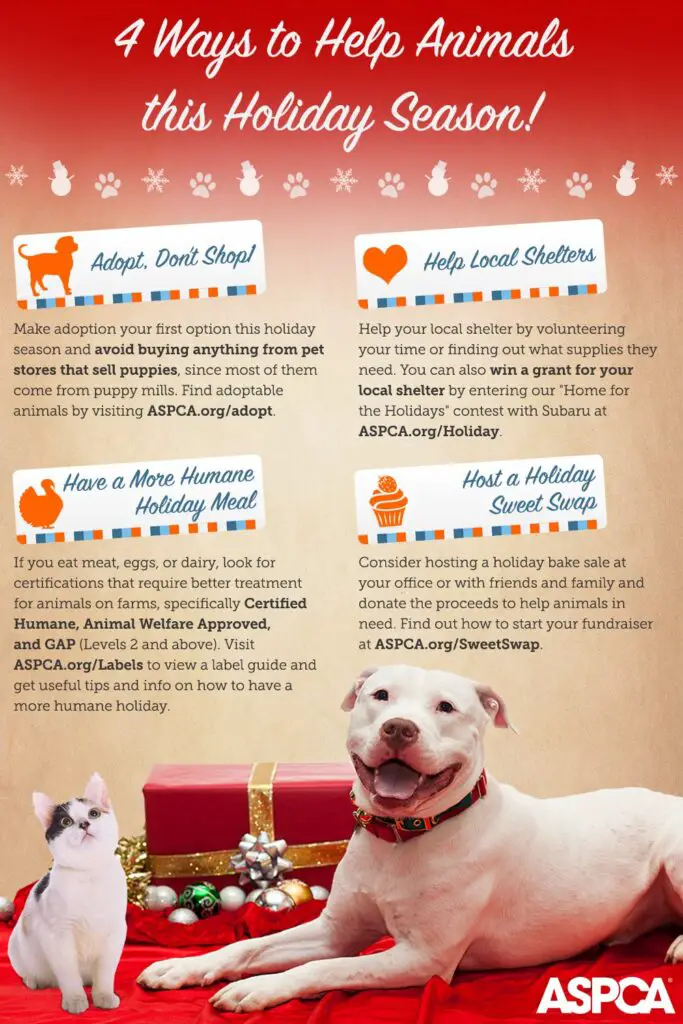 WIN this cool gift pack from the ASPCA which includes:
West Elm Animal Tea Towels: Inspired by some of Instagram's most famous pets, West Elm will donate $1 for every towel

purchased to the ASPCA.

Subaru Collapsible Water Bowl & Puppy Dog Cinch Bag: Since 2008, Subaru has supported nearly 1,000 pet adoption events, resulting in more than 11,500 adoptions to date.
Walkers Shortbread Cookie Tin
ASPCA Pet Throw: Machine washable microsherpa pet blanket with two different comfy textures by European Home Designs.
ASPCA Branded Canvas Tote Bag
Just visit The Catnip Times Facebook page and comment on which tip you like the best… or add your own tip! Enter your comment by midnight PST, December 7, 2015. Winner will be randomly chosen and announced on December 8, 2015! [Giveaway ended]