Abhorrent Conditions Reported at Kitten Mill in California
MONTEREY, Calif. (October 29, 2021) — In Defense of Animals is seeking justice for dozens of purebred cats and kittens who were victims of the animal breeding industry (also known as kitten mills). The organization stepped up to defend surviving cats upon receiving calls and emails from outraged supporters. According to confidential sources, Saturday, October 30 is the deadline for the alleged cat breeder to retrieve the cats now held in custody. Time is of the essence to influence legal stipulations placed on the breeder.
Approximate Timeline of Events
The alleged owner/breeder was hospitalized for unknown reasons.
On September 29, the Monterey County Sheriff's Office responded and sent photographs from an alleged purebred kitten mill in South Monterey County where as many as 43 starving and deceased Scottish Fold cats were found.
Although the owner had been recently hospitalized, the neighbors said they had complained in the past, and the owner had been cited for failure to provide care. According to the seizure notice, 31 cats and two dogs were seized by The SPCA for Monterey County on September 30, but locals say there were 43 Scottish Fold cats just the day before.
Deadline for the cat breeder to retrieve the cats now held in custody. Time is of the essence to influence legal stipulations placed on the breeder.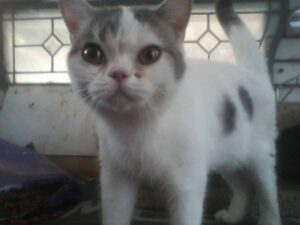 Image courtesy In Defense of Animals.
Note: IMAGES from the scene are graphic and disturbing and have been omitted for sensitive viewers/readers.
In Defense of Animals stated that at the site, a concerned resident and the Sheriff's deputy found three deceased kittens in litter boxes and 40 live cats, many starving and emaciated, living in cages filled with feces. Many cats appeared to be unsocialized and scared. There were at least two litters of kittens and some senior cats living in cages with matted fur and infected eyes. A mother was separated from her tiny kittens, and she rushed to be with her kittens as soon as she was liberated.
What's Being Done?
In advocating for the surviving cats, In Defense of Animals aims to ensure:
No cats are returned to this breeder.
Charges are sufficient to give the SPCA for Monterey County and other authorities the right to certain stipulations, such as limiting the number of animals in the home and requiring all of them to be spayed/neutered, no breeding animals for sale, and inspections of the premises.
Each and every seized cat gets the foster care and rehabilitation necessary to be adopted out to loving homes and to ascertain the condition and fate of the cats in custody as a matter of public interest.
Authorities must find/locate the alleged missing 8-12 Scottish Fold cats.
"After this tragic case of neglect and cruelty, we hope everyone starts rescuing and stops buying animals," said Lisa Levinson, of In Defense of Animals. "Even when breeders are registered with professional associations, it provides no protection or proof of compassionate or cruelty-free lives for the animals who suffer in silence behind closed doors. Purchasing animals supports the proliferation of kitten and puppy mills, where the bred animals are forced to live lonely lives in cages and runs, often without proper care."
If you're considering adding a cat to your family, visit your local rescue first. If you're looking for a particular type of cat or certain traits, look to resources like petfinder.com to find a cat that fits with your lifestyle. While many people have heard of the horrors of puppy mills, many have not heard of kitten mills which are just as abhorrent. If you are set on adopting a purebred cat, be sure you're working with a reputable breeder who is loving and caring toward the animals in their care. One way to tell is to visit the breeder's location. Any reputable breeder should be open to you visiting their premises.
The Catnip Times strongly encourages adoption to help stem the pet overpopulation problem that results in millions of euthanized healthy cats and dogs every year due to the lack of homes. Breeding only adds to this issue.